Finally, we get to see what happens when a real player of the Gran Turismo series sits down with its creator, Kazunori Yamauchi.  As winner of the GT5 Prologue Middle East Challenge, Ahmed Al Azmi was invited to Polyphony Digital's studios in Japan to check out where the game is made.  He also got one-on-one time with Yamauchi, and asked him real questions that your average gaming journalist wouldn't even understand.  Of course, he doesn't drop any bombshells, but it's still a fascinating and revealing discussion.  Read Ahmed's full interview for all the pictures and impressions.  We've gathered some of the most important facts and other tidbits below:
The Nürburgring Nordschleife will NOT be made available until the full release of Gran Turismo 5.
Kazunori laughed at the notion of a 2010 release date for Gran Turismo 5, and said it will be released sooner than expected.
Polyphony Digital does use online forums and reviews (like GTPlanet) to gather player feedback and impressions of the games.
Private online races are coming, but it may not be until the full game is released.
Yamauchi confirmed the existence of the "rubber band effect", and elaborated a bit on its implementation.  For example, this performance boost consists of a slight increase in power and grip and is applied when the driver is more than 2 seconds behind the race leader.  As you might expect, he cited more competitive online races as justification for the "feature", which can and is turned off in some events.
While discussing the rubber band effect, Yamauchi mentioned that it will obviously not be enabled for online races which feature qualifying laps, nearly confirming this feature sometime in the future.
Porsche (that's right… Porsche) have stated that they do not have a problem with their cars being damaged in the game.  Ferrari, however, are being more stubborn and could be a source of delay in damage implementation.  Of course, that isn't consistent with Forza or Ferrari Challenge, which has shown damage on the Italian cars for some time now.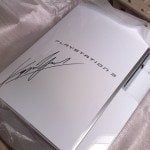 After the "interview", Ahmed was given the chance to drive both the Nürburgring and Circuit de la Sarthe with updated physics and high-definition graphics in a development version of the game.  As if that wasn't enough, Yamauchi presented Ahmed with a signed, unreleased ceramic white PlayStation 3 and PSP.  Once again, see Ahmed's forum post for all the details and impressions from his incredible trip.
The original comments for this post are no longer available.