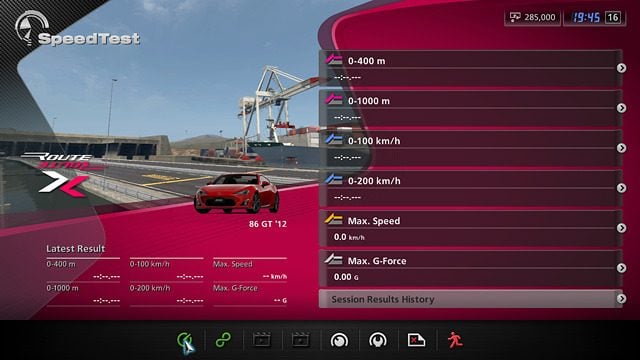 Apparent information about Gran Turismo 5's third round of DLC has appeared here in GTPlanet's forums. According to "Space Empire", GT5's 2.03 update will be launched on January 18th, and will include a few of the following new changes and features:
New themes for My Home in GT Mode.
An option for tire wearing in Pit Strategy (B-spec).
Simulates regenerative braking on electric cars.
Chaparral 2J Race Car '70: Fan down force option.
Fixed unintended pit stop error in the final lap of a B-spec race.
12 new colors and 12 new wall papers for My Home theme.
Electric cars run slowly without applying acceleration.
Regenerative braking affects the cruising distance.

New downloadable content packs will, reportedly, also become available. The "Speed Test Pack" will include the new "Special Stage Route X Oval" revealed in the recent Honda NSX Concept video, and Car Pack 3 will include the following new vehicles:
Nissan Leaf G 2011
Aston Martin V12 Vantage 2010
Volkswagen [Beetle] 1200 1966
Jaguar XJR-9 LM Racecar 1988
Lamborghini Aventador LP700-4 2011
Mini Mini Cooper S Countryman (R60) 2011

As always, until this information is officially announced and verified, things could change, so you'd be wise to temper your expectations. Regardless, this appears to be legitimate information, so stay tuned for further details as they develop.
Edit: This information has now been confirmed by the Asia/Hong Kong official PlayStation site, with the car pack (Car Pack 3) priced at approximately $5 (47HK$) and the "Speed Test Pack" containing Route X priced at approximately $4 (31HK$).
Special thanks goes to Space Empire for discovering and sharing this material, and thanks to Carlos Fandango and diegorborges for making me aware of it on such short notice!
See more articles on Gran Turismo 5 DLC, GT5 Updates, and Lamborghini.