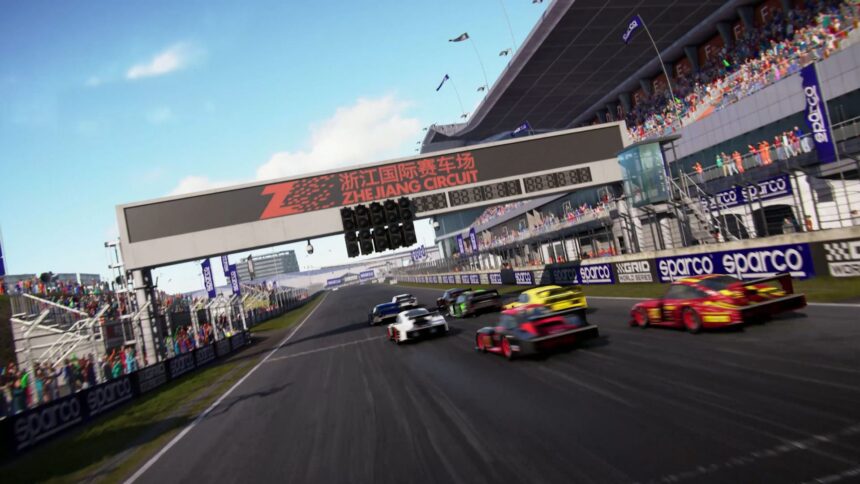 We're only two weeks away now from GRID's amended launch date of October 11. The game, a reboot of the GRID (or Race Driver: GRID, if you prefer) series will land on PS4, XBOne, and PC in two Fridays' time, with a couple of days' early access for Ultimate Edition owners.
Codemasters is using the time to whip up some hype, and we've now got a set of new images from the game just to whet the appetite. The teasers show off some of the tracks, cars, and conditions you'll experience when you get the game for yourself.
GRID will launch with 13 track locations and more than 80 layouts, and the screenshots showcase a number of them. They include Brands Hatch, Shanghai, and Zhejiang but, more importantly, they include some of the weather and lighting conditions.
We saw some glimpses of these in the gameplay trailer last week, but now we get to see them in stills form rather than flashing by in an 87 second video. There's standing water and spray at Brands Hatch (which is fairly typical for the British circuit), low sun at the Okutama circuit, and twilight at Shanghai.
You also get to seem some of GRID's varied car list in action. Along with the regular touring cars that the series — back in its TOCA days — was founded on, there's Daytona Prototypes and, at least in the fictional Dumont Type 37 form, pickup truck stock cars.
To date, Codemasters has revealed 62 cars, but until we get the game in our hands we can't say if that's the total or if there's more to come.
GTPlanet will be getting a hands-on with the game at an official preview soon, so stay tuned for our first impressions.