Tokyo provides one last chance for the three-man manufacturer teams to claim silverware before the grand final in Monaco next month.
The action gets underway on Saturday morning local time, retaining the new format we saw with the Salzburg event last month. Instead of the single, winner-takes-all of last year's Monaco final, or the four-stage format of earlier tour events, the racers will each drive twice in a two-race challenge.
Up to the Salzburg event, no manufacturer had ever won twice. Lexus took the world title last November, followed by Aston Martin in Paris, Toyota in Germany, and Mercedes in New York. That all changed in Austria as the Mercedes team, featuring two of the same drivers, defended its crown from New York.
That entire team returns, unchanged, for the event in Tokyo and naturally enters the competition as firm favorites to make it a hat-trick of wins. If it succeeds, it'll be hard to see anything but a Mercedes win in Monaco as well.
Who can stop the triple-pointed star claiming its third win? Well, there's plenty of very handy driver line-ups in Tokyo. We'd probably look to Mercedes-Benz's big rival, BMW to start with. That team contains one of the highest-ranked drivers in the Nations Cup, Spaniard Coque Lopez. There's also pole position-specialist, and Paris World Tour winner, Nicolas Rubilar, along with his Team Thrustmaster team-mate Randall Haywood.
Toyota has a pretty strong shout too. Current world champion Igor Fraga joins the team for Tokyo, as he turns his focus to the Manufacturer Series having already qualified in Nations (twice). Joining him is Tomoaki Yamanaka, who won with Toyota in Germany, and top-ten driver Rayan Derrouiche.
Porsche and Lexus could also offer a stiff challenge. The Lexus lineup of Andrew Brooks, Baptiste Beauvois, and Adriano Carrazza returns en masse from Salzburg. Although the squad didn't have the best of events, there's a lot to be said for a team that knows each other well. Meanwhile Porsche finished second behind Mercedes in Hangar-7, and Tristan Bayless returns alongside GT Academy champion Matt Simmons and the Chilean driver Angel Inostroza.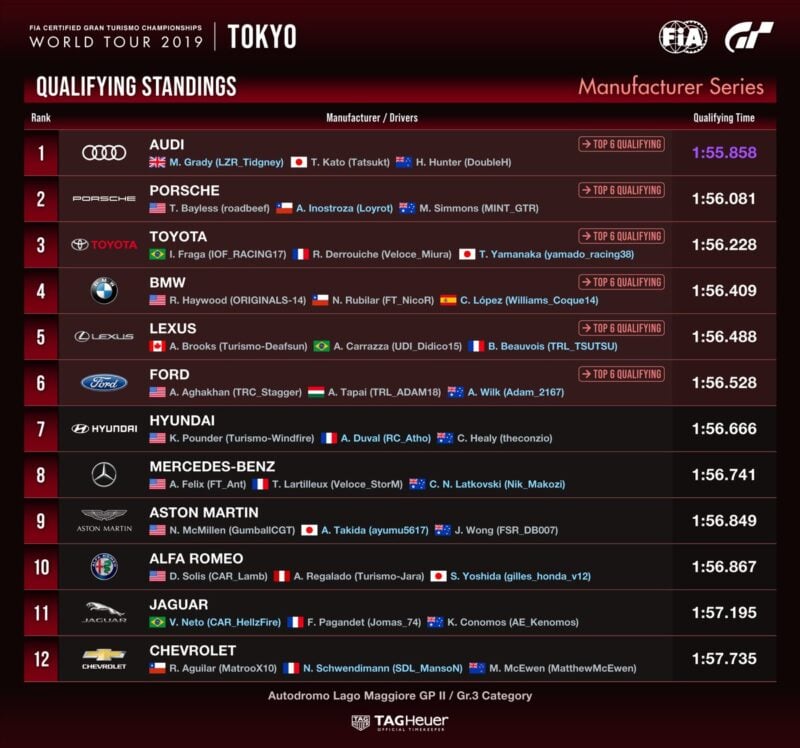 The initial qualifying session has thrown up some interesting results already. Of our fancied teams, four have got into the top six to reach the superpole qualifying session. Surprisingly, Mercedes-Benz is not one of those four, but both Porsche and BMW have made it. Topping the list is a fourth German manufacturer: Audi thanks to a blistering lap from Martin Grady.
Rounding out the top six are our picks Toyota and Lexus, and the triple-A — Adam Wilk, Adam Tapai, and Armen Aghakhan — Ford team. These six teams will meet for the top six superpole shootout to determine pole position ahead of the races. That'll form the very first part of the Manufacturer Series stream, and the action gets underway at 0900 UTC (convert to your time here).
Teams guide:
GR Supra GT Cup Final
Ahead of the Manufacturer Series, we'll get a chance to see the final of the GR Supra GT Cup. This one-make series for the new Toyota GR Supra has been running online across much of the year, and reaches its conclusion here in Tokyo.
The driver list does read pretty much like a Who's Who of the Nations Cup. Mikail Hizal, Cody Latkovski, Takuma Miyazono, and Coque Lopez are all taking part in the 24-driver final, but there's plenty of first-timers too.
Of course 24 drivers into 12 seats does not go. There'll be two initial semi-finals, with the competitors split into blocs. Group A will feature the European and Australian qualifiers (there's no New Zealand representation in this event), with the Japanese and Americas qualifiers in Group B. They'll each race off at Fuji Speedway, and the top six in each race will meet in the final — at Circuit de Spa-Francorchamps.
The racing here starts at 0300 UTC (convert to your time here) to whet the appetite for the action that follows.
Driver guide:
See more articles on GR Supra GT Cup, GT Sport Manufacturer Series, and World Tour.