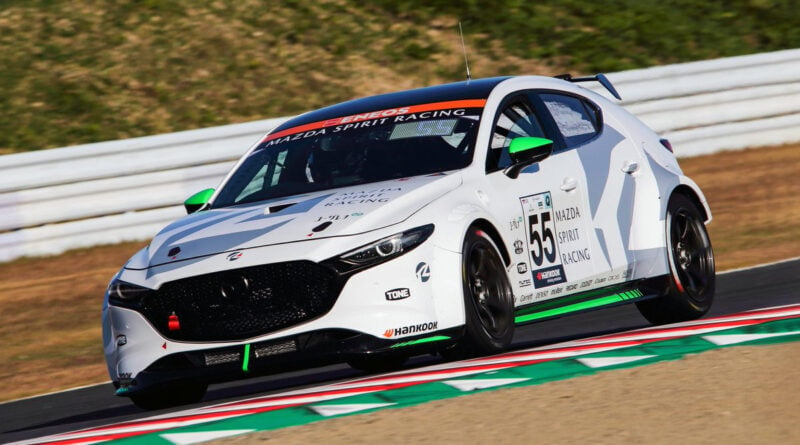 The recent Mazda Fan Festa event at Fuji Speedway in Japan has revealed that a new vehicle from the brand will be coming to Gran Turismo 7 in a future update.
Revealed as part of an on-site esports event, the Mazda Spirit Racing GT Cup 2023 at Fuji Speedway, the car in question is a Super Taikyu series vehicle campaigned by Mazda itself.
It's based on the Mazda 3 hatchback, which made its debut in road car form in Gran Turismo 7 earlier this year alongside the environmental update for Fuji Speedway. However the car is upgraded to withstand the rigors of the endurance racing series, along with mandatory racing equipment.
Mazda races the vehicle in the ST-Q category, for alternative-fuel vehicles. To that end, the car — officially called the Mazda 3 Bio Concept — is powered by biodiesel, and it's actually an evolution of a similar concept built into a Mazda 2 which the team campaigned in 2022. Mazda also runs a compressed natural gas-powered MX-5 in the same category.
Its existence as an in-game vehicle was first revealed via a document given to drivers and staff at the Mazda Spirit Racing GT Cup 2023 event and posted on social media — which you can just glimpse at the bottom of the Tweet above from event commentator Haruo Murata.
Further images of the document revealed that the car will be known in game as the Mazda3 Gr.4, and will therefore join the existing Mazda Atenza as an available vehicle in the Gr.4 category. It will be available in both the ST-Q white livery and the gray Mazda Spirit Racing livery we've seen introduced on other Mazda vehicles in the game.
Of course we don't have exact specifications for the in-game vehicle just yet, but the Super Taikyu car runs a 300hp version of the 2.2-liter SkyActiv-D turbodiesel, which uses a custom Garrett GTX series turbo made by Garrett for the car.
We don't yet know when the Mazda 3 Gr.4 will become available in Gran Turismo 7, but with it being a playable machine in the special event build — and attendees being allowed to talk about it on social media — we can't imagine it's going to be too far down the line.
Whether that's as soon as the next update — which we're expecting to be some time around Thursday September 28 — remains to be seen. That update will also likely unlock the Toyota GR Corolla Morizo Edition and Toyota Himedic Ambulance in Brand Central for all players, following the early access period in August.
See more articles on Mazda.