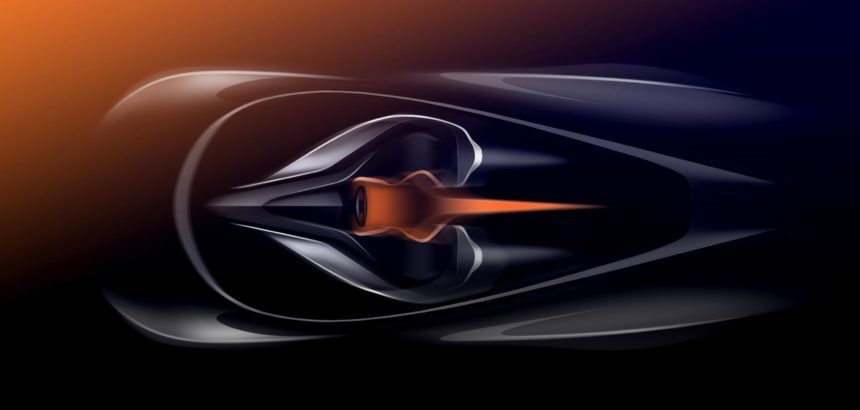 While all the attention at the Geneva Motor Show may have been on McLaren's Senna GTR, the Woking company has also revealed some key details about its most anticipated car.
The McLaren F1 is probably the brand's most iconic vehicle. Penned by Gordon Murray, the F1 was the fastest car in the world for a decade. Driven by Andy Wallace, it hit a 243mph peak on its way to a 240mph two-way record. The car was famous for other reasons too, including its legendary Le Mans win in 1995 and the curious 1+2 seating layout.
Understandably, the F1 has been a bit of a tough act to follow. Since McLaren Automotive officially set up shop as a car manufacturer in 2010, it's focused on making sports cars and supercars, rather than trying to build an F1 successor.
Nevertheless, the "BP23" — short for "Bespoke Project 2, 3-seater" — has been in the works for a while. Mike Flewitt, CEO of McLaren Automotive, revealed some more details about the car at the Geneva Motor Show.
The most important detail is that it's going to be the fastest car McLaren has ever made. McLaren wants to exceed the F1's 243mph mark, although it's a little coy on how much it will exceed it. The F1 was the fastest in the world, and if the new car is to match that it has some serious machinery to beat. Koenigsegg currently holds that record, at 277mph, but there's no shortage of rivals to the crown. Tires and weight limit the 1,479hp Bugatti Chiron to less, while manufacturers like Hennessey and Corbellati tout 300mph+ claims.
McLaren also revealed that it will use a petrol-electric hybrid to power the car. This is similar to its P1 road car, although McLaren hasn't used electrification since. It hasn't revealed either the engine or the power output, but it's likely it will need to exceed the Senna's 789hp four-liter V8, and the P1's combined 903hp output.
Also under wraps for now is the car's name. All that McLaren will say is that the final car will have an as-yet unannounced name, rather than the numbers/letter form of its core vehicles. It will reveal the name nearer to the official unveiling of the car, which it promises will be this year.
Two things we do know for sure are the price and availability. Each of the 106 cars — the same number as the original F1 — will cost £1.6m ($2.2m). McLaren's MSO division will further personalize every car for each owner's requirements.
However, if you're interested in the fastest ever McLaren, you're too late. McLaren has already sold all of them, before it even revealed the BP23 project in November 2016.
McLaren is due to start the car's production run by the end of 2019, with the first deliveries in 2020.
More Posts On...