An off-screen capture from the Tokyo Game Show build of GT Sport has revealed a new car that will feature in the title. The vehicle in question comes from the house of Porsche, and it's a more than welcome addition. Say hello to the Porsche 911 RSR.
Since the announcement of Porsche, we've only actually seen one car from the manufacturer. The 911 GT3 RS, whilst beautiful, was the lonely vehicle that took centre stage for the huge reveal. It left those looking for some motorsport goodness disappointed, even despite the endless possibilities with the GT Sport livery editor. The 911 RSR fixes that problem, and then some.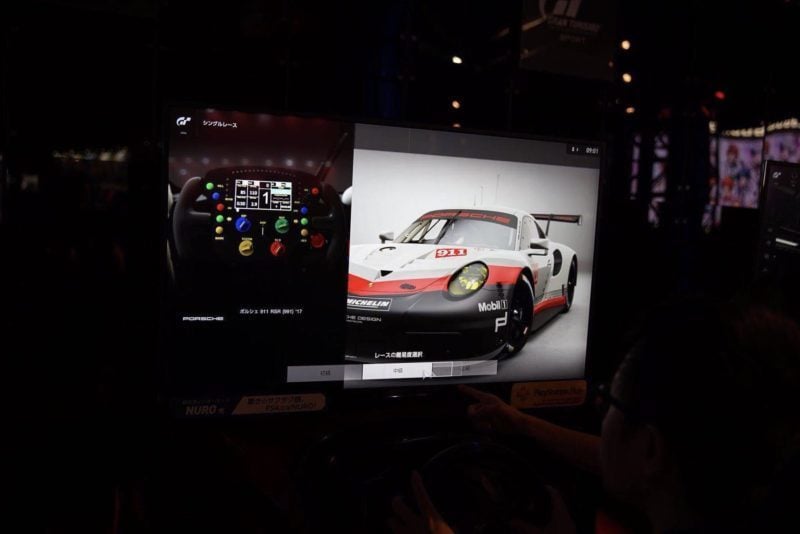 The racing machine brings over 500hp courtesy of its mid-mounted flat six. Porsche's GTE competitor is the first in its class to appear in GT Sport, so it makes us curious to see if any others are hiding from the public eye. The RSR is a fantastic arrival to GT Sport's car roster, which is slowly but surely filling out.
The appearance of this vehicle does mean that a new build of the game is in the public's hands. Release is less than a month away and Polyphony may be showing something close to the final release version of the title.
With the heritage of Porsche, it would have been a shock had a racer for the Germans not been represented. What is surprising is that the first racing car we've seen from Porsche is a 2017 model. The heritage of the manufacturer has many classics but so far GT seems to be looking to the future.
There are still some gaps left in the total car count, so GT Sport could still see some more Porsches. For now, the 911 RSR and GT3 RS will rep the motorsport legends.
Thanks to Big_Cheng for the tip!
More Posts On...