Project CARS 2 got the E3 2017 hype started with a sizzle reel last week. With the massive gaming event in full swing, we sat down with Andy Tudor (creative director) and Stephen Viljoer (game director) to discuss the finer details of Slightly Mad Studios' ambitious new sim racer.
The chat covered a variety of topics, shedding more light on a product that'll land in players' hands in just over three months.
Tracks Galore
Tudor wasted no time putting other franchises on notice. "Despite what you may have heard, Project CARS 2 has the largest track roster of any racing game on consoles," he declared. "Some are still hidden. We haven't announced them all yet, there are more to come."
The original Project CARS enjoyed a sizeable track roster at launch, and steadily expanded in the following year. The sequel builds on this foundation, and we've already seen a few of the new circuits. Circuit of the Americas was confirmed earlier this year, as well as Indianapolis just last month. We've even heard rumblings of Brazil's Interlagos making its way to PCARS2.
An on-screen graphic showed there's still a handful of unannounced tracks. On paper, it's already hard to argue with the sheer number and variety on offer. It will be interesting to see how the remaining circuits expand on this.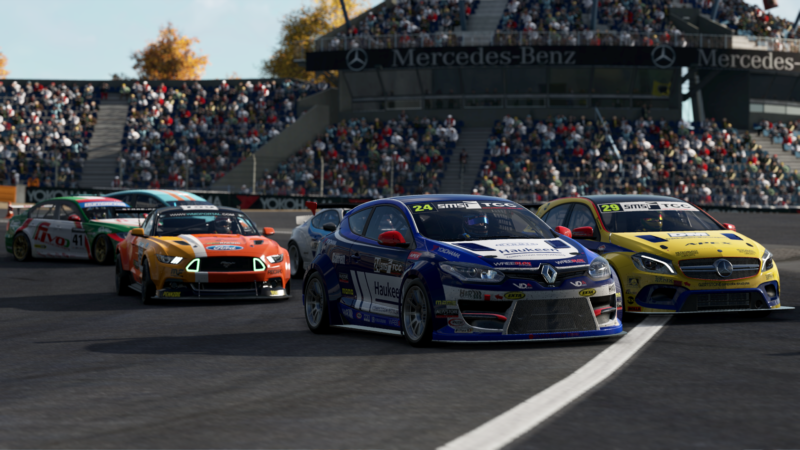 Offline Improvements
Project CARS original offline campaign was a divisive one. While many players praised the game's open-ended approach, others craved structure. According to Tudor and Viljoer, the campaign mode has been refined to cover a broader target audience. Not only does it offer many more motorsport disciplines, it will now host a secondary career path.
Say the game sees you tend to prefer driving Aston Martins. After a while, the company will take note of your preference, and send out an invite for you to test a car. Do well, and you could yourself pulling double-duty as a factory driver.
Project CARS 2 will also introduce more driver challenges to players. If you're after the digital equivalent of the motorsport Triple Crown, you can attempt it via prototype racing at Le Mans, the SMS-designed Formula X, and IndyCar. In the case of the latter, the entire 2016 IndyCar season will be included in the game from the get-go.
Refining the Esports Formula
Esports is another aspect of modern sim racing the Slightly Mad crew are quite confident about. Tudor doesn't mince words:
"By far, we are the biggest and most successful racing esport out there, despite what you may hear from everyone else. We've been doing this for two years now, running weekly events since 2015. We have the biggest racing teams from iRacing and Forza. The teams that are playing those games are playing our game instead."
With no signs of backing down, SMS has aimed to keep players coming back to the offline portion of the game. In much the same way as GT Sport's Sportsmanship points system — or indeed iRacing's Safety Rating — PCARS2's driver reputation system tracks players to ensure they're paired off with similarly skilled drivers.
Tudor painted a familiar scene: a fresh player goes online to experience racing against other humans. After a few nasty experiences with dirty drivers — we all know that story too well — this player never truly returns to online racing. The goal with the matching system is to increase the level of fun, and consequently, the chances of people returning for more.
There was a lot of talk about the wide range of options for the new Custom Online Championships mode. So much, in fact, that you can expect a dedicated article on it soon.
Approachability Behind the Camera and the Controller
Complementing the esports push, SMS shared more info on the broadcasting options of PCARS2. Race directors will get full camera control as the race unfolds. In addition, the game will notify presenters if there's a close battle on track, letting them quickly focus on it.
One common complaint about the previous title was its troublesome default controller setup. SMS again reinforced that for PCARS2, controller users will be better catered for. This has been a steady narrative for much of the game's promotional material so far, and the results have been both positive and negative.
Stay tuned for more on Project CARS 2 over the next few days.
More Posts On...