News is coming thick and fast as we race up to the release of F1 2017 next week. This time, we've learned just how much developer Codemasters is taking advantage of the potent PS4 Pro.
The PS4's jacked up, gym loving brother packs a serious punch when it comes to powering today's games. F1 2017 looks to use as much of the extra horsepower available on as many fronts as possible.
The game uses the same checkerboard technique other PS4 Pro games use to output 4K visuals. The inclusion of High Dynamic Range (HDR) lighting will come into its own as the sun sets in Abu Dhabi or when you're tackling the streets of Monaco at night! Codemasters has even managed to keep things at a silky smooth 60fps to give a true sense of speed.
The extra power of the PS4 Pro's GPU, coupled with the efficiency of the console's architecture meant Codemasters could really go to town on the smaller details. Reflections from water on the track, reflections on car bodywork, smoother shadows — it all adds up to a more visually appealing experience.
In a game like F1 2017 that demands your full attention, displaying the small details that were never present before will only add to the immersion. Driving 200 mph while you're flirting with the limit of grip can be a harrowing experience. When all of the details are at their sharpest, it means less distractions from fuzzy graphics and unrealistic textures.
Playing F1 2017 on the PS4 Pro with one of those old fashioned HD 1080p TVs? Codemasters hasn't forgotten about you. The game will still look marketably better compared to the vanilla PS4. Thanks to a process called "downsampling", you'll notice smoother lines and less jagged edges.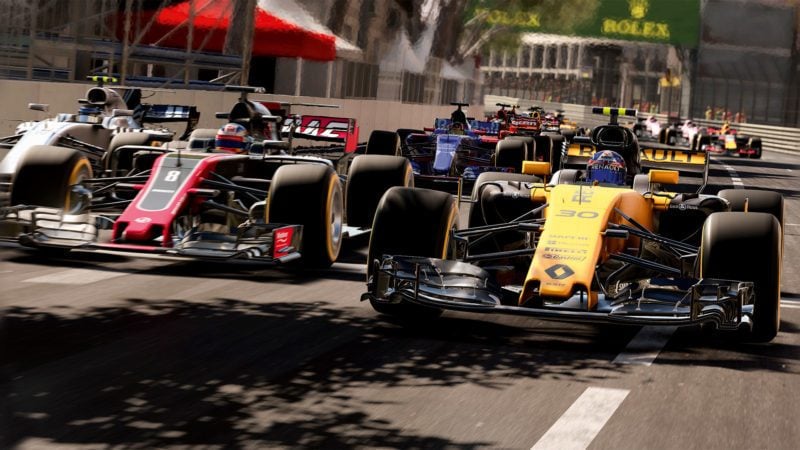 Downsampling essentially scales down the 4K image to a 1080p image, much like if you were to scale a large photograph down to a smaller size. The pixels are still there but appear much clearer. Objects in the distance such as pit boards and brake marker boards will benefit greatly from this technology. This will be a massive help when you need an update on sector times or judging your braking for the next corner!
What is currently unclear is whether these enhancements will trickle over into the online portion of the game. The extra details that will be switched on for the PS4 Pro could give players an edge over their competitors. Especially since the fine details are key in Formula One.
What is clear is that F1 2017 is set to look gorgeous on the PS4 Pro. Codemasters has cleverly utilized the more powerful hardware to possibly deliver the best looking F1 game ever seen on console.
More Posts On...