The next round of the WRC Esports Championship is now live for players to give a go. After a speedy trip to Germany last week, focus shifts over to the snowy banks of Sweden.
Rally Sweden offers a wintery challenge complete with a proper Super Special Stage and a daunting Epic Stage. After the previous two rounds featuring a regular Special Stage, this is a chance for competitors to show their true sprint pace.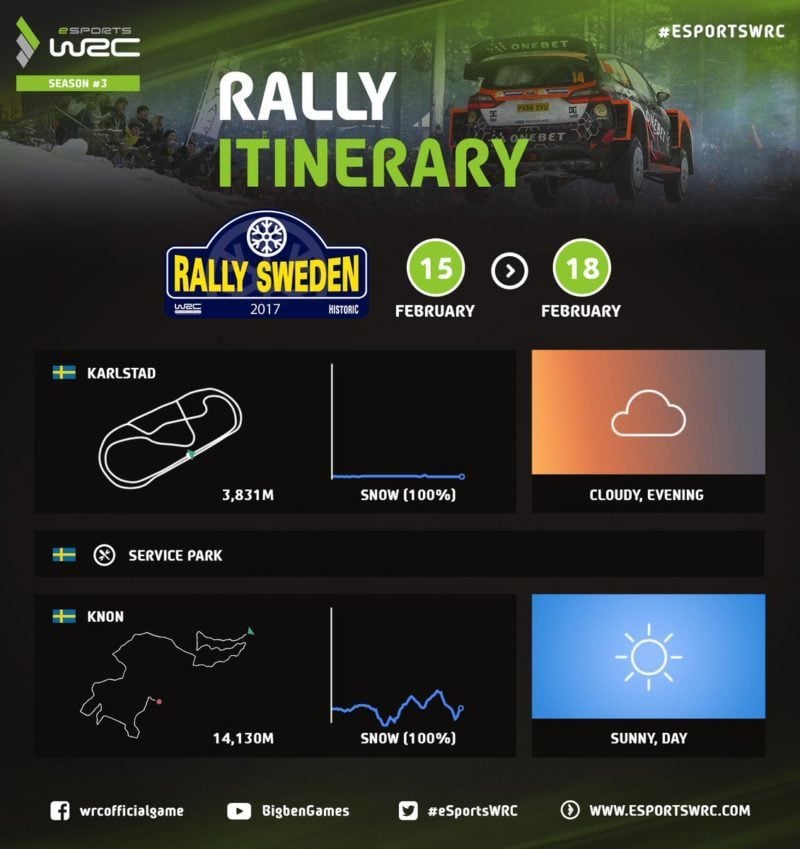 Karlstad is one of the most fun SSS challenges in the game with looping turns and many chances to let loose on the handbrake. The 3.8-mile event might not offer as much potential time over your opponents as a good performance at the Epic Stage but it shouldn't be ignored either. Falling behind at the first hurdle could lead to a plummet down the rankings.
Knon on the other hand, is a matter of survival. As with all the Epic Stages, this throws everything a location has to offer at drivers. In the case of Sweden, this is snowy banks and plenty of roadside obstacles to give a sense of fear during your drive.
After having a torrid time at Monte Carlo, I'm personally not looking forward to this one. The one benefit this rally has over Monte is that the roads aren't littered with as much ice, so tame the snowy environment to put in a good time. This is a long one, coming in at 14.13 miles and requiring the full concentration of its drivers. Don't let the power behind the WRC machines catch you by surprise.
Round 3 starts today and comes to close on February 18. Players get five attempts to put in their fastest time, with the best overall combined time being listed on the final leaderboard. If you want to compete, you can find the event straight from the main menu under the "Challenge" option. Results and championship standings will be updated on February 19 and shared on the various WRC game social media channels.
WRC ESports Championship – Round 3: Rally Sweden
Stage 1: Karlstad Super Special Stage (100% Snow) (Cloudy Evening)
Service Area Break
Stage 2: Knon Epic Stage (100% Snow) (Sunny Day)
More Posts On...