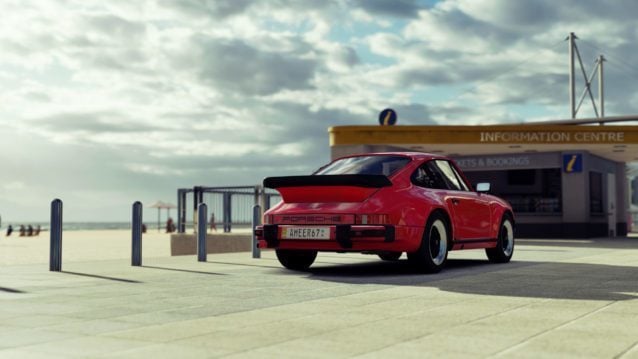 The grand finale of a month packed with Porsches in Forza Horizon 3 has arrived. "Horizon Secret Service" is the last Forzathon of April, and marks another opportunity to obtain a part of the German manufacturer's lineup at no additional cost.
For this Forzathon, the 1982 Porsche 911 Turbo 3.3 is the vehicle up for grabs. This 911 is a part of the classic 930 family of Porsches and is known for its notable top speed and dangerous handling. At launch, the 930 featured a 3.0-liter flat-six. The folks at Stuttgart then decided to up the ante in 1978, and threw in a 3.3-liter engine with an air-to-air cooler, which in return reduced turbo lag slightly.
To assist in earning a new car, all Aston Martins are 30% off in the Autoshow. Below is a list of challenges required to be completed in order to acquire the Widowmaker and other useful bonuses:
Eye on the Spy

–

Complete a Championship in the Aston Martin DB5 to win Porsche 911 Turbo 3.3.

Car Chase

–

Complete 3 Flag Rush matches to win 3 Wheelspins.

Stirred, Not Shaken

–

Perform 10 Wreckage Skills in an Aston Martin to earn 55,000 XP.
This weekend's Forzathon ends on May 1 at 0300 EDT, so players have some time remaining to add another Porsche to their lineup.
Stay tuned, as another batch of Porsche-themed Forzathon events are set to land for next month, to coincide with the third season of the Forza Racing Championship.
More Posts On...