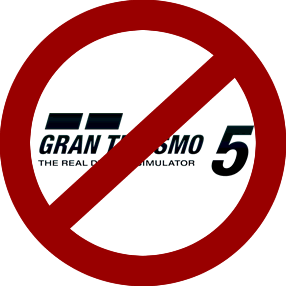 With so many of you making plans to attend the PlayStation House tour after we noticed that Gran Turismo 5 would be making an appearance, I felt this latest turn of events has warranted its own blog post. Unfortunately, in a statement to VG247, SCEE has announced that GT5's listing on the site was a "mistake". Sure enough, Sony has just updated the PlayStation House website, removing the racing title from the description (the old version lives on in Google's cache, for now).
Anyone interested in cooking up a conspiracy theory should keep in mind that several of our readers, after talking with Sony employees running the "House" confirmed that GT5 would be arriving at the display "soon". Was it an honest mistake, then, or was the game pulled after its appearance started getting publicity? It would be interesting to hear what those workers have to say about all of this, so be sure and ask them if you still decide to go (just be nice about it – remember, it's not their fault).
Alas, it might not be all bad news: as pointed out by several readers in the comments to my previous post, Gran Turismo 5 is on schedule to be shown at DigiExpo in Helsinki, Finland on October 30 – but can we really believe you this time, Sony?
More Posts On...
The original comments for this post are no longer available.