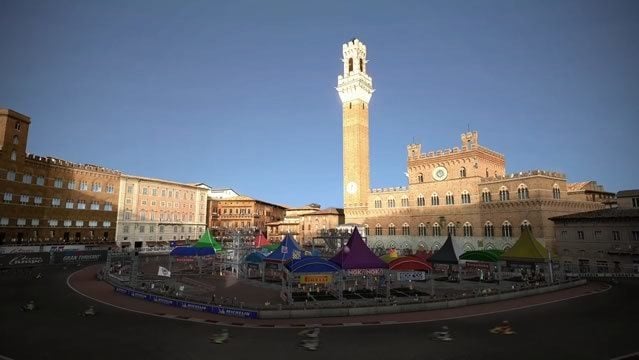 The new karting track revealed in the latest GT5 demo shown off at Gamescom 2010 is now causing problems for Polyphony Digital and Sony Computer Entertainment. The track, named Piazza del Campo after the famous city square in Siena, Italy, hosts a world-renowned horse race twice a year known as the Palio di Siena (you may remember it in Quantum of Solace – ironically a Sony movie). Unfortunately, though, in Polyphony's digital recreation of the location, they've (gasp!) used flags of the local contrada without permission. As reported by Corriere Fiorentino, the city is none too happy about it, and is threatening to take legal action against Sony to prevent sale and distribution of the game in Italy.
While other sites are publishing headlines suggesting this legal scuffle could cause the delay of the game, I don't see any need for alarm. This is clearly a money-grab for Siena officials, but even if Sony isn't willing to pay, it seems their demands could be easily worked around by replacing the flags with something less "offensive" and/or re-naming the track (there has to be a reason GT4's rendition of the Monaco F1 circuit is known as "Cote d'Azur").
Siena should be careful, though – a little free advertising in a game that will sell millions of copies around the world might not be a bad thing…
See more articles on Piazza Del Campo, Polyphony Digital, SCEE, and Sony.