At the beginning of February, we told you that Focus Home Interactive (FHI) was hinting at a possible US expansion for Spintires: Mudrunner. Now in a recent interview with Gamereactor, Andrey Iones confirmed the new DLC will happen.
At the event "What's Next" on February 8, FHI gave the gaming press an overview of what was to come. We held out hope that at least one of those attendees would give us some more info about the expansion. This never happened.
Then in a Tweet on February 13, the official Spintires: Mudrunner account said we'd get articles this week. However, scouring the web came up with no results other than the one interview.
Thankfully, the interview gives us answers to some questions.
According to Iones, the team is working on the North American expansion for Spintires: Mudrunner. Unfortunately, he didn't hint as to what locations in North America though.
However, one bit of exciting news is the confirmation of licensed vehicles.
With the release of the first game, vehicles similar to their real-life counterparts were the only choice. Spintires: Mudrunner continued that theme as well.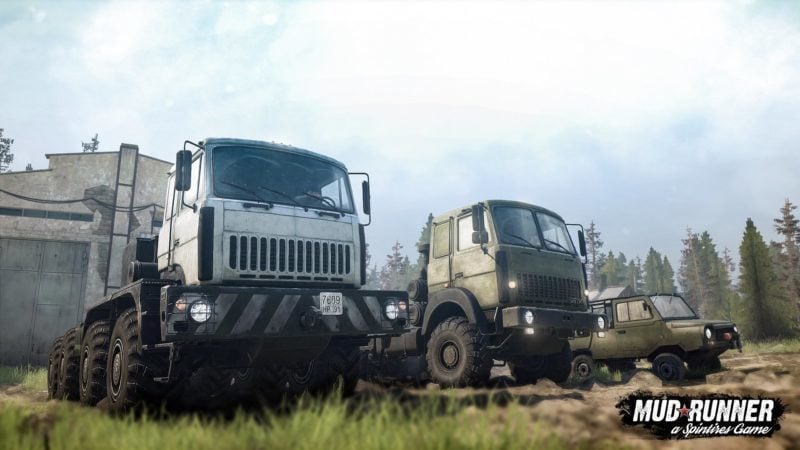 Now we will finally get real vehicles to try out. That is if automakers will grant a license to FHI.
If the standard fetching logs scenario stays for North America, the vehicle list will prove to be interesting. We wouldn't expect to see many run-of-the-mill passenger vehicles. Instead, heavy equipment will probably be front and center.
We at least know Jeep is open to the idea of licensing content for non-AAA titles. This is most notable with Car Mechanic Simulator 2018. In October of last year, the Jeep DLC came to Steam. This allowed players to virtually wrench on three well-known models from the company.
Alas, as much as we'd like to see a Humvee make an appearance we wouldn't hold our breath. This is due to the pending copyright lawsuit between AM General and Activision. Even if in the end AM General wins, we imagine it won't be in a hurry to work with gaming companies.
You can expect the US expansion to release in either late summer or early fall. However, if you own Spintires: Mudrunner a free DLC is now available in the meantime.
Dubbed "The Valley", the DLC gives players access to two new trucks and an updated version of The Valley map from the first game.
Iones also indicated another free DLC is in the works and will make its way into the game very soon.
Thanks to DeadHero for the tip!
More Posts On...