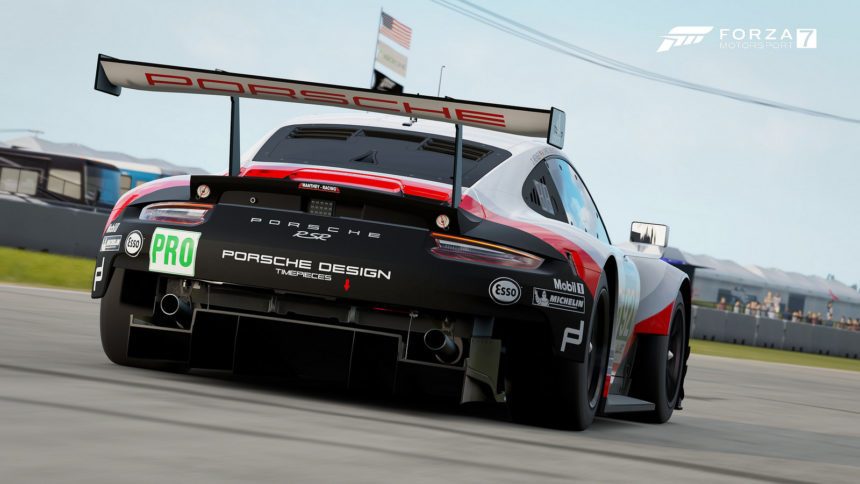 Turn 10 has announced the latest Forza Motorsport 7 Community Bounty Hunter for June. While last month saw players trying to beat four of Indycar's best drivers at Indianapolis, this week's target is one man. A man who should be very familiar to sports car racing fans.
Announced on the official site, the newest opponent for players will be Radio Le Mans commentator John Hindhaugh. With the 24-hour race fast approaching, this event against the "Voice of Le Mans" will take place at none other than the Circuit de la Sarthe.
In a change of pace from previous Bounty Hunter events, players will utilize the Forza GT division rather than a single car, so there will be plenty of choices available.
T10 has lined up a selection of prizes for participants, including some previously-unseen prizes.
For simply setting a lap time, you'll be awarded a 2008 BMW Z4 M Coupe. This is a noteworthy prize: the Forza community spotted the M Coupe months ago buried within the game, but there was no way to actually access it until now.
Get within the top 75% on the leaderboard, and a 1970 Chevrolet Chevelle Forza Edition will be waiting for you. Players that reach the top 25% will receive a 2012 Mini JCW Forza Edition. 50,000 in-game credits will be awarded to players in the top 10%. Players who can beat Hindhaugh's final time will be awarded the Referee Driver Gear.
If you want to keep track of Hindhaugh's progress in this event, be sure to add the gamertag; makem73.
The John Hindhaugh Le Mans Challenge starts on June 6, so expect a strong challenge from one of Le Mans' most experienced commentators. Grab your favorite car and get practicing!
ForzaRC John Hindhaugh Le Mans Challenge Prizes
Referee Driver Gear – Beat John Hindhaugh
50,000 Credits – Set a leaderboard time within top 10%
2012 Mini JCW GP Forza Edition – Set a leaderboard time within top 25%
1970 Chevrolet Chevelle SS 454 Forza Edition – Set a leaderboard time within top 75%
2008 BMW Z4 M Coupe – Set a lap time
Featured image courtesy of JPinto.
More Posts On...