One of the most iconic race tracks of all time is now available for the rFactor 2 crowd. Yes, the Nurburgring has arrived on the PC sim.
Fans of the famous German track will have plenty to keep them occupied. Not only is the Nordschleife joining the lineup in full 12.9-mile glory, but so is the Grand Prix circuit. That also means players will have access to the combined 24H layout, which clocks in at 15.2 miles. A fourth layout is a slightly different riff on that last one: instead of the tight left-hander after the first corner, the Combined layout keeps the Mercedes Arena turn complex intact.
Like many modern real-world race track additions in the sim genre, the Nurburgring uses a laser scan in rFactor 2. It's one of the most recent in the business too, being completed in 2018. Players will be able to experience the most up-to-date version of the daunting track thanks to this. Studio 397 has also provided a lap guide with the release of the 'Ring, serving as a useful intro for beginners and an informative refresher for vets.
Alongside the Nurburgring, a new Porsche has joined the rFactor 2 lineup. The Porsche 911 GT3 Cup, is a popular customer race car, showing up in series and one makes the world over. In 991.2 guise as seen here, it features a 485hp 4.0-liter version of the ubiquitous Porsche flat-six, hooked up to a six-speed, paddle-operated transmission.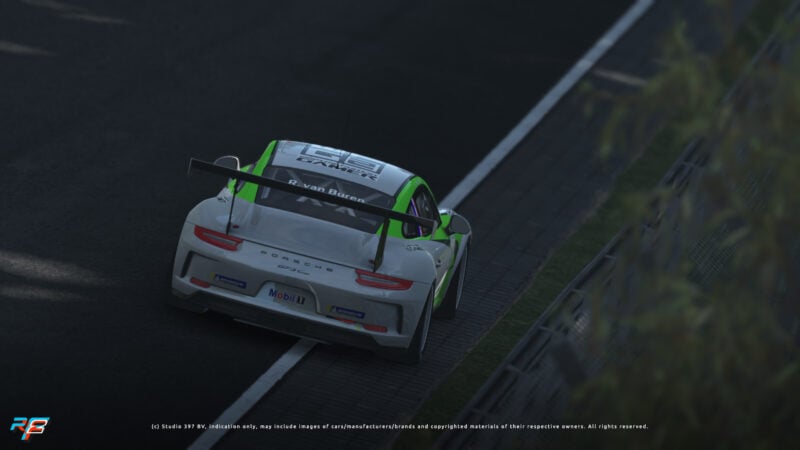 Many drivers have found themselves in the seat of a GT3 Cup on the way up through their racing career. Sim racers too: look closely above and you'll spot the name of Rudy van Buren, the first winner of World's Fastest Gamer.
The 911 GT3 Cup is available now on Steam for $5.46. Meanwhile, developer Studio 397 has confirmed that more Nurburgring layouts will arrive in future updates, free of charge over the $13.10 the track package currently runs.
See more articles on Nurburgring Nordschleife and rFactor 2 DLC.