September means many things. It marks the end of summer, the beginning of school, and for some bizarre reason, an end to white in your wardrobe. For racing game fans it's about to take on a whole new meaning: the month of a noticeably lighter wallet.
As the headline suggests, three separate racing titles are all touching down in the next 168 or so hours. Even during the heady times of 2017's stacked lineup, we didn't seen this many driving titles launch in such close proximity. In fact, we have to go back to May 2010 to see Split/Second, Blur, and ModNation Racers all launch within a week of each other.
Unlike that trio, there's a fair bit of variety in September 2018. We've got an off-roading franchise returning after over a decade off the scene (V-Rally 4). There's a standalone title for America's motorsport (NASCAR Heat 3). Or perhaps a serious sim modelled after a real-world race series is more to your liking (Assetto Corsa Competizione)?
What's more, it almost was four titles. Bigmoon Entertainment's Dakar 18 was originally going to touch down on September 11. The team has since pushed it back two weeks to further polish the massive open-world racer.
With three very different takes on the genre coming, we've got a breakdown of each below.
V-Rally 4
Release Date: September 6, 2018 (September 25 on PC)
Platforms: PlayStation 4, Xbox One, PC
Developer: Kylotonn Racing
The surprise announcement of V-Rally 4 came in March 2018. The long-dormant rallying franchise returns this month courtesy of developer Kylotonn Racing. The French studio has been on something of a roll lately, with last year's quite good WRC 7 as well as 2018's Isle of Man TT: Ride on the Edge. On the merit of its recent track record then, we're very interested in what Kylotonn's bringing to the table here.
The full V-Rally 4 car list packs in just over 50 cars, across five disciplines. Of note is the inclusion of Porsche — as well as the mysterious absence of Peugeot and Subaru. Based off the E3 show floor demo, the tracks look nice and narrow, which should please the hardcore rally fans out there.
NASCAR Heat 3
Release Date: September 7, 2018
Platforms: PlayStation 4, Xbox One, PC
Developer: Monster Games
One day after the off-road antics of V-Rally 4, the third installment in the reborn NASCAR Heat series arrives. But you'll still be able to get down and dirty here.
That's right, NASCAR Heat 3 is adding the popular stepping stone in driver careers: short track dirt racing. Dubbed the Xtreme Dirt Tour, this new series will test players' abilities on the loose stuff.
Alongside the new series, this year's game continues to offer the three main NASCAR series, first offered in NASCAR Heat 2. Developer Monster Games has also added a team manager mode and livery editor. Esports haven't been forgotten either, with the team promising future events.
As an added bonus, the $49.99 game comes with a $50 voucher for real-life races.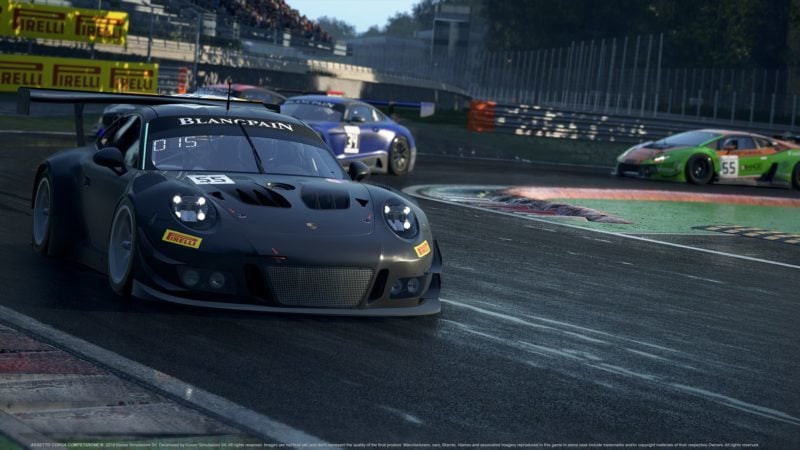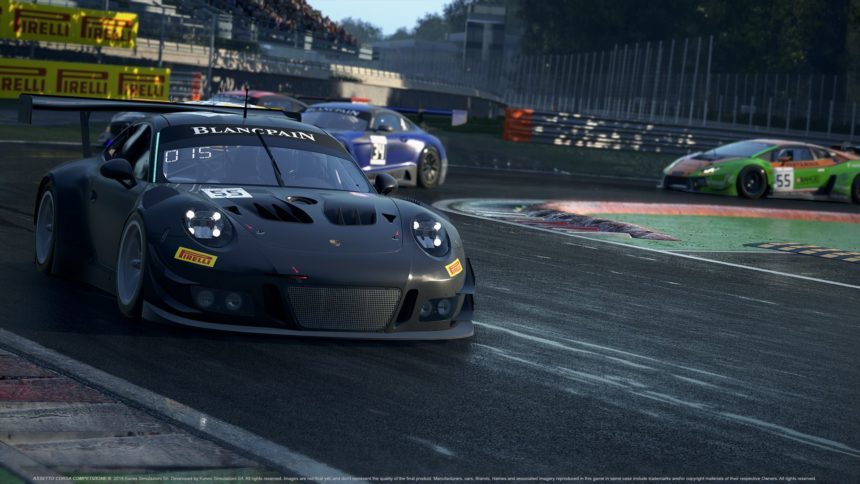 Assetto Corsa Competizione
Release Date: September 12, 2018
Platforms: PC
Developer: Kunos Simulazioni
It's safe to say ACC will be the simmiest of these three September releases. Heck, it's right there in the developer's name.
Kunos has been hard at work on this new spin-off for a while, only announcing it this past February. Don't call it a sequel either: while this may be a follow-up to the original 2014 title, it focuses exclusively on the Blancpain GT race series. This means all of the cars, teams, and tracks of the 2018 season will be available.
A move to Unreal Engine 4 has brought dynamic time and weather to the party. We've seen it in motion, and the game looks impressive.
Like the original Assetto Corsa, ACC will initially launch as part of Steam's Early Access program. That puts it in a unique position out of the September releases: at first, it will be limited to only one car/track combo. But that's balanced by a discounted price, one that locks in all future updates on the road to the final 1.0 version.
Basically, if you know that ACC is the sort of racing title you've been looking for, it'll certainly be better on your wallet if you hop on earlier.
That's Not the End
Okay, so this week's pretty stacked, but then there's a breather, right?
Wrong.
Not only does Dakar 18 still squeeze into the month, it launches on the same day as the PC version of V-Rally 4. Kylotonn hasn't confirmed the Switch date for that, but we can't imagine it'll be too far out.
A few days later, players with the Ultimate Edition of Forza Horizon 4 will start tearing across the United Kingdom. The rest of us normies get a go at it on October 2.
Players get a bit of a reprieve after that, with Ride 3 not touching down until the first week of November. That still leaves Gear.Club Umlimited 2 on Switch — all we know is that it arrives before the end of the year.
Clearly there's going to be a lot of racing action to keep us all entertained throughout the tail-end of 2018. What games are you most looking forward to? Let us know in the comments.