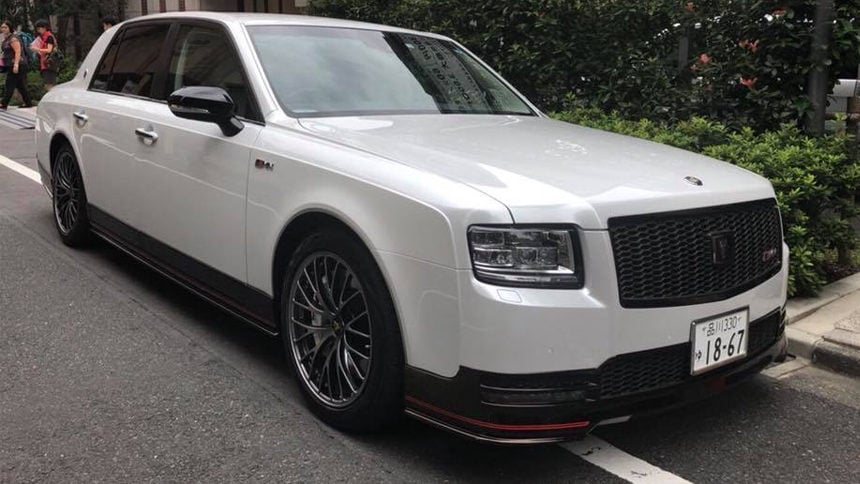 Being at the helm of a major, multi-billion dollar automaker has some perks. For Akio Toyoda, the current President of Toyota, those perks include a very cool one off car.
Back in June, Toyota rolled out its newest Century — the first since 2006. It's also only the third generation since 1967 when the first one made its debut.
The Century is comparable to a Rolls-Royce Phantom or a Mercedes-Maybach S. It's a pure luxury car designed to shuttle its rear seat occupants in total opulence.
One thing the Century lacks is real performance though. Sure, it has a 5.0-liter V8 putting out 376hp and 376lbft of torque under the bonnet. There's also a hybrid system good for an additional 221hp and 221lbft, which combines for around 425 ponies.
While this works for many cars, the Century weighs in at a whopping 5,300lb. Add in occupants and all the gadgetry and that number balloons to over three-tons.
It's really one of the last cars you'd expect to get a hot version of too.
Toyoda clear has other plans though. In a recent post to the Toyota President's Office Facebook page, we see Toyoda has handed over his Century to GRMN.
GRMN, which stands for Gazoo Racing Masters of Nürburgring, is one of Toyota's many performance divisions. It's also the masterminds behind the GR Super Sport and the perpetually in-debut-mode Supra.
Unfortunately, Toyoda didn't spill the details on what sort of upgrade his car has. But looking at the picture we see an aero kit, new grill, some sharp looking wheels, and a lower ride height.
As for performance upgrades, it's anyone's guess. Toyota did, after all, create a performance brand that forgot about performance. But our guess is Toyoda does have some go fast goodies on his Century.
There's also another subtle detail on the GRMN Century as well — the number plate. It looks pretty unassuming with the number 18-67, but if you look back in Toyota's history it's rather important.
The founder of Toyota, Sakichi Toyoda, was born in 1867. This is just a nice little way for Toyoda to pay homage to his great-grandfather and "King of Japanese Inventors".
As for a production run of the GRMN Century, don't count on it. Toyoda told Best Car Web he does not have any plans to market it. While we agree it makes absolutely no sense, we are a tad disappointed.
More Posts On...