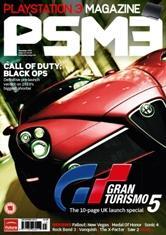 A stream of interesting tidbits have been trickling into our Gran Turismo 5 forum today via several new magazine articles. First up is the December 2010 issue of PSM3 magazine, which provides a few details as highlighted by our own Dessy182:
Mechanical damage and failure will include things such as broken gearboxes, brake failures, and stalled engines.
Both premium and standard model cars will include fully operational reverse lights, horns, and will accumulate dirt and grime which must be washed off by these guys.
More features are re-confirmed, such as imprecise weather forecasts, point-to-point timed rally stages, time-of-day synchronization between virtual circuits and their real-world locations, and official NASCAR rules and regulations.
You'll also find a brief interview with me, the founder of GTPlanet.  It was a nice chance to talk about the game, and I hope you all find it interesting – thanks to Alex of PSM3 for the invitation!
Denur has also gathered a few interesting details from issue 44 of Dutch TV magazine Veronica:
Heavy snow accumulation will continue to make the track more slippery, and "ruts" will be carved into the snow as you drive to make conditions even more challenging.
You'll be able to create and define your own special events within the game, presumably giving you complete control over all race variables and competitors.
In B-Spec mode, you'll simultaneously manage the racing careers of up to six different drivers. You will have to push them, but take it too far and their morale and performance will suffer. For 24-hour endurance events, you will choose four of your drivers to compete together on your race team.
You will be able to trade cars with your friends – including those which you have tweaked and tuned for maximum performance.
See more articles on Damage, Day/Night Transition, GT5 B-Spec, gtplanet, NASCAR, Premium Cars, Snow, and Standard Cars.