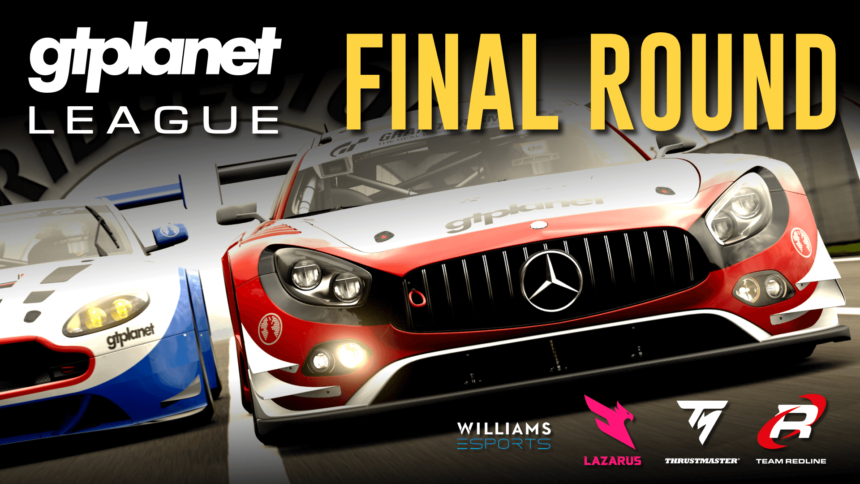 It's taken more than a month to get here, but the grand final is now upon us. Eight matches, 18 races, and 26 drivers, and it all comes down to Sunday evening's head-to-head between Williams and Team Redline.
If you're only now catching up with the League, read our official announcement article that explains how it all works. Last week's semi-finals saw both of the top seeds come through to take their places in the final. That means that Williams and Team Redline will face each other for the second time this season.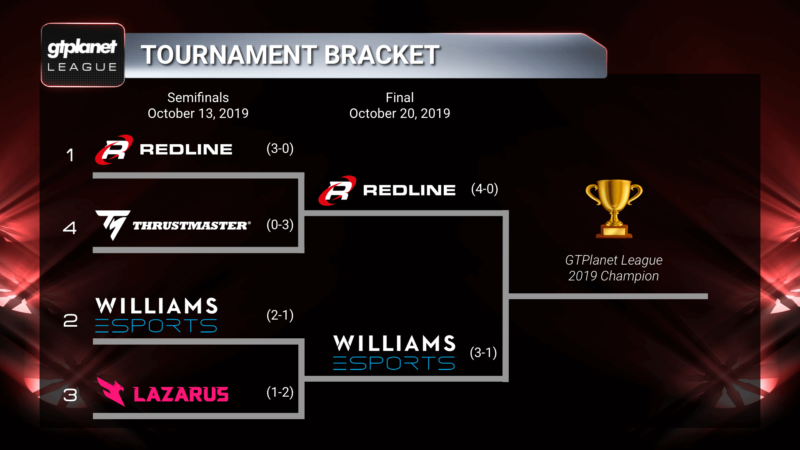 However, Sunday's racing won't just see the final two vying for the crown. We'll also have Lazarus and Thrustmaster going for the third step on our inaugural podium.
If that weren't enough reasons to tune in, we have a surprise in store… As a way to say "thanks!" to the thousands of you who have watched the GTPlanet League this season, we are giving away a limited edition, official Gran Turismo shirt! Just tune in to the broadcast and listen for instructions on how to win.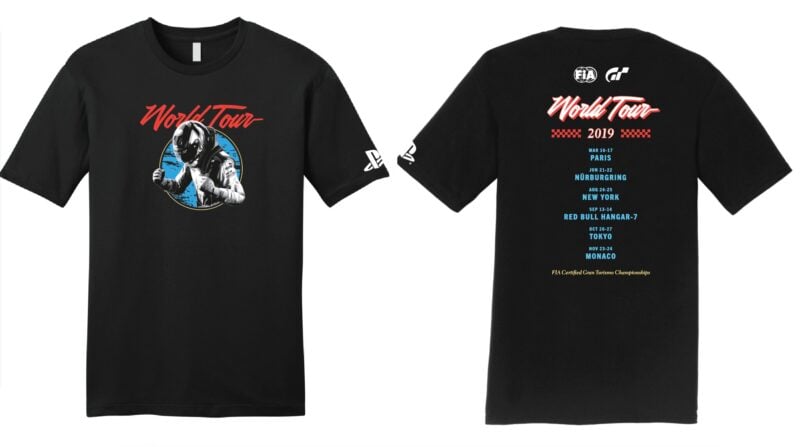 Click here to go straight to the live show on YouTube; be sure to subscribe and turn on notifications to be alerted when we go live Sunday at 18:00 UTC. Until then, let's take a closer look at where each team stands as they head into the most important matches of the season:
Third Place Playoff – Thrustmaster (0-4) vs. Lazarus (1-3)
Unbelievably, despite a stable driver lineup packed with talent and the League's top-ranked driver, Thrustmaster is yet to record a match win. The four-man crew of GT Sport world tour and world final qualifiers has five race wins, but hasn't carried a single match.
No doubt it'll be hoping to change that form right at the last moment, and it has a good chance too. Lazarus's only win in the round robin stage was against Thrustmaster, but the team is coming off a most extraordinary drubbing in the semi-finals by Williams.
The Lazarus team isn't exactly short of talent either, but with the fewest pole positions and the fewest fastest laps of any team in the League this year, it's almost always facing an uphill battle from the start. Across all their races so far, Thrustmaster has outscored Lazarus by nine points — 166 to 157.
Championship Final – Team Redline (4-0) vs. Williams Esports (3-1)
Like the Third Place Playoff, the Final itself is a chance for payback. Williams has only lost once so far this season, and that was to Redline in the last round robin match. After stamping its authority over Lazarus last time out, the Williams crew is now only three points down on Redline across all their races, at 176 to 173.
Williams is also the bonus point specialist, racking up 10 so far. That's come courtesy of three pole positions, and three drivers — Adam Suswillo (Williams_Adam41), Giorgio Mangano (Williams_Gio) and Patrik Blazsan (Williams_Fuvaros) — each scoring two fastest laps. All three will be racing on Sunday.
In Manuel Rodriguez (TRL_MANURODRY) and Mikail Hizal (TRL_LIGHTNING), Redline has two of the top four-ranked drivers, behind only Williams' Mangano and top-rated Nico Rubilar (FT_NicoR) at Thrustmaster. Hizal in particular showed his top form by winning both races in the team's semi-final; only Rubilar has also won both races in a single match.
It's likely to be a thriller and, with GTPlanet League's unique scoring system, a final that won't be settled until the last corner.
How to Watch
The matches will be streamed live on GTPlanet's YouTube channel starting at 18:00 UTC. Click here to convert to your local time zone, or just subscribe and turn on notifications to be notified when we're live!
More Posts On...