After all the action over the past three weekends, we've now got our semi-final line-up for the first season of the GTPlanet League.
If you're not familiar with how the League works, check out our official announcement article that explains it all. The round robin stage concluded last Sunday, with Team Redline taking an undefeated path to gain the top seed while Thrustmaster struck out yet again, landing as the fourth seed. Meanwhile, Williams and Lazarus face off in the other semi-final.
Here is what it looks like on the official bracket: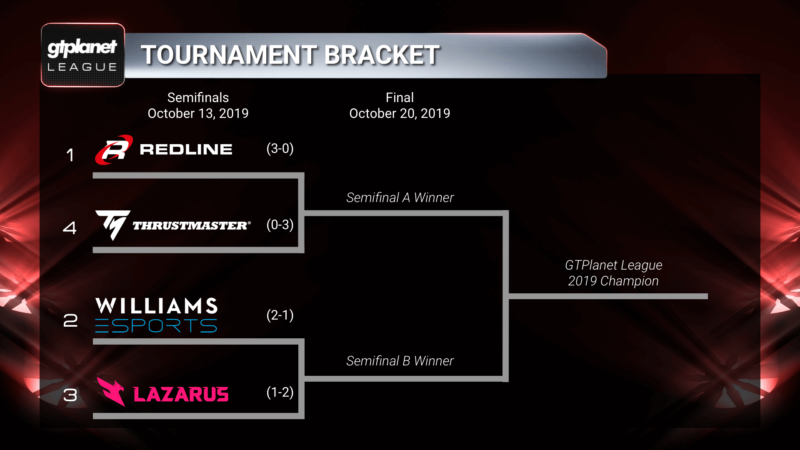 We are also excited to announce a special guest for this week's show: the keeper of the Shadow Realm himself, Steve Brown! Known as "Super GT" on his popular sim-racing YouTube channel, Steve joins Double Dash Motorsport Media's Howard Mitchell for commentary this week. It's going to be a great time!
Click here to go straight to the live show on YouTube; be sure to subscribe and turn on notifications to be alerted when we go live Sunday at 18:00 UTC. Until then, let's take a closer look at where each team stands as they head into the most important matches of the season:
Semi-Final A – Redline (3-0) vs. Thrustmaster (0-3)
Top seed Team Redline has crushed all-comers so far, and top our rankings by a healthy margin. With three wins from three, Redline's drivers have picked up 12 podium spots in seven races, including three wins. This has been helped along by the team picking up two of three possible pole positions in qualifying, with Manuel Rodriguez (TRL_MANURODRY) and Adam Tapai (TRL_ADAM18) sharing the spoils.
Thrustmaster has fared less well, despite five outright race wins and four for star man Nico Rubilar (FT_NicoR). In fact Rubilar is the top-ranked driver in the series as a whole, averaging 6.86 points per race — roughly equivalent to second place in every race. The Thrustmaster squad is also the most stable, with all four drivers racing in all three rounds so far, and the same crew again scheduled for Sunday's semi.
Redline has to go into the race as favorite, but Thrustmaster's fortunes should reverse soon. In their round-robin match, only three points separated the two teams — and they were all bonus points. It should be a close one!
Semi-Final B – Williams (2-1) vs. Lazarus (1-2)
If the first semi-final will be close, the second one might need a microscope. Across the seven races so far, both Williams and Lazarus have scored exactly the same points total for their race finish positions: 123. When the two met on September 29 in the round robin, the tie went down to the last lap and a single point separated the squads.
The Williams team is exceptionally strong, with 12 podium places in its seven races, just like our top seed Team Redline. However it's suffered from some inconsistent form — while Giorgio Mangano (Williams_Gio) may be our second-ranked driver overall, a Williams driver has occupied last position at the checkered flag in six of the seven races so far. It's buoyed by some form in the bonus points, with two pole positions from three and five fastest race laps.
Lazarus is less of a specialist in that regard. It's the only team with a single pole position — scored by last-minute stand-in Florent Pagandet (Jomas_74) in the team's only win — and fastest laps are equally hard to come by. However the team has also racked up four 1-2 victories, double what any other team has recorded, and counts world champion Vincent Rigaud (LZR_SkyPikmin) among its GTPlanet League drivers. The win over Thrustmaster last week showed both pace and some tactical nous that could help Lazarus through to the final.
How to Watch
The matches between both teams will be streamed live on GTPlanet's YouTube channel starting at 18:00 UTC. Click here to convert to your local time zone, or just subscribe and turn on notifications to be notified when we're live!
More Posts On...