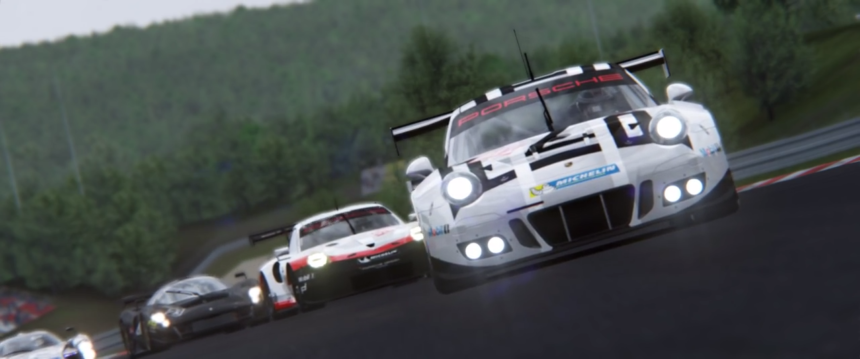 When Assetto Corsa landed on consoles last summer, it received a mixed reception. In our own review of the game, we found the much-lauded physics and force feedback were tempered by a general lack of polish. To its credit, Kunos Simulazioni has been constantly working on the game since, both by bringing new content, and refining the game's existing features and performance.
The latest teasers cover a little bit of both. Marco Massarutto took to Facebook on the weekend to share a few short videos, largely focusing on the already-available 911 GT3 R. As you can see in the image above (snapped from this short slow-mo video), the GT3 R is sharing the track with the new, mid-engined 911 RSR. The RSR was originally lined up to be a part of the third Porsche pack, but an 11th hour change saw the road-going 911 Turbo S take its place.
A second video shows off a "Gentlemen Starter" portion of a lap at the N24 layout of the Nürburgring. Again in the 911 GT3 R, Marco makes his way through a tightly-packed field of cars. The race is a result of the Custom Championships feature, which was added to the PC version last December. Alongside private lobbies, it is one of the most-demanded features for console players.
Whether it's custom series for console players, or the 911 RSR for everybody, the question as always is when players can expect access.
Custom Championships are expected to arrive on consoles the same way they did on PC: via the title update that comes alongside the third and final Porsche pack. The v1.12 update and the DLC were submitted for review last week, but there has yet to be word on a proper release date for either.
The mid-engined 911 RSR is a murkier subject. The car is in alpha testing, but the original announcement about its delay stated the car would be arriving as a free upgrade to Porsche Pack Volume 3 owners in January. A quick glance at our calendar shows we're a week into February, and there's still no solid date attached to the car's public availability.
It's also unknown if console players will have to wait as long for the RSR as they have for the rest of the Porsche content. The third pack arrived on Steam December 20, meaning the gap between it and the PS4/XB1 version could stretch to two months by the time of release. If a similar amount of time is needed for the RSR, console players may have to wait until spring.
We're expecting a release date for the console update soon: stay tuned to GTPlanet for more Assetto Corsa news.
Assetto Corsa is currently available for PlayStation 4, Xbox One, and PC (Steam).
More Posts On...