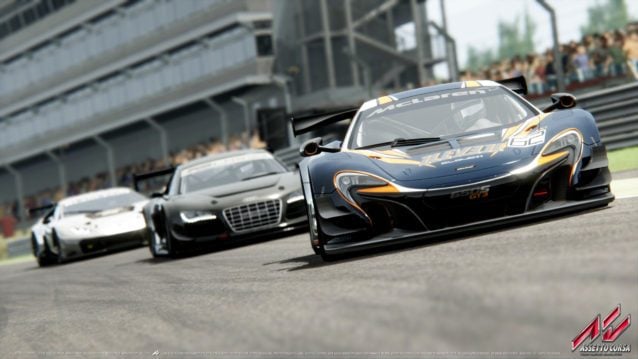 There's a local brewery that has gained a lot of fans in Toronto since it started selling beers at the turn of the millennium. Despite winning numerous awards, the team has bucked the craft beer trend of branching out, opting to exclusively stick to the original product their reputation has been built on. The motto? "Do one thing really, really well."
We haven't met the folks that make up Kunos Simulazioni, and we'd wager the Steam Whistle Brewing founders probably haven't either. If that's the case, it's a bit of a shame: we think both camps would find they share a lot of common bonds. Assetto Corsa certainly feels as single-mindedly focused, more so than any other driving game we've played on consoles.
Full disclosure: I was given early access to Assetto Corsa on PlayStation 4 and Xbox One through 505 Games' US PR firm. Thanks, Karina!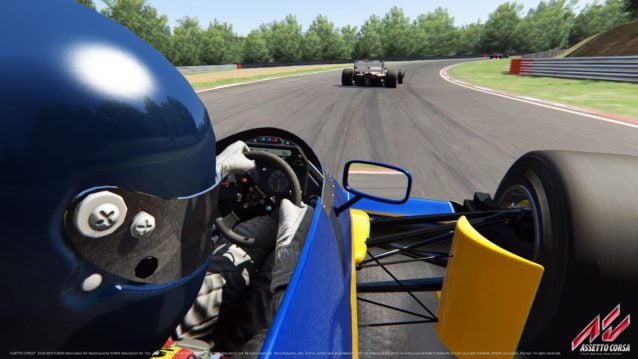 Controls
We initially approached both versions of the game with the respective system's default controller to get a baseline. Optimization for pad users is acceptable, as expected after Kunos showcased just that prior to release. Helpfully, players are able to change a handful of settings, from vibration intensity to deadzones.
Unfortunately, there is no in-game explanation for these options. Some are fairly straight-forward, while others will be less clear to players unfamiliar with this level of input customization. Steering Filter, for example, affects how controller inputs are smoothed, blending successive taps of the analog stick into a continuous movement. Steering Gamma changes the linearity of the analog stick, where a higher setting causes small movements to have less of an impact on the steering versus the default 1:1 ratio.
Bizarrely, there's also no "Reset to Default" option, so we'd recommend snapping a screenshot before you start tinkering. There's also no way to customize the button mapping; you've got three Kunos-designed layouts and that's all. This means pad users are locked out of controlling their clutch.
A big advantage the game has over most other titles in the genre is the ability to cycle the turbo and traction control on the fly. This gives players the opportunity to ease themselves into the experience, which can prove invaluable when you're strapped into a Yellowbird that's trying its hardest to introduce you to the barrier.
The controller is a blunt instrument, at least out of the box. Cars are very twitchy with the default settings, making any of the faster vehicles incredibly difficult to control. It's more manageable than Project CARS was during its console launch last year, but doesn't hold a candle to the controller optimization of Gran Turismo, Forza, or even DriveClub. If you're coming from any of those games, we recommend bumping the Steering Gamma up quite a lot.
Of course, plugging in a wheel transforms the game. We took the opportunity to try Assetto Corsa with Fanatec's latest offering, the CSL Elite bundle (full review coming next week). The only change we needed to make from the default wheel settings was knocking the FFB effect down to avoid the wheel see-sawing on straights.
Physics
There's no point waiting any more to talk about this part of the game. Ever since Assetto Corsa was first ear-marked for consoles last year, the physics have been at the forefront of any discussion. It's arguably Assetto Corsa's primary selling point.
If we had to sum up the Assetto Corsa physics experience in a single word, it'd be "natural". A lot of other reviews of the game have heaped praise on this aspect of the game, with good reason: it really does set a new standard on consoles. Consider the Kool-Aid thoroughly drank.
A seemingly-simple feature that we wish every driving game included is the Factory setting for ABS and Traction Control. Our man Brendan called it "pure genius", before adding "I love being able to drive a car the way it should actually be driven as opposed to artificial difficulty". It means less time spent shuffling through the settings when jumping from one car to the next, and more time doing the important stuff: driving.
"The Abarth 500 handles exactly the way I would expect," said Brendan, after taking one of our most-anticipated cars around the track. The little scorpion-badged car is a joy, sniffing out apexes while letting its rear tires take on some attitude.
The Nismo GT-R — part of the Prestige Pack — is monstrously fast, but you never doubt its quite considerable curb weight. Easily the biggest stand-out in terms of its dynamic makeup is the amount of oversteer it's capable of: despite all the rabble you'll hear of the car being a cinch to drive, the Nismo really does feel like a rear-drive car most of the time.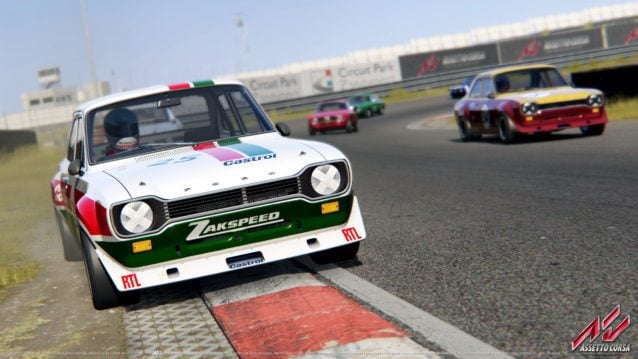 A car's vintage plays a huge part in how it drives. The Ford Escort RS1600 is a tiny little buzz-box of a car, with period-appropriate levels of rubber housed inside those flared arches. It will get sideways at a moment's notice, but the edge of its performance envelope is soft. You can almost feel the taller sidewalls doing their part to make the car more malleable. The Ferrari 312T tells a similar story, though with exponential increases in speed and downforce.
By comparison, the closest thing to a modern F1 car currently in the game (the Lotus Exos Stage 1) has bags more grip, aerodynamically and mechanically. Its limits are so high that you'll constantly find yourself re-evaluating what you thought was an acceptable entry speed for corners. When you do eventually cross the threshold, however — and you will — you'll be greeted with a very, very sharp drop-off in grip.
Basically, every car feels different, with its own unique positives, weak points, and quirks.
Nearly every track in the game is laser-scanned: the dedicated drift track and Zandvoort are the exceptions. Using a wheel drives the advantages of this approach home, as you feel every bump through the rim. You'll also feel the wheel lighten as you lose grip at the front, while it will load up when you get sideways.
Catching small slides is easy enough, but you'll need a some serious skills if you're hoping to catch the bigger, smokier variety. That's not a bad thing: video games have lulled us into the idea that drifting can be easy, but skill definitely plays a major part in the equation. When you pull off a proper string though, it makes it that much sweeter.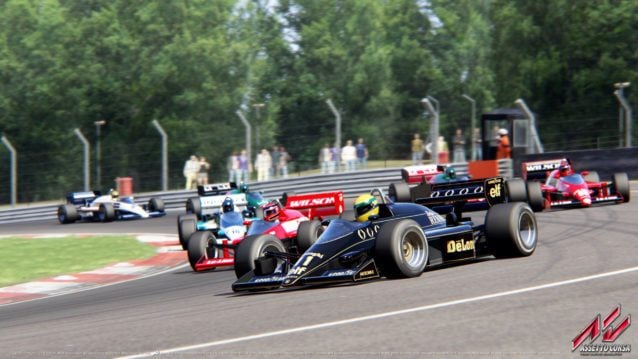 Cars And Tracks
Assetto Corsa arrives on consoles with 90+ cars. That's a bit of a misnomer, as a fair amount of the garage is made up of the Kunos-tuned versions of stock rides. These do feel different from the normal cars they're based on, but it nonetheless needs to be mentioned.
If you're a fan of Ferrari, Lotus, or BMW, you will be very satisfied with the lineup. Those three marques make up a substantial portion of the list. American cars are represented with a handful of Fords (though really, only one of them can claim to be all-American), two C7 Corvettes, and a monstrous Shelby Cobra. Japanese cars are similarly light on the ground, with only three cars available. That will be rectified slightly when the Japanese Car Pack makes its way to consoles.
There are some inspired inclusions, however. Scuderia Cameron Glickenhaus makes it in with two of its machines; the F430-based P4/5 Competizione and bespoke SCG-003C. Sauber's bonkers C9 represents the madness that was Group C, while tasty F1 cars from Lotus' rich history provide a look through the ages of the sport. Console users also received the Ferrari FXX K, 488 GTB, and the Czech-built Praga R1 track car.
GT3-type cars are well-represented, with entries from McLaren, Mercedes, Nissan, and Lamborghini joined by similar-spec cars from Ferrari and Chevrolet. Fans of touring car racing will be delighted by the high-revving Alfa Romeo 155 TI V6's inclusion, alongside the legendary BMW E30 M3 Group A and Mercedes-Benz 190E Evo II.
The track list is a mixed bag. It's a small bag, with 12 locations (including the drift track). Brands Hatch, Nürburgring, Silverstone and Spa are all on the list, seemingly required content now for all sim driving games. Regardless of this familiarity, they're all recreated accurately: Surtees is just as difficult to pin down as you remember, and Pouhon requires commitment in the quick stuff.
The 'Ring is seriously impressive, offering more layouts than any other game on consoles, including the Tourist setup. The track feels like it's truly located smack dab in a forest, with the trackside littered with trees. Personal favourite Mugello is a jewel, while Kunos' home circuit of Vallelunga is a deceptively hard circuit to master.
Outside of the limited track selection, our biggest criticism of the locations is the lifelessness of the surroundings. There's very little going on around you, and while that's fine for hotlapping, it can make race weekends feel dry and anticlimactic. Some atmosphere would go a long way.
Sounds
The sounds of the game are amongst some of the better ones found on consoles. Each machine's unique voice is captured accurately — and change noticeably based on view used — but engine notes are only part of the equation. Racing gearboxes whine as you pile on the speed, and climbing up the 'box is accompanied with a satisfying slam in paddle-shifters. Wind and road noise are both present and accounted for, contributing to the all-important immersion factor. Our favourite bit of sound engineering is the pinging in the wheel wells after you've encountered a patch of dirt.
Assetto Corsa offers players the ability to fine-tune the sound mix. In the Options menu, the Master volume option is joined by 7 separate volume listings: engine, wind, tyres, opponents, brakes, music, and UI. This lets racers place importance on the aspect of their choosing. No matter what volume you set it at, the music will not play during a race, only in the menus. Given the game's focus, we're not very surprised by that.
All is not perfect in sound land. While the cars sound great overall, some recordings are noticeably better than others. The E30 M3 — stock, not the racing or drift versions — suffers from a near-constant burbling/gargling sound mid-way up the tachometer. It sounds like backfire, which is in the game, but it occurs far more than any other car we drove in the game, and isn't accompanied by the visual cue.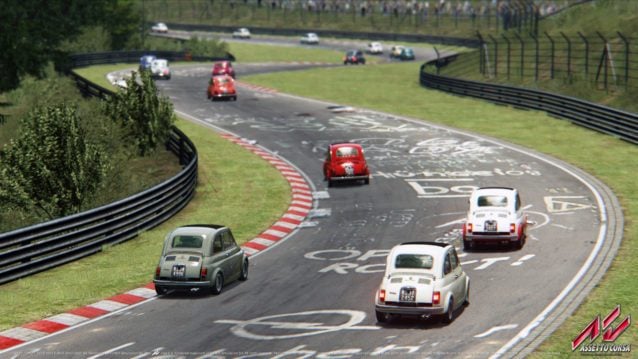 Graphics
Assetto Corsa isn't the best looking game in the genre. We'll get that out of the way now. At some points, it doesn't look appreciably better than select games from the previous generation. While some never expected it to match up in that regard — it's a title from a very small team that has consistently made physics a top priority, and are only just now dipping their feet in the tricky console pool — the gaming public are likely to compare the game unfavourably to other, more established titles.
This being said, the game is far from ugly. Setting different times of day — sadly, not dynamic — changes the look and feel of tracks. The interiors of the cars are faithfully remodelled, with a truly impressive amount of data available for number nerds in the race cars. Car models as a whole are very good, and liveries are of impressive quality.
Tires pick up dirt after a car has taken an off-track excursion, slowly disappearing over the next few turns. This is obviously more noticeable on the open-wheel cars, but it's a nice touch by Kunos to remind players of the consequences of mistakes.
It may be a cliché, but the quality of the graphics seem to matter less when you're deep in a heated race. This is likely due to the realistic colour palette Kunos has adopted by default for the game. If you've watched an in-car video on Youtube of someone hoofing a Ferrari around Mugello, you'll find the in-game visuals surprisingly similar. The game could still use more track-side atmosphere, however.
Similar to Driveclub, there are other colour filters to choose from: Expanded, Sport, Black & White, and Sepia. These add more to the game than you'd expect, and they're best shown off in the Replay Mode (especially as there is no Photomode within the game). The mode itself is both good and bad: the TV angles are very well-chosen, showing off the game in its best light. Unfortunately, replays appear to be limited in terms of length. Recording starts from the moment you hit the track, even though you're first in a menu before hoping in the car. This seems like a waste given the time limit.
Screen tearing is very noticeable on both consoles. Framerate fluctuation is too, and sadly, both can rear their heads even if it's just you alone on the track. Multiply that by sixteen to achieve a full grid, and the result is a game that chugs along when the pack is close together. To their credit, the Kunos team has already announced an update is coming later this month to rectify these issues, but that doesn't change the existing game's performance foibles.
Game Modes & Menus
Players are presented with three options at the main menu: Special Events, Drive, and Career. Drive offers seven options of its own, which are used variously in the other two: Practice, Quick Race, Race Weekend, Online, Hotlap, Time Attack, and Drift. Practice and Hotlap are essentially the same; the major difference is where you first start on the track (pits versus end of lap) and the existence of a ghost (Hotlap).
Quick Race is straight-forward enough, letting you hop straight into the action. AI options include difficulty level, quantity, and type (single make or same class). Race Weekend expands on that, offering practice and qualifying sessions before the main event.
Time Attack is built in the same spirit as 90's arcade racers: players must circle the track as quickly as possible, hitting checkpoints to add more time onto their remaining tally. Keeping the timer from hitting zero for longer nets a higher final score. Unfortunately, the mode could use some revisions, or at least the UI. The map doesn't show where checkpoints are, so you're left guessing until the locations are familiar.
Drift mode is almost worth skipping, at least in terms of practicing the art of slideways. Jumping onto the track, you're given a hilarious 60-second time limit to garner points, which extend the time in much the same way Time Attack functions.
Those looking for a robust, interesting offline career mode will likely be disappointed. For starters, it's very linear. It follows the path typical of racing games, starting out in slower, more pedestrian machinery before graduating to the quicker stuff. That on its own is fine. But the only way to select a later series (at least as far as we've seen) is to complete the preceding one. Progress is measured in medals, with set amounts needed for each series.
In the series themselves, there will either be a collection of events that can be completed in a random order, or a set-order championship. The former will swap between a few different cars, letting you get a quick taste of the variety the game has on offer.
Special Events are standalone car/track combos meant to further challenge players. In that sense, they succeed; the difficulty is all over the map, meaning some tests will be a cakewalk, while others are controller-threatening levels of hard. The amount of events on offer is impressive — there's 94 of them — but as every one boils down to Hot Lap, Quick Race, Time Trial or Drift, it begins to blur together.
The finish of a race is, for lack of a better word, simply bizarre. After the checkered flag flies, players are left to lap the circuit for a few seconds before being instantaneously transported back to the pits. The results don't pop up until a short while after that, but you'd better wait: the results will be lost if you exit prematurely. Some community members have also reported the teleportation back to the pits has affected finishing orders. A little bit of polish in this area would go a long way.
The menus are very quick-loading, which is good. The bad news is they're not especially pretty, feeling distinctly 90's thanks to a font selection with appalling readability. What's more surprising, the tiny thumbnail images used for the career races are blown up in later menu screens, resulting in all sorts of pixelization. Image resizing should always go down, not up, and this move makes the game feel unpolished.
As mentioned way back near the beginning, there's no explanations for most of what's seen on screen, relying on the player to instinctively know about what they're experiencing. This is fine for sim racing regulars, but can make the game unapproachable for those less familiar.
Online Experience
This will be a big letdown for players excited to race their friends: the online mode has no custom lobbies option currently. There are only pre-made lobbies, featuring a variety of themes. This approach severely hampered our ability to test out the online, as rooms will only progress if there are numerous players in them. The majority of the list had empty lobbies, on both XB1 and PS4 versions.
The car selection is a lottery, too: each room comes with a set number of models of allowed cars. If three people have already selected the car of your choice in a GT3 room for instance, you're forced to pick another one. We can't think of a reason for this approach other than perhaps wanting to limit the chances of duplicate liveries, or rooms becoming one-make races. Either of which seems pretty silly.
When we did get to race, we found the experience roughly the same as what's available offline in terms of the game's performance. There were the expected framerate and screen tearing issues, but very little lag from other players. We watched some impressive drift trains in one room, with cars keeping side-by-side through transitions cleanly.
Kunos has promised that private lobbies will make it to consoles in a future update, but it's shocking the game was shipped without any real way of setting up dedicated events with friends. That's an essential portion of the sim racing genre, and it can't come soon enough. The same goes with leaderboards, also conspicuous by their absence.
Conclusion
3000 words later, the most important question remains: would we recommend Assetto Corsa to friends? The answer, as you've probably figured, is "maybe".
We can't stress this enough: the physics are quite impressive indeed. Not perfect — no sim is, and it's a harder sell on the pad — but with a wheel, it's sensational. Kunos has nailed down the force feedback of the game, helping it feel very natural. On numerous occasions, we lost track of time just hotlapping a circuit, which is something that hasn't happened too often recently.
That brings us to the crux of the issue with the game in its current form, however: it functions primarily as a hotlapping simulator. Racing with friends online is only possible in Kunos-designed hoppers, all but removing custom community championships from the table. Offline isn't much better: there's AI that can PIT-maneuver you on a straight with no consequence, the unusual end-of-race sequence, and the tedious nature of the career mode. "But Kyle," I can already hear from the comments section, "a vast career mode is not the point of the game." This is a specious argument: if a career isn't the point of the game, it shouldn't have been added.
We can't help but circle back to that tag-line: "Do one thing really, really well." Other games offer a wider range of flavours: taster packs highlighting the breadth of the company's offerings. If your preferred flavour profile includes a base of authentic physics and feedback, Assetto Corsa is a veritable 24-pack of your favourite beer.
See more articles on Assetto Corsa Console Release and Review.