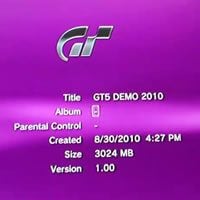 The playable GT5 demo which was first spotted last night at a Best Buy in Oregon has now been confirmed by multiple sources. GTPlanet reader Jeramy has also grabbed video of the new demo, walking us through all of the available cars, tracks, and features. Vermontster of the PS Forums has also shared his conversation with the Best Buy employees (thanks, calvins48), which you'll see below. We do, indeed, owe a lot of thanks to Oldschool27 for his discovery!
The demo should be coming to more (and hopefully all) Best Buy stores over the coming weeks. For now, if you're in the Clackamas, Oregon area (outside of Portland), you can get an early taste of GT5 right now. Click here for the exact location and directions to the store – tell them GTPlanet sent you!
We all owe a big THANK YOU to Oldschool27 for this find.

He was in fact correct.  The Best Buy in Clackamas, OR has a working, PLAYABLE demo. It has 2 modes. Time trial or Arcade mode, arcade mode has 3 levels of difficulty- A ,B, C

5 tracks are available

1. Rome

2. Toscano

3. Indy Super Speedway

4.  The RING Nordscheif (sp)

5.  Tokoyo R 246

11 cars are available.

1. Merceds Benz SLS AMG

2. Corvette Stingray '69

3. Enzo Ferrari

4.  GT Citroen

5. Ferrari 458 Italia

6.  Lambo Gallardo

7.  Audi R8

8. #24 Jeff Gordon Dupont Chevy

9.  Nissan Motul Autech GTR (super GT)

The last 2 cars are available to use in rally

10.  Nissan GTR V Spec

11.  Citroen C4 WRC

I had a lengthy conversation with the stores manager.  He said Sony sent it to them and they just set it up.  I think I may have really scared the guy.  He left me to go search to see if he was under any gag order.  He was not fond of the idea of hundreds of people comming in just to play a demo.  I told him to stock up on steering wheels and enjoy the next 2 months. :)

I am down loading the 3 pictures I was able to take.  The manager was very addament about not filming in his store.  They are of the TT screen, the arcade screen and home screen.

The physics are going to be familiar to those who did the Indy time trials.  They are a step up in difficulty for sure.  The graphics are nothing short of spectacular.  The demo was set up for controller use and the left stick didn't work so I was forced into using the D-pad.

I'm not sure if my photo's will be any better than Oldschool were.  All I have are those 3 photo's and a half an hour playing the demo as proof of its existance.  I also met Oldschool at Bst Buy.  He walked me through the demo then let me at it.

Thank you Oldschool.  This was a great find.
See more articles on Best Buy, Gameplay Videos, GT5 Demo, and GT5 Videos.