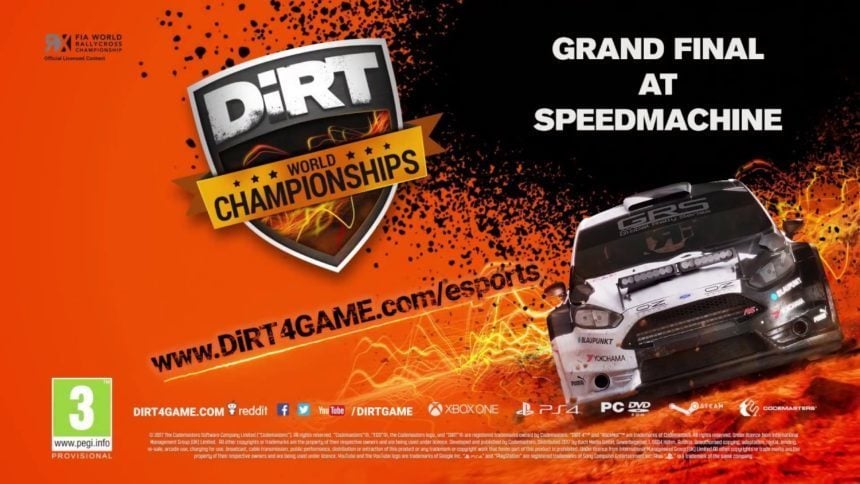 After many rounds of online qualifying, the DiRT Esports World Championships is reaching its final stages. 36 drivers have made the cut for the next phase of competition and it's only going to heat up from here.
Over 20,000 players had a go at the Qualifying stage which saw players take on rallycross and tracks generated with DiRT 4's Your Stage feature. Unlike most other rally games, this meant that competitors would be going in totally blind to what challenge was ahead. All versions of DiRT 4 were included in the tournament with players across PS4, Xbox One and PC all able to try and top the cross-platform leaderboards. PlayStation 4 was the clear favourite with over half of the total number of entries coming from the console. As is often the case, the fastest times belonged to those playing the PC version of the title on Steam.
According to Autosport, the most popular event was an opening week two-stage rally at Fitzroy, Australia. Most competitors also seemingly had good taste, going with the classic Lancia Delta HF Integrale for their machine of choice.
With the online section of the championship in the history books, focus now shifts to London for the Quarter Finals. The event happens this Sunday, April 8, at the Gfinity Arena with commentary being handled by RX commentator Andrew Coley and gaming expert Luke Crane. Want to watch the tournament but can't make it to London? Fear not, as is often the case in situations like this, the competition will be live streamed. You can catch all the action on Motorsports TV.
Much like the previous rounds, quarter finalists will be challenged with a two rallycross races and a two-stage rally event. The top six racers on each platform will then progress to the semi-finals.
Maybe You've Qualified and Don't Even Know it…
Given the fantastic prizes on offer in this tournament, you'd think every finalist would jump at their chance to attend the Quarter Finalists. However, according to the official DiRT account on Twitter, there's one fast individual at large…
DiRT World Championships qualifiers, you should all have received an email from our friends at Gfinity!… Except for RockstarGtR on Xbox One. If this is you, please drop us a tweet so we can get in touch! (There's always one. ?) pic.twitter.com/0GzzIhrZM9

— DiRT (@dirtgame) April 5, 2018
If your Xbox gamertag is RockstarGtR, get in touch with the Codemasters team to confirm your slot in the Quarters. If you don't want to show up, I can always attend to make up the numbers…
Good luck to all those competing in the championship this Sunday!