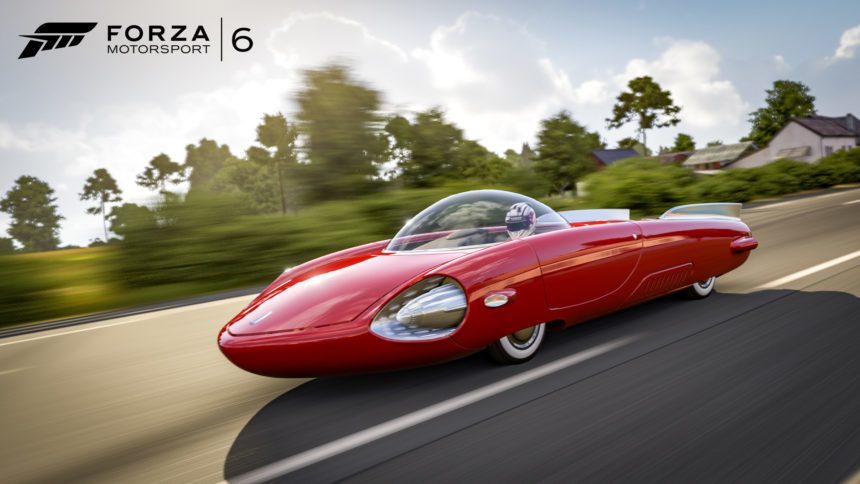 https://www.youtube.com/watch?v=W_FJ1_nX7IM
Teased way back in November, the Chryslus Rocket 69 will finally start arriving in Forza 6 garages starting today. Turn 10 announced the ride's arrival a few hours ago, with the humourous video shown above, and expanded on how exactly players can get their hands on it. The short answer: very easily.
The car will be available via a unique unlock code sent through the XBox Live message system. The only qualifier is that players have a game save on their system for either Forza Motorsport 6 or Fallout 4. Having both will not produce an extra code: it's one Rocket per account. Players that purchase either game between now and the end of the month will have to wait until May for their codes.
Originally appearing in Fallout 4, the fictional car is said to be powered by a "micro fusion" engine, though all Turn 10 has said about the car's performance within the game is that it will top 200mph. Uniquely within FM6, the vehicle eschews a traditional wheel for a joystick, much like Mercedes-Benz has toyed with in various concepts for the past two decades.
Of course, this isn't the only fantasy car to arrive in a racing game recently (or even in the Forza series). One of Gran Turismo 6's main selling points was the unique Vision GT program, which produced some outlandish concepts. The laser-powered Chaparral 2X, for example, or the wild SRT Tomahawk X. Need For Speed got in on the action earlier this year with the Beck Kustoms F132, a crazy mashup of hot rod and F1 aesthetics.
Way back in 2011, Halo's Warthog arrived in Forza 4's Autovista mode (which has since been renamed Forzavista). That behemoth wasn't drivable, however.
Are you excited by this unusual addition? Discuss it in the Comments section, or our dedicated Forza 6 forum section.
The original comments for this post are no longer available.