Fiat Chrysler Automobiles has fully revealed the SRT Tomahawk Vision Gran Turismo concept car today in Detroit. Developed by the combined efforts of SRT's design and engineering departments, the Tomahawk is the result of ideas and technologies that go beyond those implemented in modern day racing cars; the best possible driving experience for Gran Turismo users.
"We had fun stretching our minds to create the SRT Tomahawk for Gran Turismo 6. The game places a high emphasis on capturing reality in a virtual environment; our goal was to respect that philosophy by focusing on plausible future technologies that could achieve our vision of extreme performance. Everyone can appreciate an exquisite design and something that is beautifully engineered; when those two things are brought together in a fusion of cooperation, there is nothing more exciting."
The Tomahawk will be made available in three exciting builds, separated by the level of engine tuning and device controls, allowing players to choose one most suited to their own skill set.
SRT Tomahawk S Vision Gran Turismo
The entry level machine meant to prepare players for the incredible performance of the Tomahawk series. Powered by a 7.0L wide-angle V10 tuned to deliver 792 hp, with an additional 215 hp derived from the pneumatically-driven front wheels for a total output of 1,007 hp. This is the heaviest variant in the Tomahawk series at a curb weight of 2,026 pounds, and yet it has a top speed of 250 mph.
SRT Tomahawk GTS-R Vision Gran Turismo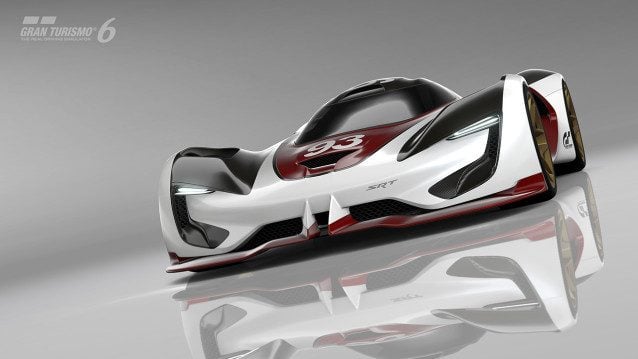 Race tuning pushes the power of the V10 engine to 1,137 hp, with an additional 313 hp from the air-driven front wheels for a total output of 1,450 hp. Aggressive weight-cutting takes the curb weight down to an impressive 1,459 pounds making it the lightest of the three, with a top speed of 300 mph.
SRT Tomahawk X Vision Gran Turismo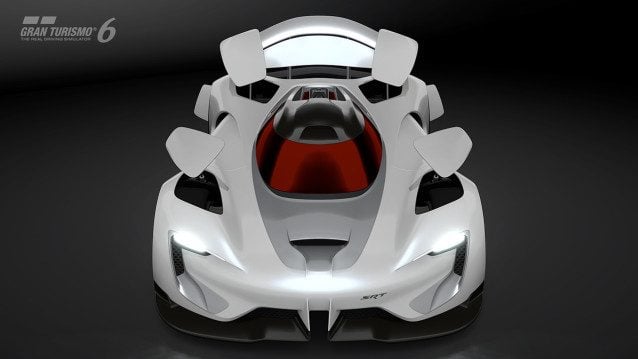 The ultimate version in the Tomahawk series that employs a number of experimental technologies. With a redline of 14,500 RPM, the V10 engine is now capable of outputting 2,168 hp, with an additional 422 hp from the front wheels for a total peak output of 2,590 hp.
Due to the extreme performance and its 404 mph top speed, the driver is required to wear a G-suit to withstand the extreme cornering forces.
The SRT Tomahawk Vision Gran Turismo will be made available as a free download for GT6 sometime this summer, and you can discuss the full reveal in our forums.
More Posts On...
The original comments for this post are no longer available.