Trying to explain Formula One in layman's terms can be somewhat difficult. The sport has become rather complicated over the years. Gone are the days where you hopped in your car, filled it up with fuel and bombed it around a track, sans seatbelts or fireproof overalls.
Now it's all about who can be the most efficient when converting kinetic energy into raw power. Who can best direct the airflow around the car to make sure it's nailed to the tarmac. Who can win the reliability race.
F1 is at the forefront of modern technology when it comes to building a race car and making it go fast. The teams are constantly trying to one-up each other in a bid to cross the finish line first. The fact is, the team with the best R&D (Research and Development) department usually tastes the most champagne. In F1 2017, you'll be able to give it a go yourself.
While past F1 games have offered an R&D element, F1 2017 is looking to go full Adrian Newey. This year's game will have four times the amount of upgrades compared to last year's offering.
F1 2017 aims to replicate what it's like to develop your car throughout the course of a season, or multiple seasons if you want the full experience. The R&D section is a new addition to the already expanded career mode. Four distinct R&D areas are present, each with their own "trees": Powertrain, Chassis, Aerodynamics and Durability.
Each area has its own set of upgrades and it's up to you what development path you follow. Do you branch off towards the powertrain for that extra oomph, but at the cost of neglecting grip with lesser aerodynamics? Or do you go down the route of a smart chassis that's kind on its tires, but at the cost of unreliability? Those who've played Motorsport Manager will feel very at home here.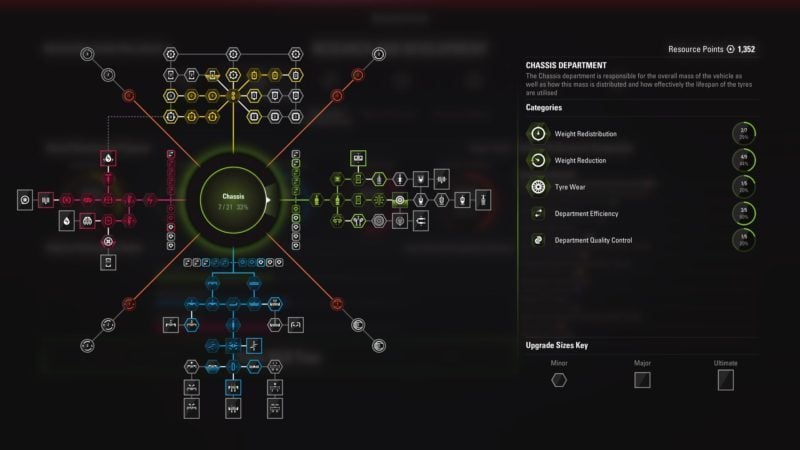 But it doesn't stop there. F1 2017 introduces "Resource Points", a currency that opens a strategic door when choosing upgrade paths. As is famous with F1 in real life, strategizing off the track is just as important as when you're on it. Planning ahead will be key when developing your car in F1 2017.
Increase the efficiency of your departments so they cost less to maintain. Or improve the quality control so that the parts you develop aren't sent back to be re-tweaked — costing valuable time and money. All of this could mean trailing your rivals in the development race during the current season, but could set you up for success next year.
These dilemmas are what the F1 teams face in the real world. However, if you feel like heading down easy street, there's a "recommended upgrade" option to keep you on the straight and narrow.
The R&D trees may look daunting, but such is the complexity of the sport. Adding such an in-depth feature to the game shows that Codemasters may be leaning towards a more hardcore focus with F1 2017. Those searching for an authentic experience may have found what they're looking for when the game releases later this month.
More Posts On...