Japanese gaming magazine Famitsu has published a short hands-on preview describing the first few steps in starting your virtual career in Gran Turismo 6's single player campaign. The article begins with a description of the driver "tutorial" that begins immediately when the game first launches. This will be similar to the driving introduction players went through when first loading up the GT6 GT Academy Demo. It also mentions having to register a "name" before the tutorial gets started, again, in line with the process in the GT Academy Demo.
This could be first confirmation of GT6 taking a more in-house approach to tracking drivers, instead of simply relying on PSN information for multi player events and online racing. It could also mean players will be allowed to change their "Gran Turismo 6 names" whenever they'd like.
The driving tutorial is meant to give players a taste of the game's new handling before letting players dive in to the full game. It will also display basic driving technique tips and allow you to get familiarized with GT6's new interface, to get players situated. Famitsu goes on to describe "Step 2," which is the buying of your first car, where they recommend the 2010 Honda Fit RS for its "gentle behavior" to learn proper technique. The image for Step 2 is also interesting in that it displays the first look at some of the initial choices in cars.
Step 3 describes the new Star system in GT6 that requires you to collect a certain number of them before you're allowed into new races.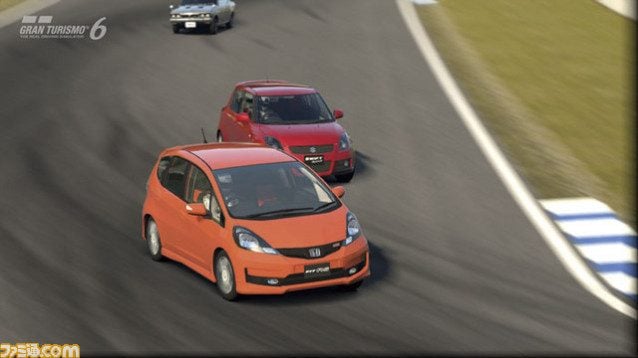 The preview ends describing the expanded customization system along with other known features such as the new B-Spec mode, which is no longer separated from A-Spec, but can be activated during any race at any time, much like it was in Gran Turismo 4.
More Posts On...