Fanatec teased a new product announcement when it revealed its Black Friday 2017 deals last week. Now, we know what that product is: the new CSL Elite McLaren GT3 steering wheel.
Touted as a replica of the actual steering wheel used in McLaren's 650S GT3 car, Fanatec reports "all switches, paddles, dials, shape, and size" were replicated using the original CAD files provided by McLaren.
Notable features include a second set of paddles, which Fanatec is referring to as their "dual-clutch system". The function of the paddles can be modified using a knob on the wheel, with four different modes available:
Clutch/Handbrake Mode (allows one paddle to be used as the clutch and the other as a handbrake)
Dual-Clutch Bite-Point Mode (Use the paddles as a clutch with a configurable bite-point)
Gas/Brake Mode
Binary Button Mode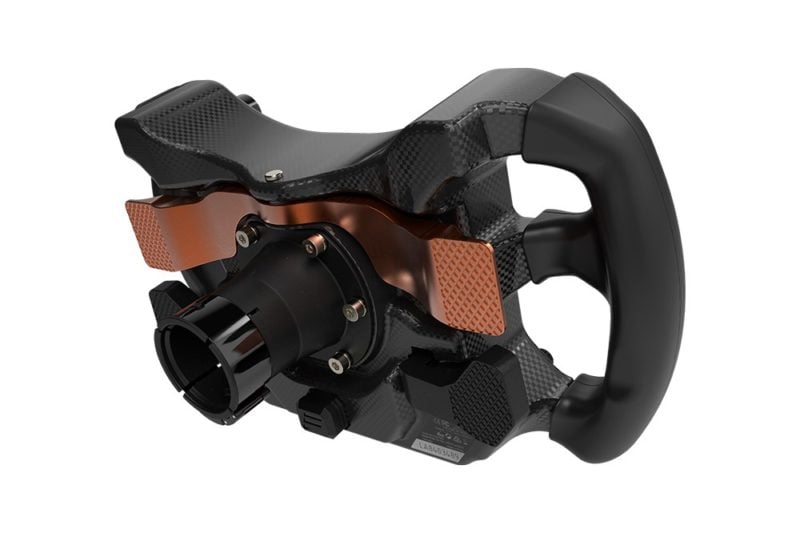 The wheel also makes use of Fanatec's new Quick Release mechanism, so it can be quickly swapped out with other hardware from the company's ecosystem. It also features a 1" OLED display to provide "evolved Fanatec tuning menu functionality".
This all comes in a package which Fanatec claims is its lightest wheel to date, weighing in at just 942 grams. The wheel is officially licensed for the Xbox One, and when paired with a PS4-compatible base like the Fanatec CSL Elite, it can be used on all of today's major platforms (Xbox One, PS4, and PC).
Here's the full list of specs and features:
Officially licensed by McLaren Automotive Limited
Officially licensed for Xbox One
Dual analog paddles with 4 modes and 4-position rotary encoder for changing the mode
Solid anodised rocker type aluminum shifter paddles with snapdome functionality
Diamond texture grips for shifter and clutch paddles
1″ 128×64 OLED Display
Upgraded Fanatec Tuning menu functionality
2 Rocker switches
2 Rotary encoders with 12 positions and number indicators
Fanatec FunkySwitch™ (5-way digital joystick with rotary function)
2 high-bezel snapdome buttons with laser engraved P & N indicators
7 Basic buttons with exchangeable button caps
Tuning menu button
Overmolded rubber grips (like original GT3 wheel) with 50 Shore A Hardness
Glass-fiber reinforced and heat stabilized Simplified Quick Release and clutch paddles
Exchangeable quick release. Can be upgraded to ClubSport Quick Release Adapter (optional)
Allen key tool included in the steering wheel
Exchangeable button caps included
Button label placement indicators for placing additional indicators like "VIEW" & "KERS"
Xbox One mode LED indicator
Lightweight ( 942 g / 2,07 lbs )
Diameter ( 30 cm / 12 inch )
The Fanatec McLaren GT3 wheel is priced at $169.95 in the United States and €179.95 in Europe (check your local Fanatec site for more detailed pricing).
If you want one, though, you need to hurry: the wheel is only available for pre-order until Tuesday, November 28 at 08:00 UTC/GMT. After this pre-order window is closed, you won't be able to reserve the wheel again until it goes on sale in February 2018. It could get more expensive, too. In a Facebook comment, the company has suggested the price could increase due to strong demand.
Click here to reserve your pre-order, and be sure to check out Fanatec's other Black Friday deals that will only last for a few more hours. Of course, Fanatec isn't the only company in the genre that's offering heavy discounts this time of year: have a look at all of our Black Friday 2017 coverage to make sure you didn't miss anything on your Christmas list.
See more articles on Black Friday 2017, Fanatec, and Fanatec CSL Elite.