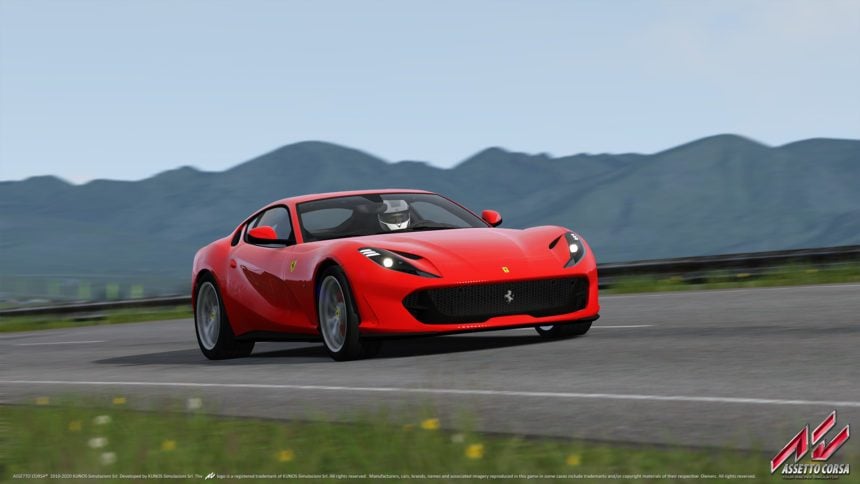 Revealed earlier this year, the Ferrari 70th Anniversary Car Pack is now available for Assetto Corsa on PC. Joining the existing roster are seven of Ferrari's most iconic vehicles. It's a list that includes a 24 Hours of Daytona winner and two Formula One machines.
For those looking for a quick refresher, the seven Ferraris included are as follows:
1962 250 GTO
1967 330 P/4
1967 312/67
1984 288 GTO
2004 F2004
2017 812 Superfast
2017 SF70H
Kunos offered players the opportunity to vote on the seventh and final vehicle included in the pack. While the winning vehicle wasn't to everyone's tastes — the 2017 SF70H — it's certainly a unique inclusion that gives Assetto Corsa its own edge. It's a rarity for current-year F1 cars show up outside of Codemasters' F1 2017.
While not a direct competitor, the SF70H is a nice complement to the other two F1 cars on the existing roster: the SF15-T and F138. Meanwhile, the F2004 represents the end of an era for Ferrari. It was the last car Schumacher won a championship in, and with Barrichello as the number two, it dominated the 2004 F1 season, winning all but five of the 18 races.
Of course there's more to the pack than Ferrari's F1 history. The 812 Superfast is the second modern-day Ferrari featured in the pack. Powered by a 6.5-liter V12 sending just under 800hp to the rear wheels, it's no wonder Kunos included it. Did we mention its top speed north of 220mph? There's plenty of eye-watering speed to go around.
The remaining cars are all milestones of Ferrari's past. 1984's 288 GTO gives players the opportunity to play with the F40's predecessor. Players are likely familiar with the 330 P4 for a number of reasons, whether it be racing history or it featuring in prior racing titles. Its inclusion should result in plenty of on-track fights with the Ford GT40, just as it was 50 years ago.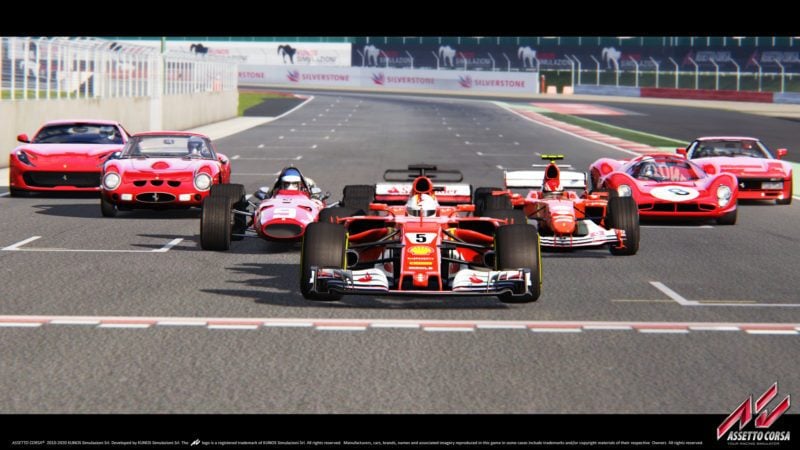 The 250 GTO is likely to be a favorite. The stunning 55-year old classic looks to command respect and will offer plenty of track day cruising opportunities.
While PC players are first on-hand, with any luck Xbox One and PS4 players shouldn't be too far behind. After all, just last week console players finally got their hands on the Ready to Race pack. With all platforms leveled in terms of released content, now it's only a matter of time. If we had to guess, we're willing to bet the four classic cars will be among the favorites of the pack.
Of course it doesn't end there as today's car pack was preceded by the 1.15 update and the list of changes are down below. The Ferrari 70th Anniversary Pack is now available on Steam for $7.99 USD.
Assetto Corsa PC v1.15 Changelog
New Ferrari 250 GTO (Ferrari Anniversary Pack)
New Ferrari (288) GTO (Ferrari Anniversary Pack)
New Ferrari 312 F1-67 (Ferrari Anniversary Pack)
New Ferrari 330 P4 (Ferrari Anniversary Pack)
New Ferrari F2004 (Ferrari Anniversary Pack)
New Ferrari 812 Superfast (Ferrari Anniversary Pack)
New Ferrari SF70H (Ferrari Anniversary Pack)
Templates for Ferrari 250 GTO, GTO, 312 F1-67, 330 P4 and 812 Superfast
Official Kaspersky team livery added for Ferrari 488 GT3
Updated template for Ferrari 488 GT3 (related to rear wing shape, it might affect a low % of mod skins)
Alpinestars gloves are introduced in Porsche cars
Fixed reflection issue on Corvette C7R skins
Minor graphical and skin-related fixes across all content
Updated Lotus 49 minimum weight
Updated Mazda RX-7 Spirit R rear wing setup and aero figures
Added automatic Force Feedback configuration for old wheels (ie MS Sidewinder)
MODDING REQUEST: Added blanket temperature to tyres.ini under [ADDITIONAL1] BLANKETS_TEMP
MODDING REQUEST: Added pressure vs temperature gain in tyres.ini. under [ADDITIONAL1] PRESSURE_TEMPERATURE_GAIN
MODDING REQUEST: Added camber spread tweak value in tyres.ini under [ADDITIONAL1] CAMBER_TEMP_SPREAD_K (AC default is 1.4, higher numbers=more spread)
MODDING REQUEST: Added new LUT based system to handle camber D variations. Example, (for every compound):
DCAMBER_LUT=(|-145=0.8|-15=0.9|-3=1.01|0=1|3=1.005|15=0.9|145=0.8|)
DCAMBER_LUT_SMOOTH=1
This will override DCAMBER_0/1 behavior (values still need to be there tho)
MODDING REQUEST: Added explicit inertia instead of box based. Use
[EXPLICIT_INERTIA]
INERTIA=1300,1400,500
in car.ini
Suspension travel is now recorded at 166Hz in telemetry
Fixed AI not exiting pitlane at full speed in some cases
Added "ABS" FF enhancement effect
Added FF enhancement effects controls ingame in the "Force Feedback Controller" app
Added track models ini checksum on server. In order to gain full protection from cheating the server needs to include kn5 files
Added optional COMBINED_FACTOR value per compound. Thanks to Stereo & Jackson Papageorge (mclarenf1papa)!
MODDING REQUEST: Added variable throttle response as function of RPM. Add:
[THROTTLE_RESPONSE]
RPM_REFERENCE=6000
LUT=throttle_max.lut
More Posts On...