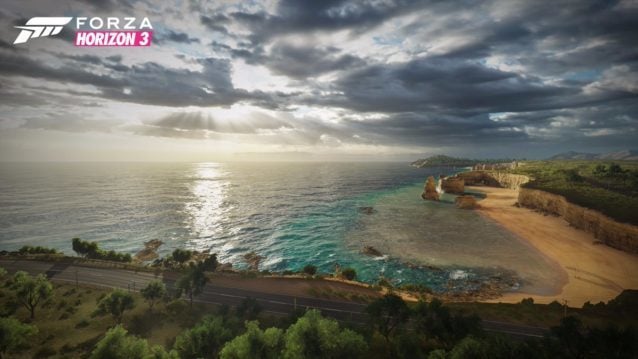 This week's garage update for Forza Horizon 3 takes on a bit of a different tone from the past 2 weeks. Showcase cars in previous weeks include some modern-era powerhouses and historic sports cars. This week however — the game is changed forever. Ferraris are lovely, and Aston Martins are prestigious, but this week a new entry into the garage roster makes all other competitors in the Horizon festival null and void. Say hello to the…
Reliant Supervan III
The Reliant Supervan III is a three-wheeled wonder best known by those in the UK for featuring in the hit BBC comedy 'Only Fools and Horses', in which the main characters used the car for doing some shady business. Del Boy and Rodney can vouch for the car's usefulness, however we aren't quite sure how it will stack up against the Aston Martin GT12.
Viewers of BBC's Top Gear will also know that Jeremy Clarkson is a fan of the unique car's smaller sibling — the Robin. Despite being most memorable for being continuously and purposely rolled, Clarkson felt a rare streak of guilt in a recent review:
"Rolling a Reliant Robin on purpose is a bit like putting a tortoise on its back. It's an act of wanton cruelty."
Please keep this in mind when you're tempted to hoon this thing.
What can be assured is that this little custard-colored Reliant will be an absolute blast to drive off-road. The potential for Supervan events online are limitless: off-road outback challenges anyone?
Ford Super Deluxe Station Wagon (1946)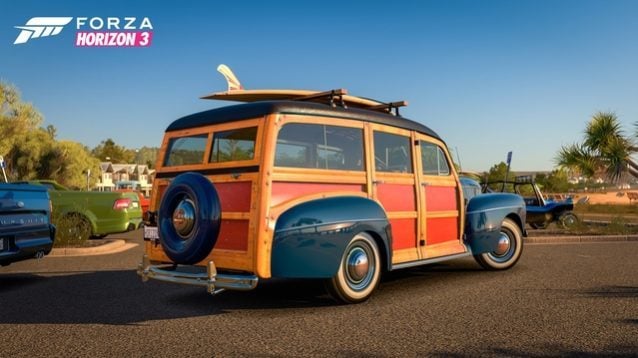 In Forza Horizon 3 there are a lot of cars built from a lot of different lightweight materials, used to make each vehicle as efficient and fast as possible. However, one material that has been criminally left out is wood. Not exactly synonymous with modern car design, the material usually finds it's home in interiors at best. Fear no longer, woodie fans – the Ford Super Deluxe Station Wagon has you covered. The Deluxe Station Wagon must be one of the fastest bedside cabinets ever produced, packing 100BHP with a V8 engine to boot.
Style-wise, white wall tyres complete that 40s look and a holster on the roof mean you can store your surfboard safely on trips across Australia. This American icon's hyperbolic name, unique looks and V8 mean you're sure to turn heads when taking this for a spin. Just don't expect to beat any Ferraris in a drag-race.
Usually, we get 3 showcase cars complete with renders but this time Playground have only supplied two. However, this week's overall roster reveal is considerably larger, containing 64 cars you can expect to find at Horizon 3's launch. The list is included at the bottom of this article.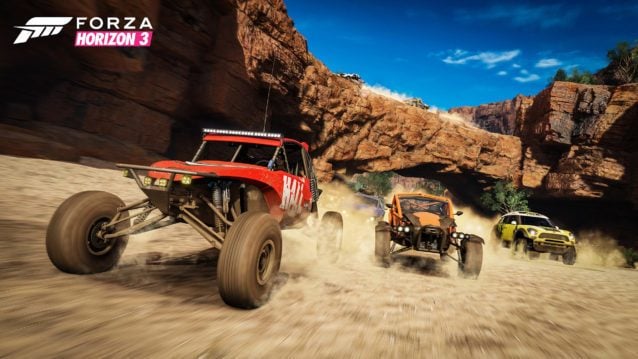 It is this variety of cars and the environment that is helping Horizon 3 to potentially be one of the best digital automotive experiences this year. At E3 2016, Forza Horizon 3 swaggered away with the award for best racing game at the show. It picked up various other accolades from media outlets too, in what was a very successful debut showing. The awards continue to roll in for Playground Games, with FH3 picking up the best racing game award on show at Gamescom.
Forza Horizon 3 launches on Xbox One and PC September 27 2016.
Full Garage Update:
1992 Alfa Romeo 155 Q4

1965 Alfa Romeo Giulia TZ2
2015 Alumi Craft Class 10 Race Car
2012 Aston Martin V12 Zagato
2011 Audi RS3 Sportback
2016 Audi R8 V10 plus
1991 BMW M3
1969 Chevrolet Camaro Super Sport
1970 Chevrolet Chevelle Super Sport 454
1960 Chevrolet Corvette
1970 Chevrolet Camaro Z28
1953 Chevrolet Corvette
1995Chevrolet Corvette ZR-1
1968 Dodge Dart Hemi Super Stock
1962 Ferrari 250 GTO
2008 Ferrari California
2013 Ferrari 458 Speciale
1965 Ferrari 250 LM
1952 Fiat 8V Supersonic
1995 Ford SVT Cobra R
2013 Ford Shelby GT500
2017 Ford Focus RS
1946 Ford Super Deluxe Station Wagon
1973 Holden HQ Monaro GTS 350
2004 Honda Civic Type-R
2015 Jaguar F-Type R Coupe
2015 Jaguar XKR-S GT
2011 Koenigsegg Agera
1988 Lamborghini Countach LP5000 QV
2010 Lamborghini Murciélago LP670-4 SV
1988 Lamborghini Jalpa
1986 Lamborghini LM 002
1968 Lancia Fulvia Coupé Rallye 1.6 HF
2015 Land Rover Range Rover Sport SVR
1997 Lexus SC 300
2002 Lotus Esprit V8
1956 Lotus Eleven
2004 Maserati MC12
2010 Maserati GranTurismo S
1997 Mazda RX-7
2011 Mazda RX-8 R3
2016 Mazda MX-5
2015 McLaren 650S Coupe
2015 McLaren 570S Coupe
1954 Mercedes-Benz 300SL Coupe
1998 Mercedes-Benz CLK GTR AMG
2012 Mercedes-Benz SLK 55 AMG
1986 MG Metro 6R4
1992 Nissan Silvia K's CLUB
1969 Nissan Fairlady Z 432
1993 Nissan Skyline GT-R V-Spec
1997 Nissan Skyline GT-R V-Spec
1966 Nissan Silvia
2010 Noble M600
1984 Opel Manta 400
2000 Plymouth Prowler
1987 Pontiac Firebird Trans Am GTA
1972 Reliant Supervan III
2013 Renault Clio RS 200
2016 Rolls-Royce Dawn
2015 Subaru WRX STi
1973 Toyota Corolla SR5
2012 Ultima GTR 720
1967 Volvo 123GT
See more articles on Forza Horizon 3 Car List.