Project CARS 3 is the third entry in the Project CARS series, which first arrived back in 2015. The series, developed by Slightly Mad Studios — which was also previously responsible for Need for Speed Shift and Shift 2 — has always been available on both PlayStation and Xbox consoles, along with PC via Steam.
Table of Contents
Introduction
PlayStation actually revealed Project CARS 3 on June 3 2020, with a YouTube video it inadvertently released when publisher Bandai Namco had intended to delay it. That was followed by an official announcement, along with a wider social media campaign.
The series derives its name from the term "Community Assisted Racing Simulator", a method of raising funds to develop the original title. Both previous entries in the series, along with SMS's Shift games, use an in-house developed game engine known as the "Madness" engine, and this continues for the third game.
Development on Project CARS 3 appears to have gone down a more traditional route, but SMS has been working on the title for quite some time. Studio head Ian Bell confirmed the title here on GTPlanet back in December 2018.
While players may be expecting a sequel to Project CARS 2, Bell had his eye on creating a "spiritual successor to Shift". That's lead to some subsequent design decisions that appear to have proven controversial.
Release Date
Project CARS 3 arrived for PlayStation 4, Xbox One, and PC on August 28 – with early access for Deluxe Edition buyers starting on August 25.
While yet to be confirmed, we'd expect to also be available for PlayStation 5 and Xbox Series X when the consoles launch later in 2020. Even if a dedicated next-gen version doesn't arrive, both consoles support backward compatibility, so the game will at least be playable on both machines.
Confirmed Features
The game trailer arrived unexpectedly, even for the publisher, however some further interviews with the developers and some details gleaned from early access game play through selected content creators gave us further insight early in the game's marketing cycle.
Since then we've seen regular updates across the game's official channels, giving us more information on what to expect in August.
Career Mode
Project CARS 3 will feature a career mode which takes players from low-power street cars through to top level GT racers, with progression based on earning in-game credits and tokens from challenges.
There's ten classes to advance through, starting with the Road E class, moving up through road cars to Road A and then Hypercars. There's four categories of GT vehicle to progress through to the top GT Open class.
Day/Night and Weather
Although not an obvious component of the trailer, BN and SMS have confirmed full 24-hour cycles and all-weather driving. That follows on from the standards of previous games, and this should be available on every circuit.
Vehicle Tuning/Modification
Players will be able to upgrade their vehicles with a number of different tuning components. These include basic parts like tires, brakes, and engine parts, through to a full race modification upgrade to turn your road car into a GT machine. Upgrades will change a car's performance index ("PIR") and may change what classes they are eligible for.
This will allow players to stick with one car through the various categories if they so choose, although there are some entry limitations on vehicle types. You won't be able to enter a classic IndyCar race against a Lotus 38 with a tuned Civic, for examples.
Livery Editor
Early information hinted at visual upgrades, with new wheels, new number plates, decals and liveries, though didn't elaborate on how extensive the livery editor would be.
An update on August 20 revealed the editor in action. This showed it to be based around multiple preset patterns which the player could color — with at least four paint layers available. Decals would also fit into preset slots around the vehicle, allowing for rapid creation of custom liveries.
The game's official website suggests players may also customize their driver avatars, though we haven't yet seen that process in action.
Damage
Early game play clips have revealed that there is a damage model in PC3. Again, how wide-reaching this is will be something we won't know until nearer launch, however the clip did show a race car losing its rear wing after heavy contact.
Online Multiplayer
Details are thin on the ground about a multiplayer mode. However, early access has revealed that there will be a number of options within the multiplayer, including custom lobbies, quick play events, and scheduled races. Public events will group players according to their safety level, though we're waiting for more information on that at present.
SMS has also confirmed that PC3 will feature esports events, taking over from PC2 after this summer's launch.
Tire Wear & Pit Stops
Rather strangely, this is a feature that is confirmed to be absent from Project CARS 3. According to SMS, tire degradation, fuel use, and pit stops were removed from the game very early on in development in order to take the focus away from "engineering tactics" and back onto the fun of driving.
The game will still use the Seta Tire Model from previous titles, however the tire core layer of that model will be locked into an optimum state. Should the weather turn from clear to rain – or worse – the tire itself will adapt to become the right rubber for the job, eliminating any need to come into the pits.
How this will affect damage repair, long endurance races, and even esports events remains to be seen. This is a subject of quite some discussion at present and will hopefully be resolved in due course.
Other Features
Along with promised improvements to controller support, which SMS says is a major leap over earlier games, PC3 will offer support for VR on PC. We await more details on the implementation.
Players will also be able to customize their driver avatars, with a number of different suit and helmet combinations and colors. There's also the option of female avatars.
Car List
SMS has confirmed that there will be more than 200 cars in total in PC3, but up until the official car list release, there was not all that much information on what they were. Save the odd glimpse in the background of a teaser video and one or two gameplay videos, there wasn't a lot to go on.
The official game website updated between August 3 and August 5 to provide a more complete picture, and as expected the PC3 car closely resembles that of PC2, with some new additions. Officially the list is now complete, and represents the launch line-up.
A paid DLC pack, the Legends Pack, arrived in November 2020, adding three further vehicles and their race modification versions. This is the first of four planned packs, which will add 12 cars to the original vehicle list. The second and third DLC packs, the Style Pack and the Power Pack, followed in December 2020 and March 2021 respectively, adding seven new cars.
It's not yet known if SMS has further DLC plans beyond these four packs.
Acura (3)
Confirmed in the official trailer, Acura will return from Project CARS 2. Both of the brand's cars from the previous game are included thus far. A third model, the 1997 NSX, arrived via the paid DLC "Legends Pack".
Acura NSX (1997)*
Acura NSX (2017)
Acura NSX GT3 (2017)
Agajanian (1)
Though likely unfamiliar outside the Project CARS brand, Agajanian is a race car manufacturer inextricably linked with the Indianapolis 500. The 1963 race-winning car of Parnelli Jones returns from PC2.
Agajanian Watson Roadster (1963)
Alpine (2)
Alpine is a new entry to the series, with the brand itself not launching (or relaunching) until after PC2's release. Just the two cars are available, with one road car and one GT4 race car.
Alpine A110S (2017)
Alpine A110 GT4 (2018)
Aston Martin (8)
The entire Aston Martin offering from PC2 returns for PC3, with one additional car. There'll be a racing version of the DB11 available, in addition to the seven previous vehicles.
Aston Martin DB11 (2016)
Aston Martin DB11 Racing (2016)
Aston Martin DBR1/300 (1956)
Aston Martin Vantage AMR (2018)
Aston Martin Vantage GT3 (2012)
Aston Martin Vantage GT12 (2015)
Aston Martin Vantage GTE (2018)
Aston Martin Vulcan AMR Pro (2017)
Audi (8)
Also returning is Audi, though the list has seen some rearrangement. There's racing versions of both the Audi TT and R8 road cars, along with a selection of Le Mans-winners and classic sports cars.
Audi 90 Quattro IMSA (1989)
Audi R8 LMP900 (2000)
Audi R8 LMS GT3 (2015)
Audi R8 V10 Plus 5.2 FSI Quattro (2016)
Audi R18 (2016)
Audi TTS Coupe (2015)
Audi TTS Racing (2015)
Audi V8 Quattro DTM (1991)
BAC (1)
BAC makes another appearance in Project CARS, with its only model represented again. The Mono is a road-legal, single seat car, and the first generation model makes a return for its third game.
Bentley (2)
Another returning brand is Bentley, with two cars from its racing repertoire. The GT3-class Bentley Continental, and 2003 Le Mans-winning Speed 8 both come back from PC2.
Bentley Continental GT3 (2017)
Bentley Speed 8 (2003)
BMW (9)
The BMW vehicle list has got a little smaller since PC2, with what appears to be a consolidation of GT3/GTE cars, and the 1M has fallen by the wayside. However most of the list returns intact.
BMW 2002 (1969)
BMW 2002 Stanceworks Edition (1969)
BMW 320TC E90 (2004)
BMW 320 Turbo Group 5 (1978)
BMW M1 Procar (1979)
BMW M3 Sport Evo Group A (1987)
BMW M6 GT3 (2016)
BMW V12 LMR (1999)
BMW Z4 GT3 (2010)
Bugatti (1)
A brand new entry in the series, Bugatti makes its bow with the Chiron Sport. This is variant of the Chiron that focuses more on handling than on its famous top speed.
Bugatti Chiron Sport (2018)
Cadillac (1)
After its debut in PC2, Cadillac returns for another game, with a GT3 racer based on its ATS sedan.
Cadillac ATS-V.R GT3 (2016)
Caterham (3)
Caterham's maddest car, the 620hp/ton 620R, makes another appearance in PC3. This time it comes with a racing variant too, along with the brand's SP/300.R track day toy.
Caterham SP/300.R (2012)
Caterham Seven 620R (2013)
Caterham Seven 620R Racing (2013)
Chevrolet (7)
Chevrolet is a major brand since PC2, and the new, mid-engined C8 and C8.R play a significant role in the trailer. This would mark the debut of this car in a mainstream racing title, while much of the rest of the stable will be familiar to Project CARS veterans.
Chevrolet Camaro Z/28 Trans Am (1969)
Chevrolet Camaro ZL-1 (2017)
Chevrolet Camaro ZL-1 GT4.R (2018)
Chevrolet Corvette C7 Z06 (2014)
Chevrolet Corvette C7.R (2015)
Chevrolet Corvette C8 (2020)
Chevrolet Corvette C8.R GTE (2020)
Classic Team Lotus (10)
The entire stable of classic Team Lotus race cars, covering Formula One and Indy history, carries over from PC2 untouched.
Lotus Type 25 Climax (1962)
Lotus Type 38 Ford (1965)
Lotus Type 40 Ford (1965)
Lotus Type 49 Cosworth (1967)
Lotus Type 49C Cosworth (1967)
Lotus Type 51 (1967)
Lotus Type 56 (1968)
Lotus Type 72D Cosworth (1972)
Lotus Type 78 Cosworth (1977)
Lotus Type 98T Renault Turbo (1986)
Dodge/SRT (4)
Surprisingly given its racing heritage, Dodge hasn't yet appeared in a Project CARS game. The trailer revealed three vehicles, with road and race versions of the modern Challenger, and a Viper race car. A Viper road car followed on the official car list.
Dodge Challenger SRT Hellcat Redeye (2020)
Dodge Challenger SRT HCR Racing (2020)
Dodge Viper ACR (2017)
Dodge Viper ACR Racing (2017)
Ferrari (21)
After the various DLC packs in PC2, Ferrari had an impressive presence – more than any other manufacturer. All these cars return for PC3, with the exception of the largely similar racing variants of the 488. The SF90 Stradale arrived in the Style Pack DLC in December 2020.
Ferrari 250 GT Berlinetta (1960)
Ferrari 250 Testa Rossa (1957)
Ferrari 288 GTO (1984)
Ferrari 330 P4 (1967)
Ferrari 333 SP (1994)
Ferrari 365 GTB Competizione (1971)
Ferrari 458 Speciale A (2014)
Ferrari 488 Challenge (2015)
Ferrari 488 GT3 (2016)
Ferrari 512 S (1969)
Ferrari 512 M (1970)
Ferrari 512 BB LM (1974)
Ferrari Enzo (2002)
Ferrari F12tdf (2015)
Ferrari F355 Challenge (1994)
Ferrari F40 (1987)
Ferrari F40 LM (1989)
Ferrari F50 GT (1996)
Ferrari La Ferrari (2013)
Ferrari FXX-K (2015)
Ferrari SF90 Stradale (2020)*
Ford (15)
As with previous Project CARS titles, the least of Fords is large, but it has shrunk a little since PC2. We'll have to wait and see if favorites like the RS200 and F150 will return in DLC later in the game's life.
Ford Escort RS 1600 (1970)
Ford Escort RS 1600 Touring (1970)
Ford Falcon FG V8 Supercar (2013)
Ford Fiesta Olsbergs MSE RX Supercar Lite (2013)
Ford Fusion Stockcar (2016)
Ford GT (2017)
Ford GT LM GTE (2016)
Ford MkIV (1967)
Ford Mustang 2+2 Fastback (1966)
Ford Mustang 2+2 Fastback Racing (1966)
Ford Mustang Cobra Trans Am (1997)
Ford Mustang GT (2015)
Ford Mustang GT Racing (2018)
Ford Sierra Cosworth RS500 Group A (1986)
Ford Zakspeed Capri Group 5 (1978)
FIA Formula E (1)
Formula E is to make its debut in PC3. Though there's no full FE circuits in the game, you'll nonetheless be able to drive the new "Gen2" race car you'll see on-track this season.
FIA Formula E Gen2 (2020)
Ginetta (4)
Ginetta makes a return from PC2, with much of its lineup intact. You'll be able to drive GT3, GT4, and GT5 models, along with the brand's LMP3.
Ginetta G40 GT5 (2011)
Ginetta G55 GT4 (2011)
Ginetta G55 GT3 (2012)
Ginetta LMP3 (2015)
Hennessey (1)
The Hennessey brand joined Project CARS in the December 2020 "Style Pack" DLC. This paid pack – included in the season pass and ultimate editions – added one car: the 300mph-capable Venom F5.
Hennessey Venom F5 (2021)*
Honda (3)
Like sister brand Acura, Honda will return for PC3. – with the Civic Type R one of the earliest known cars. The 2&4 Concept returns, and there's a racing model of the Civic too.
Honda 2&4 Concept (2015)
Honda Civic Type R (2015)
Honda Civic Type R Racing (2015)
IndyCar (1)
SMS revealed the 2019 Dallara IndyCar in a trailer on July 17. That brings IndyCar back from PC2, and while it wasn't initially clear how the cars would be presented, it now appears that they'll be in an IndyCar section rather than under the manufacturers as before.
Dallara DW12 IR18 Chevrolet (2019)
Jaguar (6)
Another car glimpsed in the trailer is the Jaguar F-Type SVR, which will return from the previous game. It was soon followed by the remaining three cars from PC2, along with racing models of the F-Type and XJ220.
Jaguar E-Type V12 Group44 (1971)
Jaguar F-Type SVR (2016)
Jaguar F-Type SVR Racing (2016)
Jaguar XJ220 S (1993)
Jaguar XJ220 S Racing (1993)
Jaguar XJR-9 (1988)
Koenigsegg (1)
The Swedish high performance vehicle manufacturer will make its debut in the series in PC3. Official images and comments on the developer blog revealed that the brand will be present with at least the Jesko hypercar.
KTM (2)
Though best known for motorbikes, Austrian manufacturer KTM also makes the mad X-Bow track car. Available in both previous titles as a road car, PC3 also includes the GT4 race car.
KTM X-Bow R (2011)
KTM X-Bow GT4 (2016)
Lamborghini (8)
As with PC2, players had access to seven Lamborghinis originally in PC3. The stable is almost identical, with a racing model of the Aventador replacing the Huracan Super Trofeo. The list grew by one with the inclusion of the Sian in the Style Pack DLC.
Lamborghini Aventador (2011)
Lamborghini Aventador SVJ Racing (2019)
Lamborghini Diablo GTR (2000)
Lamborghini Huracan (2014)
Lamborghini Huracan GT3 (2015)
Lamborghini Sesto Elemento (2010)
Lamborghini Sian (2020)*
Lamborghini Veneno (2013)
Ligier (2)
French racing car manufacturer Ligier makes another appearance, with the LMP2 and LMP3 chassis returning from the previous game
Ligier JS P2 (2014)
Ligier JS P3 (2015)
Lotus (3)
The Lotus brand didn't appear in PC1 or PC2, outside the Team Lotus list above, so this makes its PC3 appearance technically a debut.
It's an interesting selection, with an Exige road car and race car, and the mainstream console racing game debut of the electric Evija supercar — the most powerful production road car in the world.
Lotus Evija (2020)
Lotus Exige Cup 430 (2018)
Lotus Exige Cup 430 Racing (2018)
Mazda (1)
Though not a part of the original launch line up of vehicles, the Mazda brand arrived in the first paid DLC pack in November 2020. That brought a single vehicle to the marque, with the FD-generation RX-7 – and its race modification.
McLaren (8)
McLaren was well represented in PC2, with a number of cars from across its history. The official trailer revealed one car, with another appearing in later images, and the brand has gradually swollen since to eight vehicles.
McLaren 570S (2016)
McLaren 570S GT4 (2018)
McLaren 720S (2017)
McLaren 720S GT3 (2019)
McLaren F1 (1992)
McLaren F1 GTR Long Tail (1997)
McLaren P1 (2013)
McLaren P1 GTR (2015)
Mercedes (11)
The first vehicle seen in PC3 was a Mercedes, specifically an AMG GT R. Officially, the brand is split into two in the game, with seven AMG models (the six Mercedes-AMG plus the "Rote Sau" 300 SEL) and five Benzes. Most return from PC2.
Mercedes-AMG A45 4MATIC (2019)
Mercedes-AMG A45 SMS-R Touring (2020)
Mercedes-AMG C63 S Coupe (2018)
Mercedes-AMG C63 S Coupe Racing (2018)
Mercedes-AMG GT3 (2015)
Mercedes-AMG GT R (2017)
Mercedes-Benz 190 E 2.5-16 Evolution (1992)
Mercedes-Benz 300 SEL 6.8 AMG (1971)
Mercedes-Benz 300 SL Racing (1952)
Mercedes-Benz C9 Sauber (1989)
Mercedes-Benz CLK-LM (1998)
Mitsubishi (4)
While there's still four Mitsubishi models in PC3, like PC2, half did not survive the transition. There's two road models, with an Evo 4 and an Evo 9, with a racing car based on each.
Mitsubishi Lancer Evolution VI Tommi Makinen Edition (1999)
Mitsubishi Lancer Evolution VI TME Racing (1999)
Mitsubishi Lancer Evolution IX FQ-360 (2005)
Mitsubishi Lancer Evolution IX FQ-360 Racing (2005)
Nissan (15)
Nissan is another brand that with a double-figure car count, covering a good chunk of its race car history from the 1970s to the present day. For road cars there's just two models of GT-R – R34 and R35 – each with a race car equivalent.
That list grew by three with the March 2021 "Power Pack" DLC. This added two further generations of Nissan Z, including the 400Z Prototype for its console gaming debut. The S15 Silvia also arrived in the DLC pack.
Nissan 280ZX IMSA GTX (1981)
Nissan 300ZX Turbo Le Mans (1994)
Nissan 370Z (2020)*
Nissan 400Z Proto (2021)*
Nissan Fairlady 240ZG GTS-II (1973)
Nissan GTP ZX-Turbo (1984)
Nissan GT-R (R35) Nismo (2018)
Nissan GT-R (R35) Nismo GT3 (2015)
Nissan R390 GT1 (1997)
Nissan R89C (1989)
Nissan Silvia S15 Spec R (2002)*
Nissan Skyline Super Silhouette R30 (1982)
Nissan Skyline GT-R (BNR32) Group A (1989)
Nissan Skyline GT-R R34 (2002)
Nissan Skyline GT-R R34 SMSR (2002)
Opel (1)
The German arm of General Motors, Opel only appeared in PC2 via the Motorsport Pack DLC. It makes its full debut in PC3 with the same car, the Astra TCR race car.
Pagani (4)
Niche Italian supercar manufacturer Pagani is once again a part of Project CARS, with all three cars from the previous game plus the original Huayra coming to PC3.
Pagani Huayra (2011)
Pagani Huayra BC (2016)
Pagani Zonda Cinque Roadster (2010)
Pagani Zonda Revolucion (2013)
Panoz (1)
Another Motorsport Pack DLC car in the previous game, the Panoz Esperante GTR-1 arrives in the main game this time around.
Panoz Esperante GTR-1 (1998)
Porsche (27)
Thanks to DLC packs, Porsche was almost the single largest manufacturer in PC2. The list for PC3 makes it the largest, as the existing list sees brand new additions like the 2020 992 model road car, and the modern interpretation of the 935.
Porsche 908/03 Spyder (1970)
Porsche 911 Carrera RSR 2.8 (1973)
Porsche 911 996 GT1-98 (1998)
Porsche 911 991 GT3 RS (2016)
Porsche 911 991 GT3 R (2016)
Porsche 911 991 RSR (2016)
Porsche 911 992 Carrera S (2020)
Porsche 917/10 (1971)
Porsche 917K (1970)
Porsche 917 Langheck (1970)
Porsche 918 Spyder Weissach Package (2013)
Porsche 918 Spyder Racing (2013)
Porsche 919 Hybrid (2015)
Porsche 924 Carrera GTP (1980)
Porsche 935/77 (1976)
Porsche 935/78 (1978)
Porsche 935/78 Momo (1978)
Porsche 935/80 (1980)
Porsche 935 991 (2018)
Porsche 936 Spyder (1976)
Porsche 959S (1988)
Porsche 961 (1986)
Porsche 962C (1985)
Porsche 962C Langheck (1985)
Porsche Carrera GT (2003)
Porsche Carrera GT Racing (2003)
Porsche Cayman GT4 Clubsport MR (2017)
Radical (2)
One-time holder of the Nurburgring lap record, Radical is another brand marking its third Project CARS game. Only two cars are available this time round, with the SR3 RS and RXC GT representing the brand.
Radical RXC GT (2017)
Radical SR3 RS (2003)
Renault (6)
Renault will also come back for a third game, but there's been a slight whittling of the car list compared to the previous title. Nonetheless, you'll still get to drive the most modern Megane and its TCR race car, along with some classics from the past.
Renault 5 Maxi Turbo (1985)
Renault Alpine A442B (1976)
Renault Megane RS Trophy (2018)
Renault Megane RS TCR (2019)
Renault Megane Trophy V6 (2011)
Renault Sport RS01 (2015)
Rimac (1)
Croatian supercar manufacturer and electric motor specialist Rimac will make its series debut, with its newest creation the C_Two. Officially the brand's first series production car, it'll also be a gaming debut for the C_Two.
SMS-R (4)
These cars are vehicles from Slightly Mad Studios itself. There's just four this time round, with the kart and Formula A and C cars cut, but a Stadium Super Truck added.
Formula B (2020)
Formula Rookie (2015)
Formula X (2018)
Stadium Super Truck (2020)
Toyota (8)
Toyota has been a tricky brand to predict in recent racing games, but you'll get to drive probably its two best-known current road cars in PC3: the GT86 and the GR Supra. There's also race cars based on both, and two of the brand's Le Mans entries.
After launch, SMS added the classic A80-generation Supra in the paid DLC "Legends Pack", and its AE86 Sprinter Trueno sibling in the "Power Pack" three months later.
Toyota GR Supra RZ (2020)
Toyota GR Supra Racing (2020)
Toyota GT86 (2013)
Toyota GT86 Racing (2013)
Toyota GT-One (1998)
Toyota Sprinter Trueno (1985)*
Toyota Supra Mk4 Turbo (1994)*
Toyota TS050 Hybrid (2017)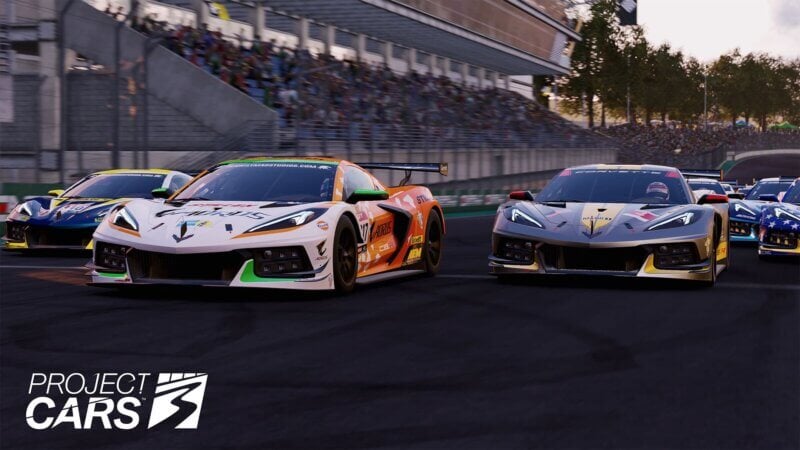 Track List
The track list for PC3 is now officially confirmed. While we initially assembled the list from tracks seen in the trailers and official statements from SMS staff members, a subsequent website update revealed almost all of the tracks in the game.
The list resembles its predecessor game, but with a few new circuits drafted in and a couple dropping out too. In total there's 122 layouts, at 49 locations, real and fictional. In addition, SMS has reworked the real locations to reflect changes in the real world since the 2017 game.
Real Circuits
In the build up to launch, the circuit information came in small doses. Of course the undisputed star of the first trailer is the Interlagos circuit, which would make its series debut, but since then we have seen other locations like Laguna Seca in official media.
A large update to the official site on August 3-5 revealed the remainder of the track list, and it's fair to say that there are a few surprises. SMS had earlier confirmed that Spa will not be in the game, but some favorites like COTA and Le Mans are absent too.
Interestingly the "Azure Circuit" also found its way onto the list, but unlike previous Project CARS titles it now has its official name of Circuit de Monaco too. We've included it in the Real Circuits section for this reason, though the logo remains as the fictional one.
Otherwise, the circuit list will appear very familiar to PC2 players, with circuits from the classic Rouen through to modern temples of speed like Silverstone all returning.
An update in November 2020 added the Yas Marina circuit in Abu Dhabi to the game, free of charge, and Bahrain International Circuit arrived in a similar manner in December 2020.
Autodromo Internacional do Algarve
Autodromo Internazionale del Mugello – 2 Layouts
Autodromo Internazionale Enzo e Dino Ferrari (Imola)
Autodromo Jose Carlos Pace (Interlagos)
Autodromo Nazionale di Monza – 5 Layouts
Bahrain International Circuit – 4 Layouts
Brands Hatch – 2 Layouts
Brno Circuit
Cadwell Park – 3 Layouts
Circuit de Barcelona-Catalunya – 3 Layouts
Circuit de Monaco
Circuit Zolder
Circuito de Jerez
Circuito di Fiorano
Daytona International Speedway – 2 Layouts
Donington Park – 2 Layouts
Dubai Autodrome – 4 Layouts
Fuji International Speedway
Hockenheimring – 4 Layouts
Indianapolis Motor Speedway – 2 Layouts
Knockhill Racing Circuit – 5 Layouts
Long Beach
Lydden Hill Race Circuit
Motorsport Arena Oschersleben – 3 Layouts
Mount Panorama (Bathurst)
Nurburgring – 9 Layouts
Oulton Park – 3 Layouts
Porsche Leipzig – 3 Layouts
Road America
Rouen-Les-Essarts – 2 Layouts
Ruapuna Raceway – 5 Layouts
Silverstone Circuit – 5 Layouts
Snetterton Circuit – 3 Layouts
Sonoma Raceway – 3 Layouts
Sportsland Sugo
Texas Motor Speedway – 3 Layouts
Watkins Glen International
WeatherTech Raceway Laguna Seca
Willow Springs International Raceway – 2 Layouts
Yas Marina Circuit – 4 Layouts
Zhuhai International Circuit
Fictional Circuits
The original trailer opens with cars slicing through an open road track, confirmed to be set in Tuscany, before heading to a cityscape in Shanghai. Both are new to the series, and join a long list of fictional environments in Project CARS. Notably, the logo for the fictional Shanghai street course originally featured the real-world circuit's outline.
We had been expecting the majority of previous games' fictional tracks to return, and a later update to the list on August 4 revealed that to be the case. Fan favorites like Sakitto and Bannochbrae appeared on the list, in addition to open road courses like Azure Coast and California Highway.
An update in March 2021 added a new fictional circuit by the name of Lake Valley, at no extra cost.
Azure Coast – 5 Layouts
Bannochbrae
California Highway – 5 Layouts
Havana – 3 Layouts
Lake Valley – 4 Layouts
Mojave – 5 Layouts
Monument Canyon – 3 Layouts
Sakitto – 4 Layouts
Shanghai Street – 2 Layouts
Tuscany – 2 Layouts
Wildcrest
Official Videos
Official Screenshots​
Update Log
March 1, 2021: Power Pack DLC and Lake Valley added.
December 3, 2020: Style Pack DLC and Bahrain added.
November 4, 2020: Legends Pack DLC and Yas Marina added.
August 28, 2020: Updated as the game officially launches
August 20, 2020: Livery editor detailed in new media.
August 4, 2020: Further new cars and tracks from official site added; new trailer video
August 3, 2020: New car and track lists from official site added.
August 1, 2020: Spa-Francorchamps removed from track list, per comments by Nathan Bell.
July 29 2020: Porsche Leipzig added
July 21 2020: Vehicles and tracks mentioned in Developer Blog #3 added
July 18 2020: IndyCar/Laguna Seca added
July 15, 2020: New screenshots released, added to official gallery
June 24, 2020: Official release date confirmed for August 28, 2020
June 3, 2020: Project CARS 3 officially revealed