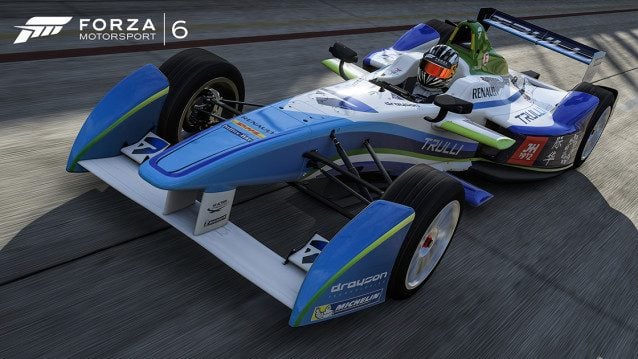 At this year's E3, Turn 10 revealed 117 of the more than 450 cars available at launch in the upcoming Forza Motorsport 6. Beginning today and leading up to the launch of the game on September 15th, Turn 10 will be revealing more details not only regarding the game's car roster but additional information on the new tracks being introduced for the first time in the series in what is being dubbed as "The Forza Garage".
Today's announcement starts off with the reveal that open-wheelers will continue to be prominently featured in the game with the news that the FIA Formula E series will be represented in full with the entire 2014/2015 field of cars. Of course the original 2014 Renault Spark SRT_01E debuted in Forza Motorsport 5, but this will mark the first time that the entire series has been represented in a console racing game.
The cars to be included are as follows:
2015 Formula E #55 Amlin Aguri Spark SRT_01E
2015 Formula E #11 ABT FE 01
2015 Formula E #10 Trulli Spark SRT_01E
2015 Formula E #99 NEXTEV TCR FE01
2015 Formula E #27 Andretti Formula E Spark SRT_01E
2015 Formula E #23 Venturi 1
2015 Formula E #21 Mahindra M2Electro
2015 Formula E #9 e.dams-Renault Spark SRT_01E
2015 Formula E #6 Dragon Racing Spark SRT_01E
2015 Formula E #2 Virgin Racing VIR 01E
The reveal doesn't end there for this as a further 30 vehicles have been confirmed for inclusion in the upcoming game:
2002 Ferrari Enzo Ferrari
1965 Shelby Cobra 427 S/C
1985 Toyota Sprinter Trueno GT Apex
1963 Volkswagen Beetle
1975 Fiat X1/9
2015 Lexus RC F
1988 Lamborghini Jalpa
1969 Dodge Charger R/T
2012 Lotus Exige S
1994 Mazda MX-5 Miata
2012 Mercedes-Benz SLK55 AMG
1998 Subaru Impreza 22B STi
1997 BMW M3
1969 Nissan Fairlady Z 432
2014 Maserati Ghibli S
2013 Audi RS 4 Avant
1949 Mercury Coupe
1994 Honda Prelude Si
1991 Honda CR-X SiR
1971 Plymouth GTX 426 HEMI
1970 AMC Rebel "The Machine"
2011 Bugatti Veyron Super Sport
1967 Chevrolet Corvette Stingray 427
2009 MINI John Cooper Works
2005 TVR Sagaris
2010 Renault Megane RS 250
2003 Volkswagen Golf R32
1995 Volkswagen Corrado VR6
2002 Pontiac Firebird Trans Am Ram Air
1983 GMC Vandura G-1500
For more discussion and in-depth analysis stop by our Forza Motorsport 6 forum!
The original comments for this post are no longer available.