As you'd expect, this year's E3 has already given us a ton of Forza Motorsport 7 news. We've learned that the game will feature a brand-new career mode and that the new Xbox One X still has power to spare when running FM7.
The latest news to come out of the show in LA reveals interesting information regarding pre-orders and DLC. While details are not yet concrete, we do now have an outline of what those pre-ordering FM7 can look forward to.
Three versions of the game will be available at launch. The bumper Ultimate Edition will include early access to the game (September 29) as well as the VIP Pass, Car Pass, Day One Car Pack and Bonus Content Pack. The Deluxe Edition will offer the VIP pass in addition to the Day One Car Pack and Bonus Content pack.
The Standard Edition will — as you'd expect — simply include the base game. Of course those who opt for this version will be eligible to purchase the VIP pass and Car Pass, as well as all the DLC at an additional cost.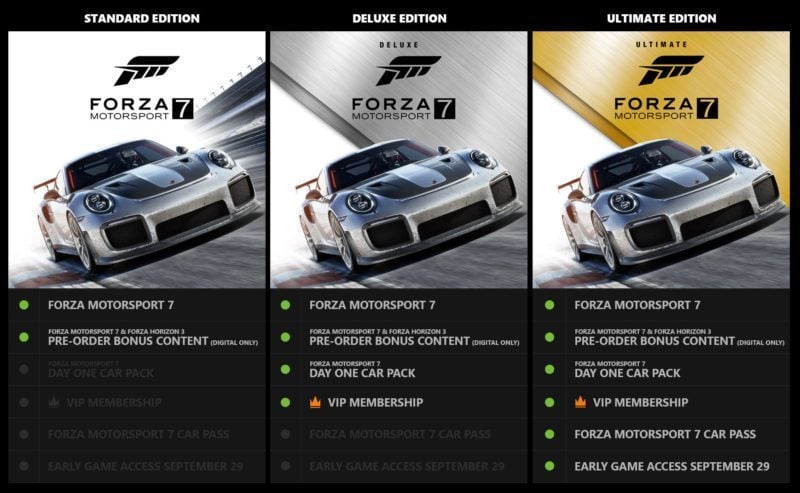 The VIP pass includes exclusive VIP cars, a 100% CR bonus Mod, VIP driver gear and other new content. The announcement of the VIP pass all but confirms the return of mods to the series. While they weren't present in last year's Forza Horizon 3, we did see mods in Forza Motorsport 6.
In typical Forza tradition, the Car Pass will cover the first six monthly car packs. The Car Pass represents a discount on the 42 cars it covers over buying each pack individually. We won't know the contents of the packs until they start launching — likely in November.
It's also too early to judge what will be in the Day One Car Pack and Bonus Content Pack. One could surmise that the Day One Car Pack could include modified versions of cars already in the game, as has been the case with past Forza games. The Bonus Content Pack looks as if it could bring new gear or liveries to the game, but developer Turn 10 has yet to acknowledge details.
We'll have more details on additional content for Forza Motorsport 7 when we get them.
More Posts On...