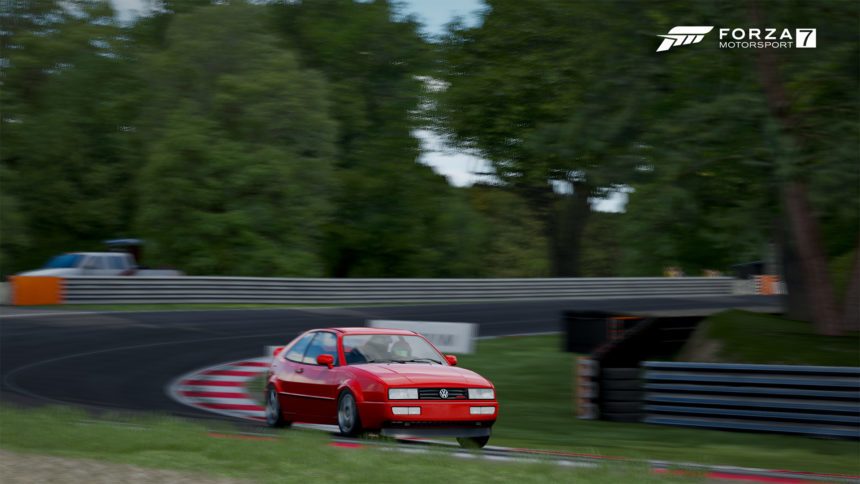 We're back again for the Specialty Dealer's weekly restock in Forza Motorsport 7. Unlike the past several weeks, the latest refresh is something of an end of an era. If you haven't heard by now, the latest update for FM7 is now live and it does away with locked cars.
This means, in its current state, the Specialty Dealer has come to a crossroads. As such, this will be the final article covering the weekly feature, at least in its current format.
Turn 10's Chris Esaki teased there's something new in store for the dealer. Assuming the changes are significant, we may restart coverage. In the meantime, let's take a closer look at what this week has to offer.
Specialty Dealer Lineup: July 10
2009 Jeep Grand Cherokee SRT8 (Common +88; 52,235 Cr)
2008 Lamborghini Reventón (Legendary +1,760; 1,035,000 Cr)
1995 Volkswagen Corrado VR6 (Common +72; 40,250 Cr)
First up is the Jeep Grand Cherokee SRT8. It's what you might call an acquired taste, but those awkward looks pack serious hardware.  Behind the familiar seven-slot grille is a 6.1-liter Hemi V8 sending 424hp to all four wheels. Did we mention the 0-60mph time of 4.4 seconds? For a vehicle this heavy it won't waste any time putting others in its class where they belong — in its rear-view mirror.
Up next is the returning Lamborghini Reventon. Without question, the Bull is the fastest of this week's three. Its guttural 6.5-liter V12 sends 650hp to all four wheels. In a car weighing 3,671lb that means you're rocketing to 60mph in a eye-watering 3.3 seconds. Given enough room to make all 12 cylinders sing, it'll top out at 220mph.
Finally there's the Volkswagen Corrado VR6. First showing up in 1988, the base Corrado was an upmarket model above the Scirocco. The sportier VR6 shook things up with a 2.8-liter engine with 178hp. It may not be the fastest but it has a certain charm to it. Easy to get along with, the Corrado is an empty canvas waiting for your own take on the sport compact.
You'll need a cool 1,127,485 credits for the clean sweep, so get a move on.
More Posts On...