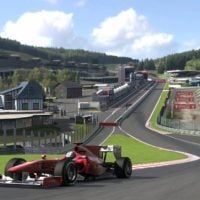 In an interview at the GT Awards party, U.S. Gran Turismo producer Taku Imasaki shared an interesting statistic about the game's recent batch of new content, which included Spa Francorchamps and 15 new cars. As of November 3rd, two weeks and two days since its European release, it had received over 1 million downloads.
Taku remained coy about confirming plans for future DLC packs, though European Sony representatives have already mentioned "many batches" of new content is in the works for GT5, which Kazunori Yamauchi also confirmed would be released approximately every two months.
GT5 Photomode image by Ferrari_458.
See more articles on Gran Turismo 5 DLC, Gran Turismo Awards 2011, and Taku Imasaki.