As anticipated, Gran Turismo 7 popped up on Thursday's PlayStation Showcase stream with a brand new, three-minute trailer looking at all areas of the game. One vital piece of information contained within was the launch date, March 4 2022, but there was plenty more besides.
Like the original trailer back in June 2020, the new video took us on a virtual luge ride through the game's features and content, and with further announcements on the official Gran Turismo site and the GT7 section of the PlayStation site, there's quite a lot to sift through.
We've already taken a quick look at all the new cars shown in the trailer, so now we're going to dig through the game's returning, improved, and new features.
Dynamic Time and Weather
Probably the biggest new feature of all is the return of dynamic time and weather following its absence from GT Sport. These environmental effects might seem small, but they can have a major impact on racing — and enable realistic endurance races once again.
Polyphony Digital has developed its own path for simulating weather and lighting conditions, which it says it has based on a "massive amount" of data from weather research — including from NASA. That allows it to replicate details like aerosol particle concentrations in a realistic manner to generate authentic lighting and clouds.
Interestingly, the simulations have been compared to the Scapes team's captures of locations in the game in order to check how the lighting data compares, and PD says it has successfully recreated "real and complex skyscapes" for various times of day.
We don't know yet if the weather and time variations will apply to every circuit in the game, but the official GT7 landing page on the PlayStation 5 microsite suggests that all "90+" of the game's launch track variations will indeed offer this functionality.
Campaign Mode
We've only caught the smallest glimpse of it, but a full Gran Turismo campaign mode will return for GT7. As you can see above, that includes the classic Licence Tests, from National B through to the Super Licence.
For now, we don't know that much else about it, but with six months to go before the game launches there'll be plenty of opportunity to find out more.
Car Tuning & GT Auto
After skipping out GT Sport, proper vehicle tuning is back, and so is the GT Auto section for vehicle maintenance and modification.
We've known since June 2020 that vehicle parts and settings were making a comeback, so in a sense the new trailer has only cemented that information, but there's some new bits besides.
As well as offering all the parts needed to turn your car into a track ready machine, vehicle body modifications are also back. We don't yet know how extensive that will be, but GT Auto offers "custom parts"; as you can see above this includes a wide-body mod on the Honda NSX above, but aerodynamic parts and roll cages are also available. That's all you need to make a race car out of your road car, like Gran Turismo of old.
Other GT Auto options include the classic oil change, engine overhaul, and rigidity refresh, which is a pretty firm hint that cars will wear with age just as they did in GT5. It also looks like players can create custom licence plates too.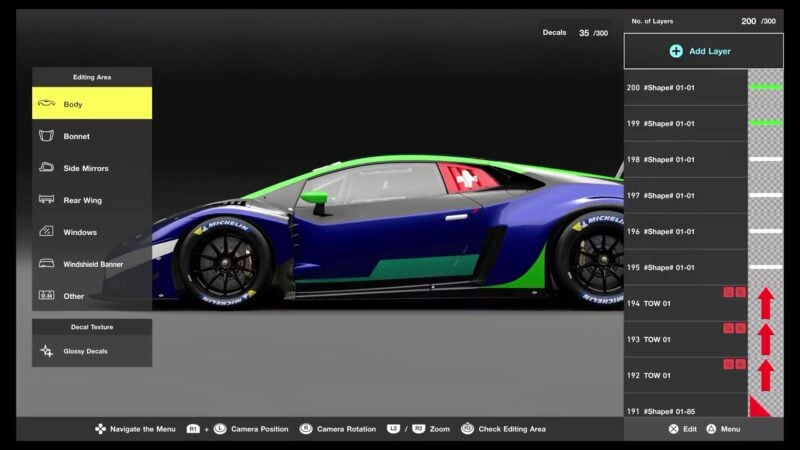 Enhanced Livery Editor
GT Sport's livery editor was one of the game's best features, and it returns in an upgraded form for GT7.
From what we can see of the editor controls, there's new functionality to set precise magnification and rotation values for each decal — allowing for easy duplication and orientation of multiple decals — as well as an opacity slider. There's also a "low speed" function, which we suspect will slow the controls down to allow for more precise manipulation.
The menu screen adds new areas for decal positioning, on the vehicle windows, and it looks as if players can create their own windscreen banner rather than the small selection of presets in GT Sport.
For the most part the rest of the editor seems pretty familiar, if rejigged a little. It certainly looks like it will be easier to select paint colors.
Gran Turismo Cafe
This was first shown back in June 2020, although it's remained a bit of a mystery until now. According to the game's official announcement, GT Cafe is a special area where players can get some guidance in the early part of the game.
In something of a return to the days of Gran Turismo being an educational tool, the GT Cafe will provide prompts for players to build collections of vehicles that have cultural significance. This could mean they buy the cars, or win them as rewards from other races or events, and players receive prizes for completing collections.
We don't know yet how this will factor into later parts of the game or for more experienced players, but we'll find out more over the coming weeks.
Used Car Dealership
Players are no longer limited to picking up box-fresh vehicles from the game's Brand Central area, as the used car dealership will make a return for GT7.
Exactly how the UCD will work is something that will hopefully be revealed as we approach the game's launch. The feature has been a favorite in some of the older games, but it wasn't entirely user-friendly in GT5.
From what we can see right now, the UCD will simply offer a range of older cars with a few miles on the clock — perhaps needing an oil change, or engine or chassis refresh — for a bit of a discount.
There is a second area selling older cars too, but this looks to be restricted to higher value classic and historic vehicles and race cars. That goes by the name of "Brighton Auctions", and we'll have to wait to see some more about that aspect.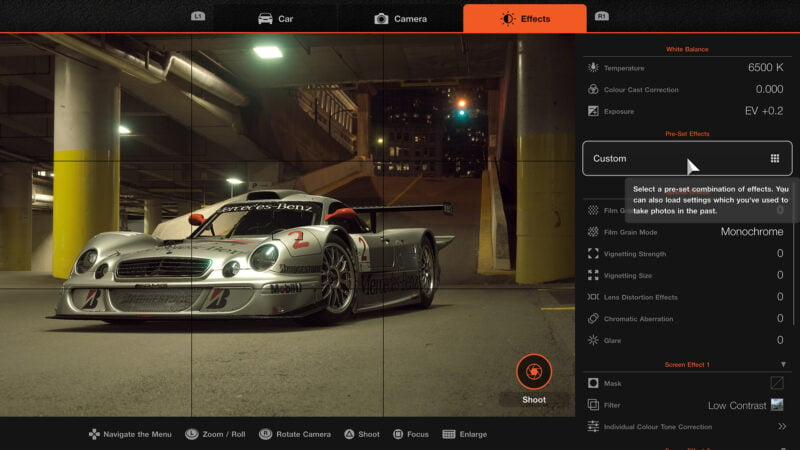 Scapes/Photomode
Scapes are back and there's more than ever. As we heard last year, the Scapes team has continued its trek around the world finding new locations and taking highly specialized photographs to capture lighting data.
That allows players to paste their car into the scene and look like it was there all along, to create some stunning still images.
In GT Sport there were just over 1,200 locations in 23 countries. For GT7 this has swelled to 43 countries and 2,500 locations. That should keep shutterbugs very occupied indeed.
New Home Screen
There's a new hub for GT7, in the form of this little stylized town. It contains all of the various areas of the game packed into symbolic buildings dotted around the map.
It's not completely clear what all the functions are at this point in time (other than the faintly obvious "Tuning Shop", highlighted on the map), and we're not quite sure what the circus big top is supposed to represent, but we can see brand central, used car dealership, classic car dealership, multiplayer, Sport mode, museum, home garage, licences, GT Cafe, user gallery, and the discovery function. The airport is, from previous information, likely a race event hub.
The home screen also fades into a night time mode, with street and building lights, after dark.
Naturally we're expecting plenty more information to come out on GT7 over the coming days, weeks, and months, so stay tuned to GTPlanet for it all.