The Porsche Vision Gran Turismo has made a couple of sneaky appearances in new media from both Porsche and Gran Turismo ahead of its grand unveiling at this weekend's FIA Certified Online Championship World Finals event.
As announced last week, Porsche will be revealing more about its Vision GT machine during the finals. That's due to come in a special presentation during the season-ending Nations Cup final itself, on December 5.
The Porsche Vision GT is, at the moment, set to appear on the cover for Gran Turismo 7, alongside the Mazda RX-Vision GT3 — though the cover art is still marked as "subject to change" — which means we have seen plenty of it over the last year, but only from that rear three-quarter angle.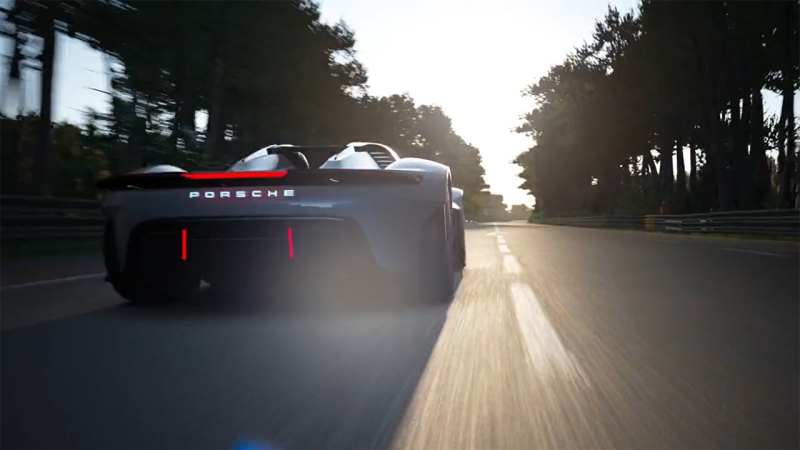 With the full reveal still five days away though, we've been treated to a couple more views of the Porsche Vision GT courtesy of a little glimpse on the official World Finals teaser video, and a preview trailer from Porsche.
The Gran Turismo clip shows off the entire front of the car for the first time, although it's heavily shadowed so it's hard to make out any specific details.
That said, we can confirm it's the same car we saw poking out behind a Taycan in the "Gran Turismo 7 x Porsche" teaser back in September, and also not a vehicle from the Porsche Unseen concept collection.
Porsche's own video shows even more of the car, including some shots of the VGT from new angles — including the cabin — but not quite the entire vehicle, or at least no more than that same rear three-quarter angle.
We can see that the car is a two-seater, with the seats moulded directly into the car body (we'd trust the wheel and pedal box are adjustable!), and it seems to have a rather natty transparent binnacle. That's not an augmented reality unit either, as you can see it from the exterior shot in the World Finals clip.
Of course the car is adorned with GT logos, but we're not quite sure of the significance of the number 72 on the car. That could be a reference to the year that Ferdinand A. "Ferry" Porsche became the chairman of Porsche AG and in which he founded Studio F.A. Porsche, which is responsible for some of Porsche Design's output and other non-automotive design projects.
It'll likely be a hybrid, as the cockpit view appears to show a charge meter, but it seems to have the roar of a petrol engine as it heads down the track in both the Circuit de la Sarthe and Nurburgring clips.
Porsche will reveal all this coming Sunday, December 5, although it's unknown when the announcement will appear during the stream — which starts at 1400 UTC.