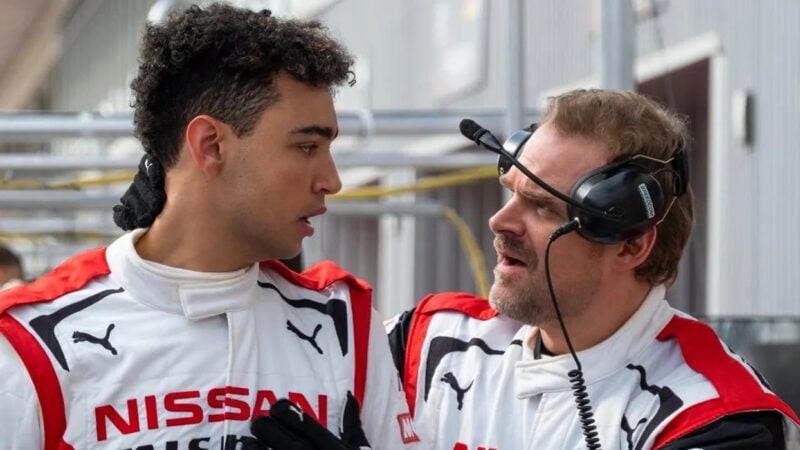 Film industry guests invited to a special, advanced screening of the upcoming Gran Turismo movie have been full of praise for the Neill Blomkamp-directed feature, highlighting it as an enjoyable flick that defies the usual game-to-movie expectations.
The screening took place late on July 11 and featured a spread of attendees from the sphere of movie media, including podcasters and journalists. While none has been permitted to give a full review — and we don't expect any until much nearer the August 11 official launch date — plenty have taken to social media to give first impressions, and they are just about universally glowing.
There's praise across the board for the actors, director, and cinematics of the film. YouTuber Robert Butler III, of First Cut, comments that Archie Madekwe — who stars as real-life gamer-to-racer Jann Mardenborough — puts in a star turn as "gamer inside all of us", but adds that David Harbour "steals the show". He's joined by Brandon Davis of Comicbook.com who singles out the pairing.
YouTuber Coy Jandreau also celebrates the supporting acts from Djimon Hounsou, who "brings the emotion & gravitas" as Jann's father Steve, and Orlando Bloom as being "at an ELEVEN throughout".
Perri Nemiroff of Collider remarks that she "dug how they incorporated certain game visuals into the movie – and Neill Blomkamp's style", adding that the camera work — using Sony's Rialto remote sensor system — makes it "all feel visceral".
The overall impression is that the assembled viewers enjoyed the film, making it one of those rare movies based on games that actually works.
Davis describes it as "a winner", Butler as one of this year's "incredible video game adaptations", and by Nemiroff as a "solid adaptation" — while cautioning that it can occasionally feel thin as there's a lot of story to pack into the 135-minute run time.
Jandreau's response is the most effusive, remarking that it's "one of, it not the, greatest video game movie ever", adding that it's "up there with Sonic" and in his top ten films this year… We'll have to wait for full reviews from movie media to see if the critics agree.
Gran Turismo will get its first official screening at the Micheaux Film Festival this coming weekend, on Saturday July 15, but it's not released to the public until August 11 in most territories.
Fans of the game who want to see it first will have a special showing in Amsterdam on Thursday August 10, as part of the Platinum Ticket privileges for the World Series Showdown that weekend.
See more articles on Gran Turismo Movie.