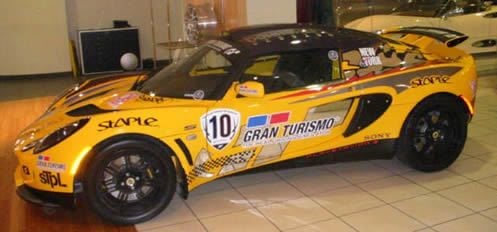 Ever wonder what happens to the cars that appear in Gran Turismo livery at those posh launch parties?  Here's one of them: a 2008 Lotus Exige S has remained untouched since Sony's marketing department had their hands on it.  Apparently, it's been serving in Manhattan Motorcars' "demonstration fleet", making a bright statement in their showroom alongside a collection of 5 Rolls-Royce Phantoms.  Now, it can be part of your demonstration fleet for $59,900 via eBay Motors.  Described as the only "Gran Turismo 5 Edition" Exige S in existence, it includes special graphics work by Staple Design, metallic paint, Track and Touring packages, and 4,280 miles on the odometer.  However, the auction ends October 31, 2008, so you'd better hurry if you want to pick this up.
If the Lotus is a bit out of your price range, don't fret – act fast and you can still pick up this Gran Turismo sticker set for about $5.
More Posts On...
The original comments for this post are no longer available.