Gran Turismo Sport players got a taste of what to expect in the game this past weekend. The first FIA-certified event of the year has wrapped, and it showed off a handful of new cars coming in a future update.
The reveals kicked off in rapid succession on Sunday. Up first, quite literally, was the Lamborghini Countach 25th Anniversary model. The raging bull was Nico Rubilar's pole-sitting vehicle for the first race of the Nations Cup final. A 1988 model, the Lambo boasts a 5.2-liter evolution of that infamous family V12, capable of spitting 455hp out to those huge rear tires. Well, at least in stock form: we aren't quite sure what mods Polyphony Digital made to it for N500 duty.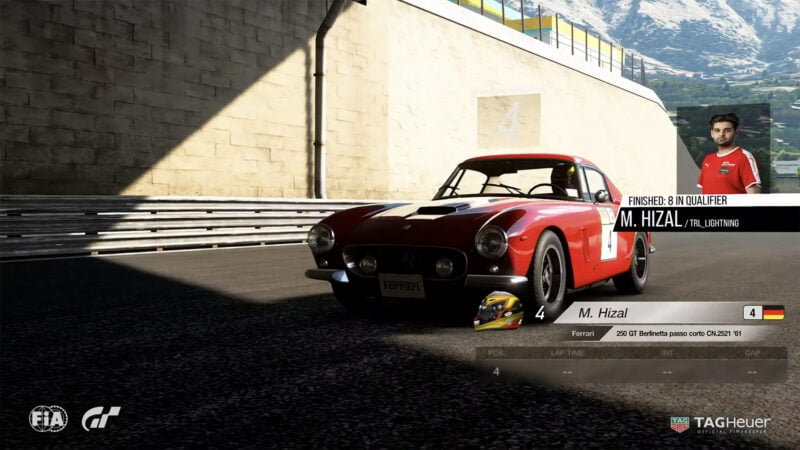 A few spots down the grid at Dragon Trail was Mikhail Hizal in another Italian car. Easily one of the prettiest cars of all time, Hizal's '60s era Ferrari was no ordinary 250 GT (if there is such a thing). No, it was the — deep breath — Ferrari 250 GT Berlinetta passo corto CN.2521. Despite its age, the 250 GT was more than competitive, with Hizal able to wheel it right up to the front for a win in the first race. Rubilar would finish slightly a few seconds back in the Countach.
That wasn't all for Italian classics in Paris. During the victory celebrations, one of GT Sport's 1000-plus Scapes flashed up on one of the rig screens behind the podium. In a blink-and-you'll-miss-it moment, the Lancia Stratos road car appeared. The Stratos is one of the most iconic rally cars in history, so it seemed an oddly appropriate debut after the first FIA-certified event to feature rally races…
As is common for GT Sport, these three are all returning faces from the previous era. The Countach, 250 GT, and Stratos last appeared in Gran Turismo 6 on the PS3, and will get a current-gen touch-up for their Sport debut.
Finally, a unique version of the Adrian Newey-designed X2014 race car was on display too. This new version features different aerodynamic pieces at both ends as well as distinct performance changes.
When will players see them at home? We wouldn't count on too much of a wait, especially with the new Dallara SF19 open-wheeler ear-marked for release next week.
Stay tuned for more GT Sport news from the Paris event throughout the week. If you missed the action or want to get a refresh, catch it all here.
See more articles on GT Sport Game Updates.