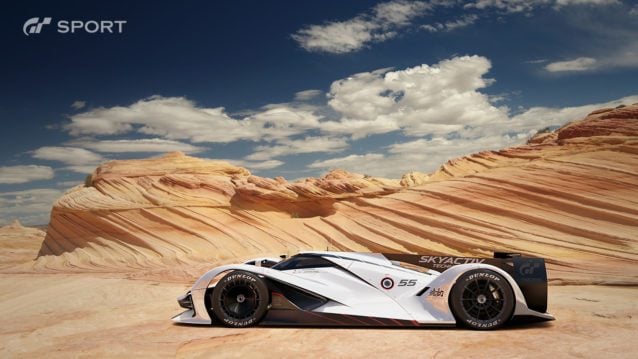 Are you sitting down? Take my word for it: you need to be sitting down for this. Last week the veil of silence had finally been lifted after months of being in the darkness, and today, in downtown London, at the Copper Box Arena, Gran Turismo Sport has been officially revealed to members of the press – and GTPlanet was on the scene!
Let's start off with a concern many of you have had since these words were uttered by the man himself, Kazunori Yamauchi, when speaking with Eurogamer in 2014 in regards to the controversial 'standard' cars being included in the next Gran Turismo:
"I doubt that we'll be throwing away the standard cars," said Yamauchi. "Each car has its own fans. So I think we'll hang on to the archive. In the meanwhile, some of those cars we may be able to make into Premium cars as they become available – but basically we're more focused on increasing the number of premium cars."
If you're on the edge of your seat right now, you'll find this next bit interesting because GT Sport launches with over 130 cars when it releases this November, all have been built (or rebuilt) from the ground up since GT6, and all cars will have an interior view. This signals a fresh start for the franchise, one that is likely to be welcomed by many.
While the entire roster of cars has yet to be fully revealed, of what's been spotted thus far one can depend on the roster being an impressive one. GT Sport will see the introduction of some serious metal, the likes of the McLaren 650S GT3, Renault Sport R.S.01 GT3, Ferrari LeFerrari, Mercedes-AMG GT S, Mazda Roadster S (ND), and the Ford Mustang GT Fastback. Additionally, GT Sport will see the formal debut of the Bugatti and Hyundai N 2025 Vision Gran Turismo cars.
GT Sport will also introduce four new competitive racing categories based on real-world motorsports that have been made to ensure an equal footing during racing competitions. The categories, N-Series, Group 4, Group 3 and Group 1 take into consideration everything from a vehicles wing and front spoilers, to the steering wheel and instrument panel.
The next GT title is shaping up to be a memorable installation in the franchise and is certainly more substantial than a 'Prologue' title as previously stated by Sony Europe President and CEO Jim Ryan late last year. Stay tuned to GTPlanet for even more GTS news as the big London event continues!
More Posts On...
The original comments for this post are no longer available.