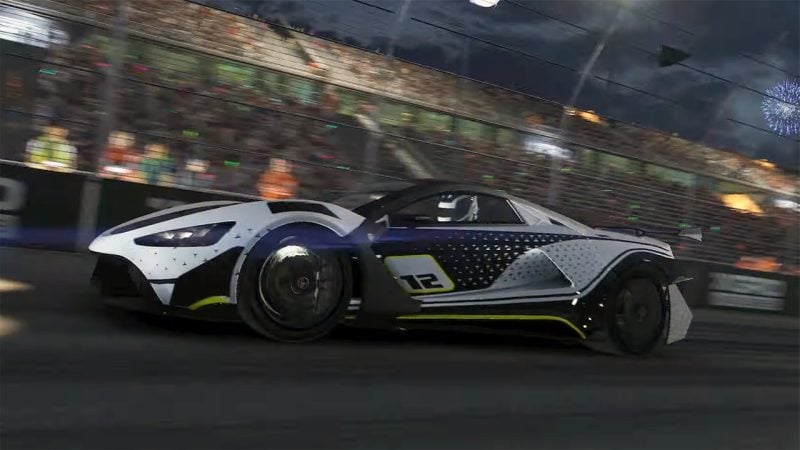 Codemasters has released a new trailer for next month's GRID Legends featuring two of the stars of the game: one man, and one machine.
The video, appropriately enough titled "Man. Machine", shows BAFTA award-winning actor Ncuti Gatwa in his role as Voltz Racing's Valentin Manzi. It's not entirely clear how the character fits into the "Driven to Glory" story mode of GRID Legends, and the trailer doesn't give us much more insight than the fact Manzi like to win and dance.
Gatwa, best known for his role in Netflix's Sex Education, will actually portray Manzi in live-action cutscenes rather than through motion capture. Codemasters filmed the story using real actors on virtual sets in order to create the narrative, which means we'll get to see the series bad guy, Nathan McKane, in person for the first time.
Starring alongside Gatwa in this first clip is a rather unusual hypercar. It's called the Tushek TS 900 Racer Pro, and while it sounds like a fictional construct it is in fact a real car and is making its gaming debut in GRID Legends.
The company behind it is Tushek&Spigel, founded by Slovenian racing driver Aljosa Tushek and based across the Austrian border near Graz. Tushek has been building sports and race cars since 2012, focusing on lean and lightweight machines.
It's an evolution of the TS900H revealed back in 2019, but where that car produced a mere 950hp originally, the Racer Pro delivers a combined 1,365hp from its hybrid powertrain. That looks to still be the 5.2-liter V8 from Audi's R8 supercar, combined with what Tushek calls the world's highest power density electric drivetrain, drawing power from Formula E battery packs.
With the combination of that power output and a focus on weight, the TS900 Racer Pro delivers more than 1.1hp per kg, or 1,128hp/ton. Together with a 20% increase in downforce over the original, it should make for an entertaining drive.
GRID Legends will launch on February 25, and we'll hear much more about that story in due course. In the meantime, you can watch the new trailer below.
See more articles on GRID Legends.