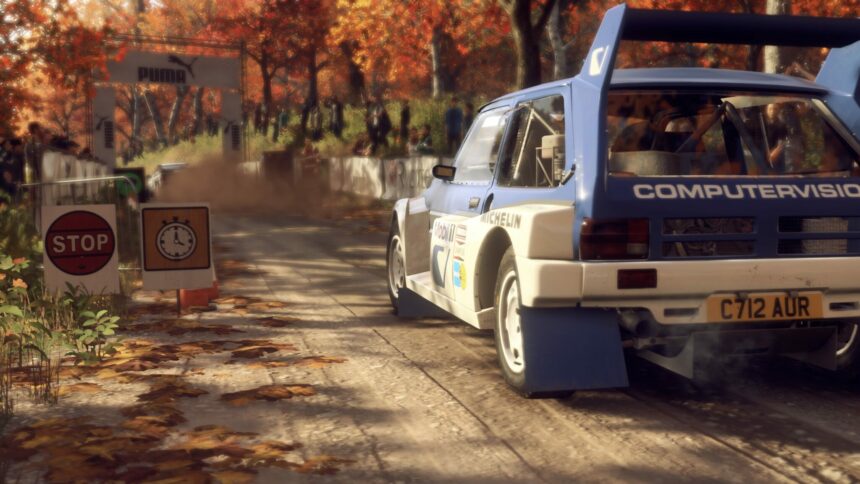 You may recall in my previous piece, that I described the Group B cars in DiRT Rally 2.0 as "utterly terrifying" — and for good reason. Before I get onto that, I want to take you back to Group B in the original game.
Now, Group B in DiRT Rally was not exactly a welcoming experience. The cars were incredibly fast and difficult, but there was a little something missing. It's hard to put a finger on a single factor, but there was a level of terror that wasn't quite there.
Whatever those factors were, they appear to have been sorted out for 2.0! Even the naturally-aspirated Metro 6R4 has taken a jump in that regard. Granted, the 410hp V6 is hardly a small amount of power on gravel, but in the context of Group B, it's fairly tame.
Even with the lack of turbo and being comparatively heavy within the class, the 6R4 is still a weapon. The old school V6 engine produces this wonderful throaty, yet somehow screamy sound — something Codemasters captured so incredibly well. It really begs you to rev it higher. More revs mean an engine yelling bellowing out a wonderful note, and more speed – win-win!
Of all the Group B cars, it's probably the most approachable. It doesn't have an overwhelming amount grip and its powerband is fairly progressive. However, don't mistake my use of "approachable" for it being easy. This is not a modern car, so the speed you find yourself doing doesn't mix so well with the jumps, bumps and ruts you find on a gravel stage.
The very nature of the Metro means you need to keep your foot to the floor as much as possible, with more revs meaning more speed. It asks a lot of the 1980s aero and suspension, and we all know where that leads us mere mortals in rallying! Despite this though, the Metro is a pussycat compared to the next car — the Peugeot 205 T16.
The lion badge of Peugeot really couldn't be more descriptive of the car. Where the Metro swipes at you with its tiny claws out, the 205 mauls you. It doesn't hang around, it goes right for the jugular. Waiting for the turbo to kick in is like waiting for the inevitable when in a lion pen. Quiet, quiet, quiet, death.
The turbo kicks in at a rate that makes it difficult to shift through the gears fast enough, and it only has five! With the Metro, it felt like I was still in some control, but this? I was simply hanging on before getting onto a bit of road that allowed me to unleash the power. It's rabid, brutal and exhilarating.
For a car like this to require heel and toe and clutch kicking to keep the turbo spooled, is ridiculous. The Metro was already a dance on the pedals, but the Peugeot? It's like you have to sprint like Usain Bolt and dance like Michael Jackson, all at the same time.
The boost gauge may as well read as "off" and "crash", rather than being a gauge. There's next to no progression. It's hard to describe the handling. The corners feel like they're simply about survival, just so you unleash another 480 bhp of hell at the exit.
While I'm sitting here with this huge smile on my face, I want to diverge and talk about the sounds. I don't know if there's a game, sim or whatever out there that has better sounds than DiRT Rally 2.0. The driving was spectacular, but the sound of these machines took it to another level. I can't praise Codies enough in this department. So few games get it right, but whatever they do, they need to keep doing it.
I'm not sure Codemasters has ever captured the spirit of a car class better than this. If you plan on getting 2.0, you simply have to experience these cars — what an adrenaline rush!
More Posts On...