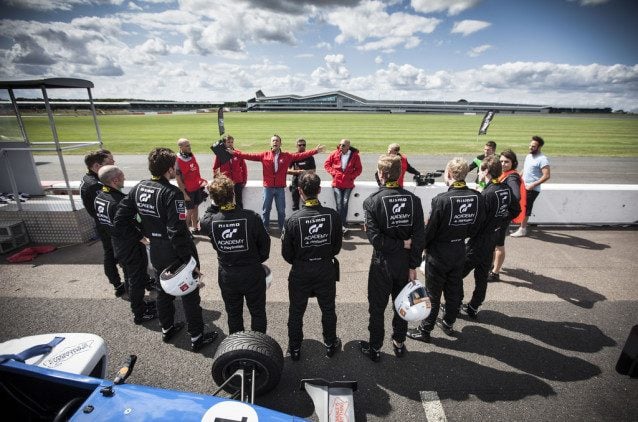 GT Academy's European Race Camp has nearly reached its halfway point, with 41 finalists from France, Italy, the UK, Russia, Spain, Portugal, Benelux, Poland, the Czech Republic, and Sweden all competing to become professional racing drivers for Nissan.
The competition kicked off with the program's infamous assault corse, with the experience recorded first-hand by one of the UK finalists:
At a slightly more fun event later that evening, they got to let off steam with some "stock car" racing in Nissan Micras at an oval circuit, where the Benelux team scored a decisive victory, finishing two laps ahead of the UK.
On Day 2, at ex-Formula 1 driver Jonathan Palmer's Bedford Autodrome facility, the finalists got valuable time in a variety of cars, including 3-litre single-seaters, 265bhp JP-LM Le Mans-type sports cars and Caterhams, on track as well as in head-to-head car control challenges.
This also saw the first round of eliminations:
Benelux – Rick Lubberding (Ned)
France – Matthieu Verrier
Iberia – Sérgio Fonseca (Por)
Italy – Alessandro Albano
SwePoCzech – Maciej Pawlowski (Pol)
UK – Stuart Millar
The action returned to Silverstone for Day 3, where competitors' advanced car control skills were tested in a Nissan GT-R. They also faced one of Race Camp's trickiest challenges, which simulates a pit stop and tests their ability to remain calm and constructive in a high-pressure situation.
Day 3 eliminations included the following finalists:
Benelux – Kenny Herremans (Bel)
France – Mickaël Peeters
Iberia – Cristian Manzano (Esp)
Italy – Pietro Punzo
Russia – Vitalii Berchikov
SwePoCzech – Michal Šmídl (Cze)
UK – Shane Green
A massive (and what looks like a very fun!) gymkhana course set up on a nearby airfield was on the schedule for Day 4, and mother nature decided to make things even more interesting by providing some heavy rain. The competitors also faced their first written examination with the Motor Sport Association's ARDS test, allowing them to race on-track alone without an instructor – something they'll need for the final stage of the competition.
Day 4 saw three more finalists eliminated:
Benelux – Kevin Scholtes (Ned)
Italy – Lorenzo Radice
UK – Ben Spurge
We'll have a lot more coverage of the GT Academy European finals, including the international and U.S. Race Camps which are still to come later this month. Stay tuned, and good luck to the finalists remaining in the competition!
See more articles on GT Academy 2014 and Silverstone.