Back in February, we told you about Nick McMillen's quest to become a race drive. Now another GT Academy champion — and forum member — needs our help. However, this time it's to help secure a sponsorship from Valvoline.
Nicolas Hammann grew up in Elkhart Lake, Wisconsin. If that town sounds familiar, it might be because of a something else that calls Elkhart Lake home: Road America.
From the age of six, Hammann knew racing was in his blood. His dad and uncle bought him a go-kart and ever since he's felt the need for speed.
Before winning the 2014 North American GT Academy, Hammann was already a fairly successful amateur racer. Between 2007-2009 he won three Road America karting championships and once he turned 16, got his SCCA competition license.
During his run to take top honors at the GT Academy, Hammann faced some stiff competition. However, he held off three other fantastic drivers. In the end, Danny Sullivan, Boris Said, and Rob Barff chose Hammann after an exceptional performance in the Race Camp finale.
Hammann made his international racing debut at the 2015 at the 24 Hours of Dubai.  Joined by the three other GT Academy winners from around the globe, the team ran a Nissan GT-R in the A6-Am class. Despite stiff competition, the team still claimed second place in its class and fifth overall.
Throughout the remainder of 2015, Hammann continued racing in various series. These included the Blancpain Sprint Series, Continental Tire SportsCar Challenge, and Pirelli World Challenge.
Unfortunately, Hammann felt the 2016 demise of the GT Academy program like his fellow teammates. However, not letting that deter him, he sought out other opportunities.
For 2016, he secured a seat behind the wheel of a Nissan Micra for a racing series in Canada. Also, he got the call to drive for Mike Harmon Racing during the Xfinity NASCAR series at Watkins Glen and Road America.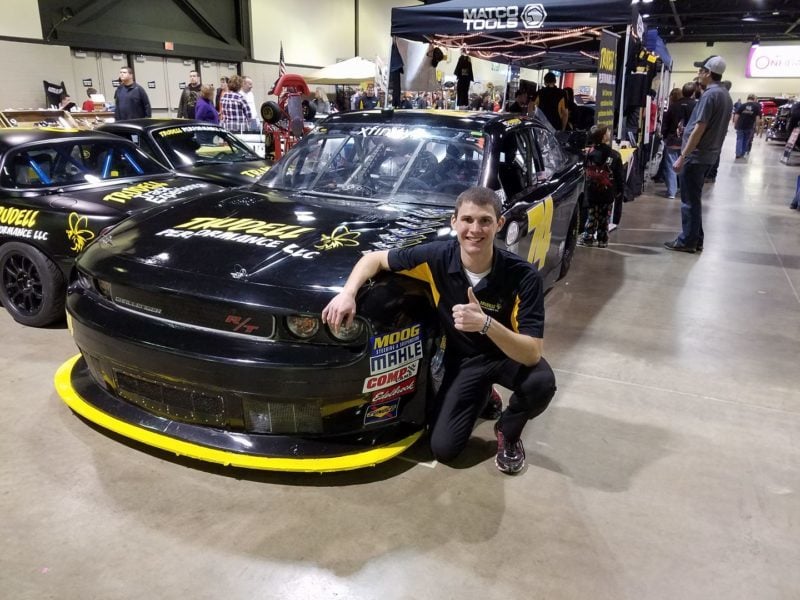 In 2017 he once again got some seat time behind the wheel of a NASCAR at his home track.
Since then, Hammann has competed in several NASCAR Whelen Euro Series events.
Now Hammann is looking to the Valvoline Fast Track to Fame competition.
For the competition, several hopeful racing drivers submitted their story to Valvoline and now the public gets to vote on which one they like the best. Once the first round of voting concludes on March 29, entrants that received more than 50 unique votes move to the second round.
During the second round, a panel of judges will look over all the entries. From there they will score them on passion (30%), ambition (30%), and technical skills (30%), with the remaining 10% being determined by the number of votes.
The top four scorers will move onto the final round. During this time, each racer will create a video profile with the help of a Valvoline film crew. Once the videos are complete, they will be posted online for the second round of voting to determine the winner.
So what does the winner get? $50,000 in cash, productions, and experiences to help them push their racing careers forward. Even the runners-up will walk away with a fairly nice prize package.
In order to help Hammann get past the first round, he'll need at least 50 unique votes. But you are able to vote once per day to help get his numbers up.
You can check out Hammann's profile page here, which will also allow you to cast your vote.
While this might not be the "fast track" to racing stardom, having the backing of one of the biggest automotive companies on the planet certain will help. Go Nic go!
See more articles on GT Academy 2014 and Nicolas Hammann.