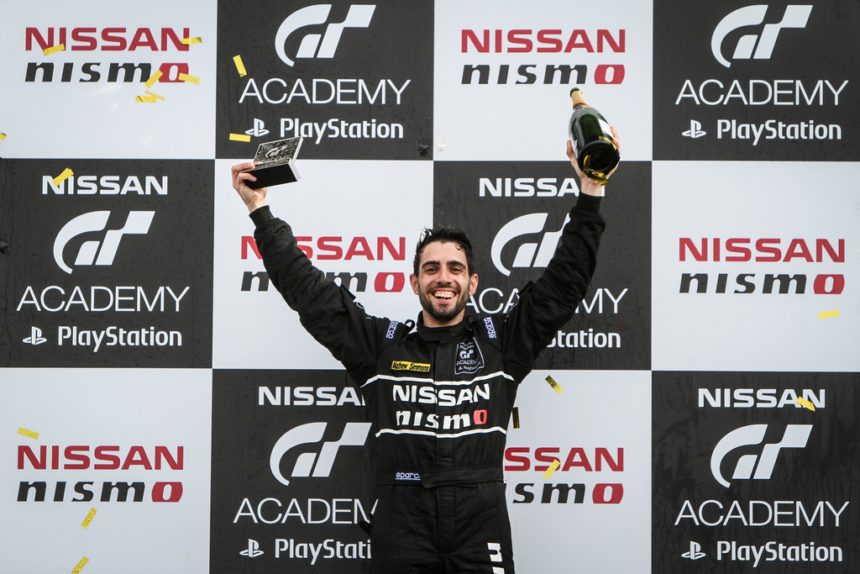 Ordóñez. Mardenborough. Reip. Matthew Simmons of Brisbane, Australia now gets to see his name added to the increasingly-long list of GT Academy winners, as word from Silverstone today has him hoisting the trophy after a gruelling week of camp
.
With only 10 of the original 30 finalists remaining, the mentors sent home half of them (one from each remaining territory) after the morning's first test, a 5-lap run around Silverstone's National Circuit. This left Simmons – who would be lining up on pole for the final race after a win in the previous day's stock car challenge – along with Ryan Lynch (USA) in 2nd, Hüseyin Dağlı (Turkey) in 3rd, Ali Samy (North Africa) in 4th, and Juan Carlos Carmona (Mexico) rounding out the lineup.
The final eight-lap race was filled with passes. With Simmons starting on pole, he was passed by both Lynch and Dağlı in the first turn. Shortly after, Ryan missed a braking point, dropping him all the way to fifth and giving Matthew the opportunity to catch Hüseyin. Catch him he did, setting back-to-back fastest laps. Unfortunately, his car suffered a mechanical issue once he re-gained the lead, and Matthew would end up crossing the line third. Nearly an hour's worth of discussion amongst the judges followed, at which point they announced Simmons' victory straight from the podium.
As well as following Matthew on Twitter, you can catch him around our forums as MINT_GTR – making for yet another success for GTPlanet in providing NISMO with its gamer-to-racer graduates! To watch the footage of the race (as well as any other bits from the week), head over to NISMO TV on Youtube: the race starts roughly 52 minutes into the live race commentary video. Simmons will now enter a long-term training regimen in preparation for the Dubai 24H race in January.
A huge congratulations to Matthew on his win!
All images provided by GT Academy's Flickr page.
More Posts On...
The original comments for this post are no longer available.