Over the course of the past few months, the qualifying rounds of GT Academy 2016 have quietly taken place across the globe, as thousands of potential competitors took their best shots using a pre-release version of GT Sport. Six regions were earmarked for International Race Camp (Australia, Indonesia, Mexico, North Africa, Philippines, and Thailand), and after all the dust had settled, six finalists were selected from each to represent their team in Silverstone.
We covered the first dozen finalists to be announced from North Africa and the Philippines last month — which includes the first female finalist in Elysse Menorca of the Philippines — and here's the full list, including the colours the team will fly in the competitions this week:
Australia (Yellow):
Chris McIvor
Michael Pryor
Oscar Redfearn
Bradley Packham
Steve Danielsen
Keishi Ayikai
Indonesia (Red):
Catra Felder
Dwinanto Sukmono
Muhammad Pandu W Hartanto
Raditya Indera Syahieza
Ricko Boen
Muhammad Faiz Rayyan
Mexico (Green):
Johnny Guindi Hamui
Lorenzo Goicoechea Amieva
Gonzalo Castro Gutierrez
Enrique Rodriguez Manjarrez
Oscar Jaime Arrambide
Gabriel Ortiz Vega
North Africa (Black):
Hassan Abulkhashab
Mohamed Wally
Karim Teggar
Mohamed Madaci
Kamel Madaci
Oussama Benjellon
Philippines (Orange):
Jan Millard Lacuna
Elysse Menorca
Richard Dean Jose
Mervin John Mallen
Kim Jiger Chong
Francisco Adriano IV
Thailand (Blue):
Pongpon Naraipitak
Phureepat Poonperm
Kanokphan Wathanakitanan
Mannutakon Scherer
Danuwat Worakitichai
Eikparin Thavornlumlert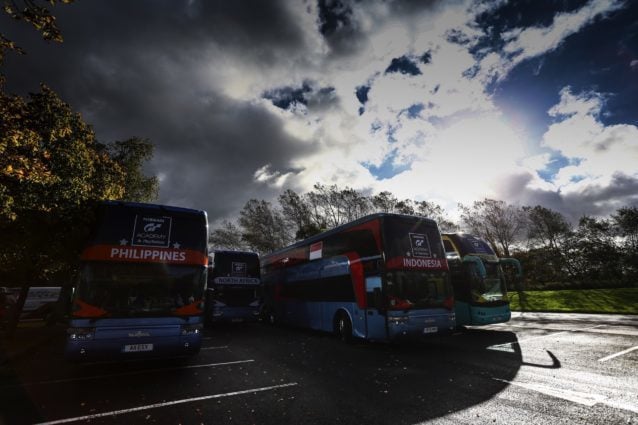 Day One
In its ninth year of running, Race Camp's format changed this year, with the teams all staying in dedicated tour buses instead of the hotels used in previous years. Not only does this simplify transportation to the various event locations, it gives the finalists a taste of motorsport life.
After suit fittings, the teams were off to Bedford Autodrome, where the ubiquitous 370Z race cars were joined by a brace of vehicles from PalmerSport. The various Caterhams and Ariels would give a lot of the finalists their first taste of open-wheel racers on track, while the full-on JP LM offered Le Mans-style prototype thrills and serious levels of downforce.
While no eliminations would happen on Wednesday, it was nonetheless an important day, as the teams were able to pick the brains of their mentors. Katsumasa Chiyo gave his Australian team something to shoot for, setting a fast lap with no preparation. Chris McIvor appreciated the no-nonsense approach: "[Chiyo]'s experience as a professional race car driver is going to be so important to feed off and I can't wait to learn more from him."
Day Two
Back at Silverstone, the skies were black, an ominous reminder that the competition was beginning in earnest: one member from each team would be sent home by day's end. Jann Mardenborough was on hand to provide added incentive, announcing that the winner of the competition would not only be entered into Nissan's Driver Development Program, but would join him in the 370Z GT4 car at the 2017 Dubai 24H.
The three dozen finalists started the day with routine medicals before progressing through the written and practical portions of their racing driver license tests. After that — and a short stint behind the wheel of Gran Turismo 6 — they were off to the nearby woods to tackle the infamous Race Camp obstacle course. Split into teams of three, one member of each region's losing team would be sent home. Once all had completed the treacherous SAS-style course, the goodbyes came from Redfearn (AUS), Rayyan (IND), Thavornlumlert (THA), M. Madaci (NA), Vega (MEX), and Mallen (PHI).
Day Three
A GT Academy stand-by, day three's Gymkhana test in Cottesmore would pit the two slowest drivers from each territory directly against one another in identical Juke Nismo RS's. This presented something of a mixed blessing for the 18 drivers deemed "safe" for the round, as they would miss out on essential seat-time. Head Judge Rob Barff explains:
"Five drivers came today, all expecting to race, but the sting in the tail was that only two got to race and they were the bottom two. The prize was to stay in GT Academy and we learned a lot about how the six guys that have survived perform under pressure. The top three that were automatically safe are there to be aimed at, but the fourth placed gamer knows they have to up their game. Any form of elimination can be a real wake-up call and when you're fighting for survival it's a horrible situation, and one they know they don't want to end up in again."
This would mark the end of the road for Elysse Menorca, who was eliminated following a close race amongst the Philippine team. She would be joined by Danielsen, Scherer, Boen, Teggar, and Arrimbide, leaving four finalists per team.
Day Four
After the teams were whittled down twice in as many days, Saturday offered a reprieve, with no eliminations happening. The remaining contestants had piled into their respective buses to head out to the miles-long beaches of the Pendine Sands in Wales, where the powerful GT-R awaited them. There, each territory would be broken down into pairs and run head-to-head on the unfamiliar surface. The two losers in each region will be returning to Cottsmore tomorrow to race against each other, determining who continues the hunt for victory, and who goes home.
"It was a great relief to win through my race. It was so cool driving the GT-Rs out there and I was glad to keep my cool," said Mexico's Johnny Guindi Hamui. He continues, offering his personal insight on how he emerged victorious: "The key was to be really light and smooth with your handling to make time on the slalom bit of the course and to not apply full power or you get bogged down in the sand."
For those keeping score at home, here's the two dozen that remain:

Chris McIvor (AUS)
Michael Pryor (AUS)
Bradley Packham (AUS)
Keishi Ayikai (AUS)
Catra Felder (IND)
Dwinanto Sukmono (IND)
Muhammad Pandu W Hartanto (IND)
Raditya Indera Syahieza (IND)
Johnny Guindi Hamui (MEX)
Lorenzo Goicoechea Amieva (MEX)
Gonzalo Castro Gutierrez (MEX)
Enrique Rodriguez Manjarrez (MEX)
Hassan Abulkhashab (NA)
Mohamed Wally (NA)
Kamel Madaci (NA)
Oussama Benjellon (NA)
Jan Millard Lacuna (PHI)
Richard Dean Jose (PHI)
Kim Jiger Chong (PHI)
Francisco Adriano IV (PHI)
Pongpon Naraipitak (THA)
Phureepat Poonperm (THA)
Kanokphan Wathanakitanan (THA)
Danuwat Worakitichai (THA)
The action continues tomorrow in Cottesmore: stay tuned to GTPlanet for more coverage!
All images care of the GT Academy Flickr.
See more articles on GT Academy 2016, Katsumasa Chiyo, Lucas Ordonez, and Ricardo Sanchez.