With the GT5 GT Academy 2012 now available to gamers around the world, GTPlanet was able to get an interview with 2011 European GT Academy champion Jann Mardenborough. Jann was kind enough to answer a few questions for all the budding racing drivers and GT Academy hopefuls out there, to give insight into the before, during and after of the internationally successful Gamer-to-Racer program.
GTP: Hey Jann. It barely seems like a year since you were lining up to be Europe's GT Academy champion and here we are at the 2012 Academy programs. With all that's gone on in the last 11 months for you, do you have any advice to GTPlanet members about how to prepare for the event and the Boot Camp?
JM: Yes time has flown by since last year! My personal advice is to start training now, whether physical or gaming. You really do need to be on top form heading into the competition. It's fierce and there's so much competition out there the slightest edge may swing it your own way. Lucas gave me some advice for GT Academy last year, he said "improve on every event." A simple one to aim for.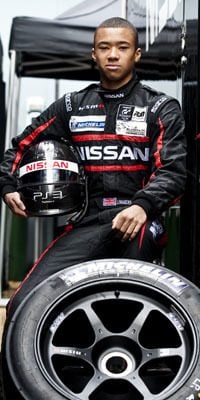 GTP: The final GT Academy prize – the Dubai 24 Hour race – is one serious challenge. 24 hours in desert heat and unusual hazards like drifting pyrotechnic display smoke. How did you train yourself for the physical and mental demands of such a race?
JM: The Dubai 24 Hour race is a tough race, you have to deal with vast amount of cars varying in speed and driver ability. It stays dark at that time of year for around 11hours too. Lots of challenges. Well the training I had at with GT Academy team has been the best. Driver mentors to put me on the correct path at a race weekend, lots of Rotax Max karting and of course physical training including a marathon! I had psychology training tied in with simulator sessions. All of that training helped the GT Academy team get a 3rd in class at the Dubai 24h.
GTP: Kazunori Yamauchi has intimated that this year's qualifiers will be a different kind of challenge. Have you had a chance to trial this year's GT Academy tests and do you have any sneak previews for what we should expect?
JM: This year qualifiers will be different, I hardly have any information on it yet. I'm checking GTPlanet as much as anybody else to find little bits of information! I'm just as excited as you guys are.
GTP: It has been a crazy 12 months for you – last May you were a gamer. After winning GT Academy at Silverstone you've raced at the major British circuits, Dubai, Monza (in a GT-R, no less!) and you seem to spend just about every weekend driving or testing – the bonkers Juke-R at Zolder last weekend, I hear. How have you adjusted to life as a professional racing driver and what do you do these days to relax?
JM: My life has been totally flipped up side down and shaken side to side since winner GT Academy! Lots and lots done and things I never expected to do (fly an aeroplane!). I've raced in countries I've just wanted to visit, and compete  a Nissan GT-R Nismo GT3 when I've watched videos of previous generation GT-R racing on YouTube. And when I'm not training or racing, I'm doing very cool PR events a lot of the time in the Juke-R! It's just a massive privilege to have the responsibility to drive a 1 out of 1 car near the edge with a excited passenger on board. It's a huge buzz. To relax, I think I'm like any other car enthusiast, I spend time working on my own personal car, see some friends and play games.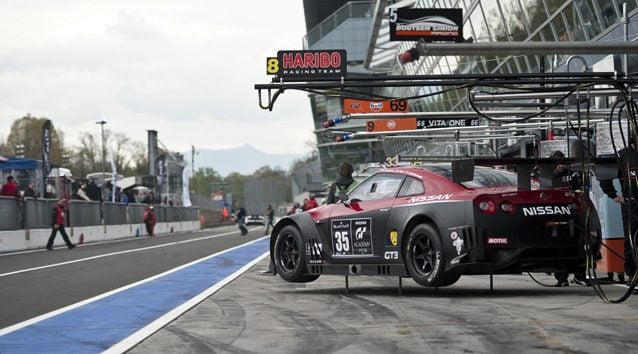 GTP: Many racing drivers have said they use racing games to familiarise themselves with tracks. Do you find GT5 a good tool for this – did you practice Monza (presumably the wet version!) in GT5 before your Blancpain series race there in April?
JM: It's a great tool for learning new circuits. I did use GT5 for learning Monza for my race in the GT-R in the Blancpain Endurance Series. Though to learn the track I should have practised in a race situation rather than hot laps. Not much can prepare you when you're behind another car with a wall of spray so thick you can barely see his rain lights at 170MPH!  Oh well you live and learn. A couple of days ago after I did the race at Monza,  I decided to boot up GT5 at Monza in the wet using a GT500 GT-R. I learnt that wet lines are stimulated in the game! Never knew that. Was crazy too, as I was doing the exact same wet lines in the game in real life.  For the next race for British GT at Nurburgring GP track, I'll be using GT5 for track learning as well.
GTP: Since many of the comments on any GTP news page report on GT Academy and its winners revolve around demands for new DLC, what five cars and one track would form the Jann Mardenborough DLC Pack?
JM: DLC is always a hot topic. Haha, for the Jann Mardenborough 5 car and track bundle I'd pick.
1: Nissan Juke-R
2: Nissan GT-R Nismo GT3 (I think we are all agreed on this one)
3: Peugeot 309 GTI  (Dad had one)
4: Ferrari 550 Maranello
5: 1991 BMW E30 318iS (My first car)
Track: Silverstone!
GTP: The GT Academy winners haven't had the best of luck for this year, with dubious penalties, strange crashes and some horrific weather. I'm sure all of GTPlanet will get behind you all and wish you better fortune for the rest of the year – and thanks for the interview!
JM: Thank you, hopefully all GT Academy drivers can make some luck in their forthcoming races.
You can keep up with Jann's exploits right here in the GTPlanet news blog, on the GT Academy Facebook page and by following him on Twitter @jannthaman
Images from nissan-racing.
More Posts On...
The original comments for this post are no longer available.